Fewer Americans drank beer during the 2020 Super Bowl
After two years of growth, beer volume declined during Super Bowl LIV
Michelob Ultra, Bud Light and Yuengling were the draught beers of choice in Miami as football fans tuned-in to Super Bowl LIV at their favorite watering holes causing a surge in pours throughout the city but the amount of beer consumed nationally dipped, according to a survey of brew consumption.
SUPER BOWL FANS TO DEVOUR 1.4B CHICKEN WINGS: REPORT
Each of the three beers increased sales in Miami during the big game, and they were part of an overall spike in draught beers football fans drank down during the NFL championship. Throughout the city, barkeeps poured about 11.4 percent more beer Sunday night than they did during Super Bowl LIV, according to BeerBoard's "2020 Big Game Pour Report."
"The Big Game is much more than just the action on the field; it has a direct impact on bars, brewers and markets,"  according to BeerBoard's findings. "The 2020 report looks at February 2, 2020, and compares same-store data against February 3, 2019."
17M SUPER BOWL FANS EXPECTED TO TAKE 'SUPER MONDAY' OFF
Drinkers in Kansas City, Mo., home of the Chiefs, drank more beer than they did last year, too. Consumption of draughts increased by more than 21 percent on Sunday compared to 2019. However, the number of draughts poured throughout the country fell by 1.3 percent, and in San Francisco, home of the 49ers, beers poured fell by about 3 percent, according to BeerBoard.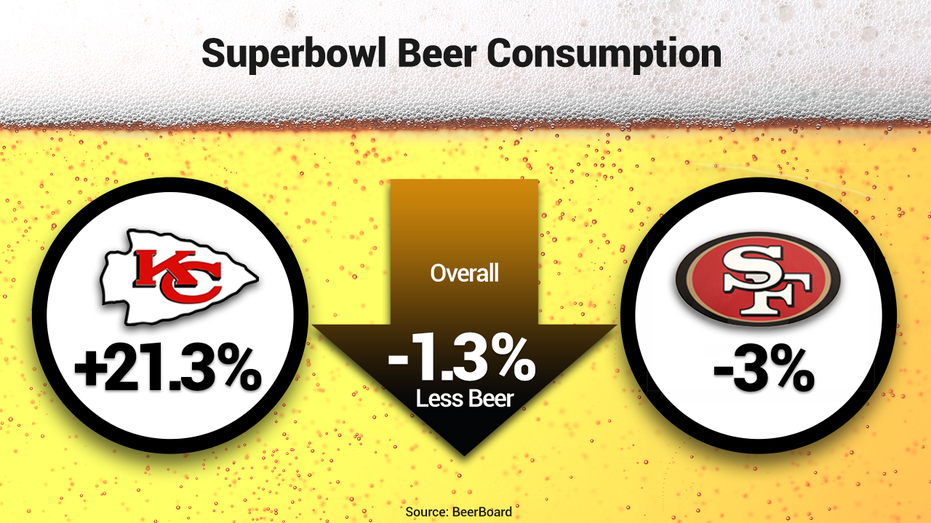 Americans are drinking more, according to recent studies. But they are not reaching for a cold one when they do. There has been a change in cultural attitudes toward drinking, particularly among women, who are drinking more wine. And millennials, the generation born starting in 1981 and credited for disrupting businesses with alternate attitudes toward spending and saving, are also drinking less beer in favor of more wine and spirits
10 OF THE BIGGEST SUPER BOWL AD SPENDERS OF ALL TIME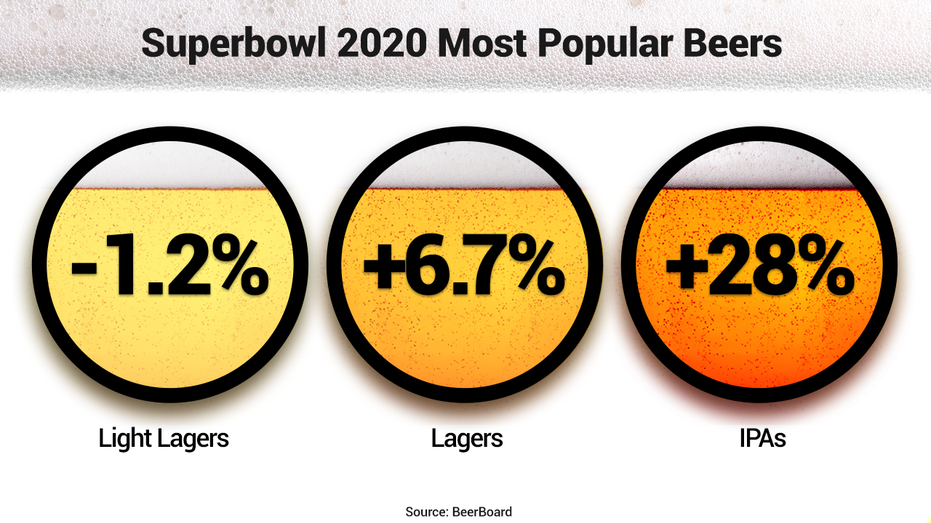 Despite that trend, the Super Bowl tends to provide a boost in beer sales in the host city, the home cities of the two teams and nationwide.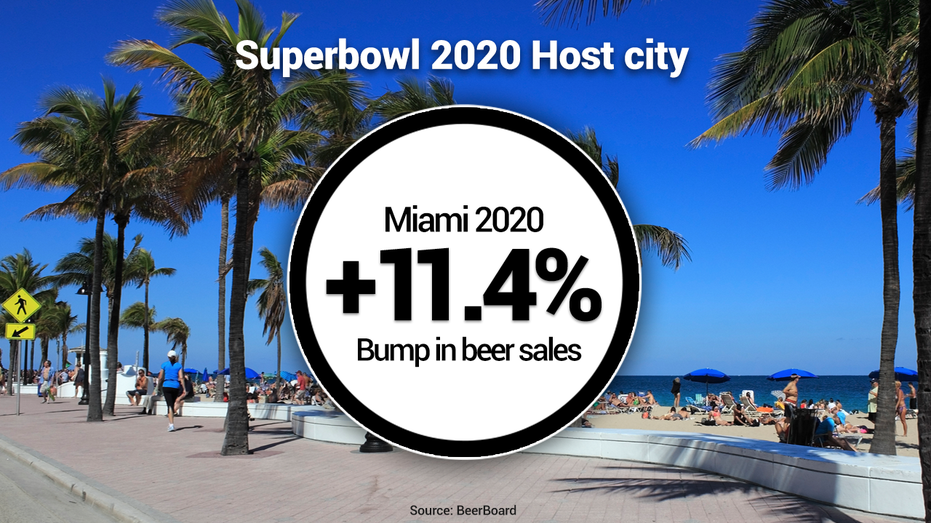 "The peripheral effects flow through the taps, providing a lift for retailers and brands alike," BeerBoard said.
In Miami, there was a 62 percent increase in Michelob Ultra consumption. Bud Light, snagged 23 percent more and Yuengling increased sales by18 percent.
GET FOX BUSINESS ON THE GO BY CLICKING HERE
Nationally, however, BeerBoard found that light lagers fell flat for 2020 with a slight decline of 1.2 percent while lagers grew 6.7 percent and IPAs jumped a whopping 28 percent. Even though Bud Light had a bump in sales in Miami, it's nationwide figures plunged 22 percent.
The light lager brands that performed well for the year included Michelob Ultra, Coors Light and Miller Lite. BeerBoard credits tap pours for the success of the three brands.
CLICK HERE TO READ MORE ON FOX BUSINESS
In the world of lagers, Mexican brands like Modelo and Dos Equis led the charge. Lagunitas IPA jumped 26 points, according to BeerBoard, which served as a major contributor to the IPA category's growth.