Why Trump Has Already Won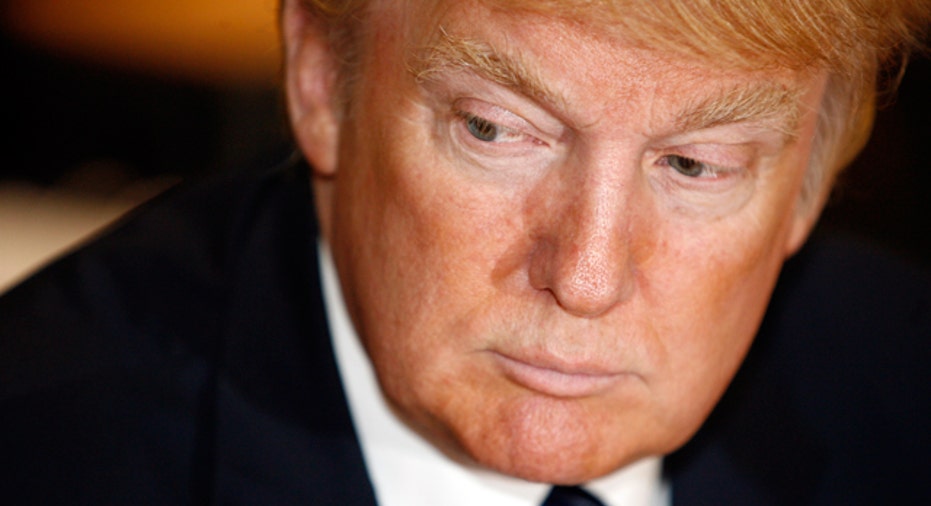 Running for president may cost nearly $1 billion, but merely mulling a White House run can be awfully profitable.
As the political and business worlds collectively weigh the seriousness of what many see as a publicity stunt, Donald Trump's larger-than-life brand is only growing larger.
If he opts to drop out of the running to be the GOP standardbearer, Trump will have pulled off a brilliant use of free advertising.
Trump, 64, who Forbes estimates is worth $2.7 billion, is everywhere these days. He's dropping by for chats with Bill O'Reilly, visiting the ladies of " The View" and even appearing on the "Today Show." Each outspoken appearance creates headlines, fuels more buzz about his potential candidacy and reinforces his image.
To be sure, only Trump knows what his true intentions are. He may yet announce he is in fact making a run in the wide-open GOP race to unseat President Obama in 2012. But the smart money says that's not happening.
"I don't think there's any question it's a publicity stunt," said Dick Martin, a former AT&T (NYSE:T) exec and an expert on public relations and brand management. "Part of his brand is being larger than life and being outrageous. This is perfectly in keeping with that. If anything, it's going to make his brand stronger."
Running or not, a glance at cable TV and the Internet these days shows Trump has captured the attention of the media world. He's made at least 24 appearances on national and cable TV networks since February, according to Politico.
It appears to be paying off, as U.S. Internet searches for "Donald Trump" have surged 332% in the past five weeks and "Donald Trump for president" was the fourth most popular search with his name in it, according to Experian Hitwise. Google (NASDAQ:GOOG) Trends shows Trump is garnering far more search volume than legitimate GOP candidates like Tim Pawlenty.
"Donald Trump is a master at publicity," said Tim Calkins, a marketing professor at Northwestern University. "He has an incredible ability to generate attention and do things that enhance his brand."
Publicity Could Boost Trump's Bottom Line
Trump can parlay an enhanced image into more profits at his sprawling business empire, which spans everything from real estate in New York and golf courses in Scotland to Trump-branded natural spring water and chocolate.
Trump also owns a real-estate brokerage, a model management service, a business that manages two Central Park ice skating rinks, restaurants in New York and Chicago and the rights to a slew of books (all of which have been bestsellers, his site is sure to tell you). Plus, he has plans to build gleaming new hotels in Dubai and New Orleans.
Some believe Trump is merely trying to gin up ratings for "Celebrity Apprentice," his hit TV show that runs on Comcast's (NASDAQ:CMCSA) NBC and pays him a reported $3 million a show.
"Our inclination is that he's not serious about running for president. We think it's a stunt," an NBC exec told Entertainment Weekly this week.
That would make sense as Trump is in the midst of negotiating a new contract for the show, which perhaps thanks to Trump's media blitz has seen its ratings jump as much as 20%. In fact, Trump is expected to announce during the show's season finale a date he will declare whether or not he's truly running for office.
Trump's Already Winning
Few see much risk to the Trump brand from his foray into the political spotlight.
"I don't think it's going to hurt him in any significant way. He's kind of like the P.T. Barnum of our age," said Martin, alluding to the showman who grew famous for his hoaxes and creation of the Ringling Bros. and Barnum & Bailey Circus.
Of course, flirting with a run for office is nothing new for Trump.
Perhaps in an effort to help his book reach the top of the best-seller lists, Trump reportedly hired a political operative in 1987 to float his name as a possible presidential candidate. He also claimed he was considering a run for the White House in 2000.
Trump isn't alone, however, as Howard Stern and Stephen Colbert pretended to be running for office, albeit in a more openly-joking fashion. Comedian and satirist Pat Paulsen was famous for his phony runs for president.
Other celebrities pulled off the transition to the political sphere, including Arnold Schwarzenegger, Jesse Ventura and Al Franken.
However, eventually Trump will likely realize the downsides to running for office for real: probing financial disclosures, intense media scrutiny and quitting his TV gig. But that doesn't mean he will have failed.
"I think it will go away and it will accomplish what he wanted to: put himself at the front of the media," said David Schwab, managing director at celebrity consulting firm Octagon First Call.