Volkswagen might build a pickup truck in America
Volkswagen on Wednesday introduced a concept version of a pickup truck that could enter production in the U.S., potentially joining a new small SUV based on the Atlas.
The world's largest automaker recently announced plans to invest $340 million in its Chattanooga, Tennessee, plant to support production of the Atlas Cross Sport, which made its debut alongside the Tanoak pickup at the 2018 New York International Auto Show.
The Tanoak – named after a species of tree native to the Pacific Coast – is also based on the same platform as the Atlas, a three-row SUV that Volkswagen first sold in 2017. The midsize pickup truck sports a rail mounted to the bed and LED lights that stretch across the grille and tailgate.
While the Tanoak isn't a sure bet to hit the U.S. market, the concept truck shows what might be possible for Volkswagen in the future, said Hinrich Woebcken, chief executive of the German car maker's North American division.
"What could be more American than a pickup truck," he added.
Ivan Drury, senior manager of industry analysis at Edmunds, said it's a smart move for Volkswagen to consider selling a pickup truck to American buyers.
"But it will be tough to make a business case work for a lifestyle truck that would likely be priced at the higher end of the market, especially when you're trying to compete with mainstays like Honda," he said.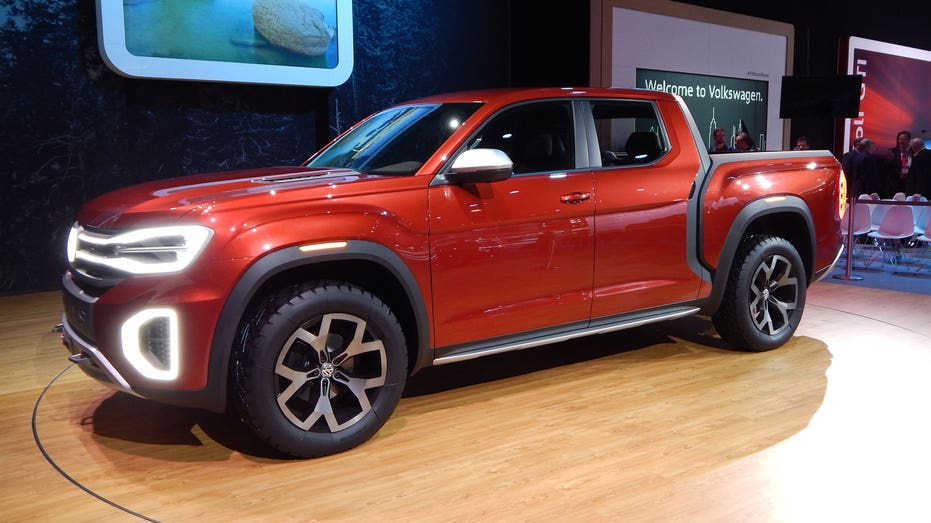 The Atlas Cross Sport is a five-seat version of its larger sibling. Volkswagen said a hybrid version will deliver 355 horsepower and offer 26 miles of all-electric driving. The concept version unveiled in New York packs 276 horsepower from the same 3.6-liter V6 that powers the Atlas.
Production of the Atlas Cross Sport in Tennessee is scheduled to begin in late 2019. Woebcken said the concept closely resembles the vehicle that will eventually arrive in showrooms.