The Lincoln Aviator is a twin-turbocharged hybrid SUV
Lincoln unveiled its newest SUV at the New York International Auto Show on Wednesday, part of Ford's broader strategy to electrify its lineup.
The Aviator nameplate will return to the U.S. market with a high-tech twist. Lincoln will offer a plug-in hybrid powertrain, paired with the standard twin-turbocharged engine. The Aviator will be the first Lincoln model capable of scanning the road and adjusting its suspension on the fly. It will also feature Ford's new Co-Pilot360 driver assistance package, including automatic emergency braking, and key fob controls from a smartphone app.
Under a two-year product plan revealed earlier in March, Ford said it would offer a hybrid version of every new SUV it launches.
The three-row SUV, which replaces the current MKT, goes on sale in 2019. Lincoln will disclose pricing closer to the launch date.
With the Aviator, Lincoln continues to overhaul its lineup of crossovers and SUVs, as luxury brands across the industry compete to win over buyers in a popular consumer segment. The 2018 Navigator launched to such high demand that Ford is boosting production of the full-size SUV and its sibling, the Ford Expedition. At the Los Angeles Auto Show in November, Lincoln introduced the smaller Nautilus crossover that will replace the MKX when it goes on sale this spring.
U.S. sales of Lincoln SUVs climbed 0.9%, year over year, in 2017, with the MKT posting the only sales drop among four models.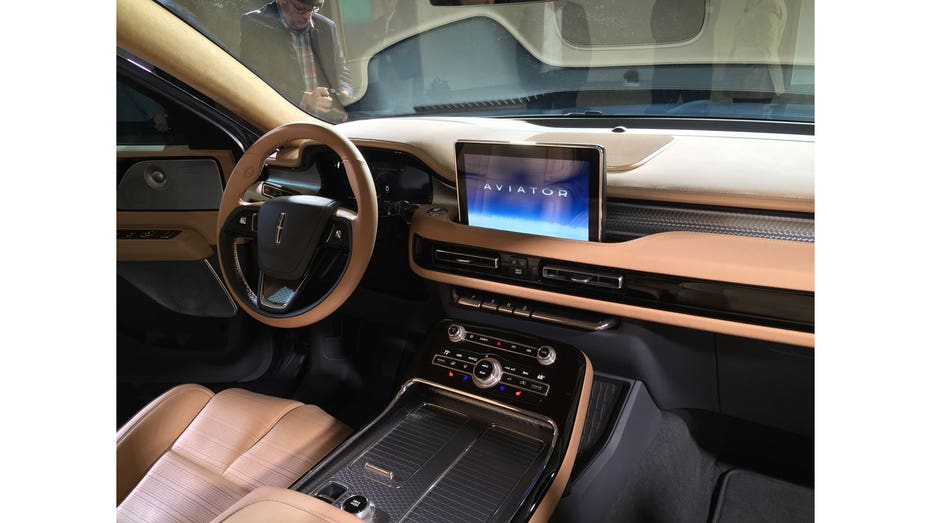 Lincoln said the Aviator will enter a medium-luxury SUV segment that now accounts for more than a quarter of all high-end SUVs sold. Midsize crossovers appeal to millennials starting families, according to the car maker. The majority of vehicles in the segment are purchased by people between 35 and 44 years old.
Also at the New York expo, Lincoln detailed the expansion of a subscription service that allows customers to borrow a used 2017 Lincoln model. The pilot program will be available starting in West Los Angeles.