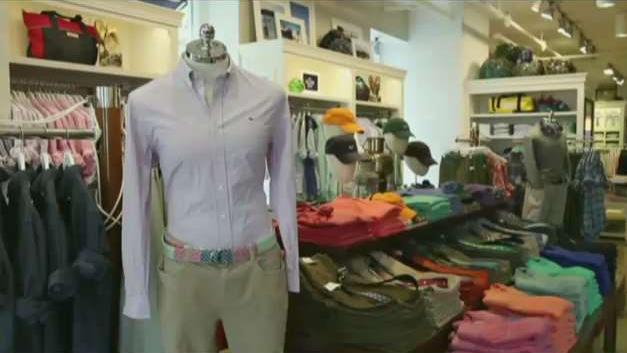 Brick-and-mortar retail may be in the midst of a financially uncertain time, but one clothing brand has kept growing since its inception 20 years ago: Vineyard Vines. The brothers Ian and Shep Murray – the co-founders and co-CEOs of Vineyard Vines – started the company in 1998, tired of their careers on Wall Street. At the time, Shep Murray had spent several years working on the New York Stock Exchange, and Ian was toiling at a public relations agency.
They decided to channel their inside knowledge of life in Manhattan to create a small business selling beach-themed neckties.
"The idea was to bring the good life to work with you," Shep Murray told FOX Business' Maria Bartiromo during an interview on Tuesday. "Right now it's about making America great again. Well, we wanted to make clothing fun again. And so that's what we did."
With a credit card advance of about $8,000, the Murrays began designing ties for people visiting Martha's Vineyard and Nantucket to take home with them when they left the popular vacation spots. All of the profits were funneled into expanding the company.
Now the company operates more than 100 stores across U.S., in addition to selling in high-end department stores such as Nordstrom and Bloomingdale's. The brothers control 100% of the company and don't plan on going public anytime soon – a key, they suggested, to battling the "Amazon effect" that's put so many companies into the red.
"One of the beauties about being privately owned is that we're able to put the gas on and off when we want," Shep Murray said. "Amazon is amazing, we're huge fans of what Jeff Bezos has done, and we're big Amazon customers. But what we want to do, and what we think our customers are looking for, is a better experience."