One Small Business Could Win Big at Atlanta Motor Speedway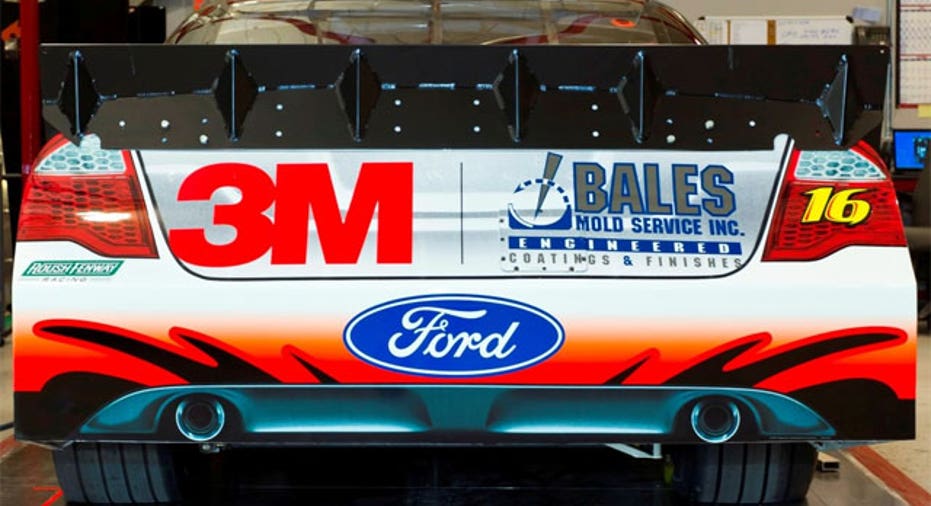 When Tony Stewart and Greg Biffle descend to the Atlanta Motor Speedway for the AdvoCare 500 race this Sunday, the NASCAR drivers won't just be racing a handful of other drivers for the checkered flag--they'll be racing each other for small business.
This weekend, Biffle and Stewart's cars, No. 16 3M Ford and No. 14 Office Depot/Mobil 1 Chevrolet Impala, respectively, will each feature the logo of a small business that could be crowned the "Official Small Business of NASCAR, Courtesy of Office Depot."
From the grandstand, entrepreneur Kacie Howard will be rooting for Stewart, whose car will feature the logo of Daytona Beach, Fla-based HuckleBerry Pets. (huckleberrypets.com)
Sara Mortensen, a newly-minted NASCAR fan and owner of Bales Mold Service (http://www.balesmold.com/about.htm) in Downers Grove, Ill., will cheer for Biffle, whose car will feature her company's logo.
"I wasn't much of a NASCAR fan before," admitted Mortensen, "But now, I've been watching Greg's standings and my sales manager, who's a huge fan, has been quizzing me."
The women both entered the NASCAR , Office Depot and 3M sponsored sweepstake, which is now in its seventh year, and were randomly selected as finalists and randomly assigned to the racecar drivers. As finalists they each won a three-day trip to this weekend's NASCAR Sprint Cup Series. Now they anxiously wait to see which driver crosses the finish line first.
The 'Official Small Business of NASCAR' title will give the winning entrepreneur the right to use the NASCAR logo in her company's marketing material for one year, a right that usually costs big business hundreds of thousands of dollars.
"I won't be able to monetize the payoff of being a finalist until race day, but because our product is so different and it is not something that you can go into a pet store and find, having this exposure is monumental to the future of our company by getting more views online," said HuckleBerry Pet's Kacie Howard.
And, while plating and polishing for plastic injection molds and orthopedic pet bedding may not bring to mind clear branding synergies with NASCAR, the women are getting very creative with potential uses for the logo.
"We have not won the right to put the NASCAR label on it yet, but we have been in production of a race car pet bed," said Howard, "Our design so far is a headboard that looks like the back of a race-car seat."
For NASCAR, the sweepstake is a way to further ingrain itself in the small business community. "NASCAR is the sport that works for business," said Norris Scott, vice president of Partnership Marketing and Business Solutions for NASCAR. "It's pretty obvious the economic impact that NASCAR has week to week when you have hundreds of thousands of fans coming into the economy and into the towns and small business. Our fans are amongst the most brand loyal and that gives us the competitive advantage."
In addition to the exposure, the sweepstakes' winner will also benefit from a $10,000 gift certificate billed as a "small business makeover" from Office Depot.
"Small business has really been hurt by the tough economic times. We wanted to come up with a unique way to engage our customers," said Doreen Ingenito, director of sponsorship, sales promotions, campaigns and retail marketing for Office Depot, "This promotion gives our small business customers a great way to advertise themselves."
In 2007 Julie Catalano was the first female small business owner to win the sweepstake. She used the winnings to purchase a new computer and phone system and a new TV for Mystique Salon and Spa in Boise, Idaho.  She also created the NASCAR branded "speedy" spa experience featuring a manicure, pedicure, massage and facial in an hour.
"Business has grown and grown," said Catalano, "Winning has exceeded beyond any measure I could have possibly imagined."
A year ago Office Depot upped the ante by offering a one-million-dollar payout to the small business owner if one of the two designated race-car drivers won the actual race.
For Mortensen of Bales Mold Service a one-million-dollar payout would help her fulfill more than just a business goal. "This company was my dad's. He was building an addition to the shop. It was 50% complete and has sat empty since he passed away," said Mortensen, "If we won, it would be nice to finish what he started."