Last-Minute Gadget Gift Ideas for ... Yourself!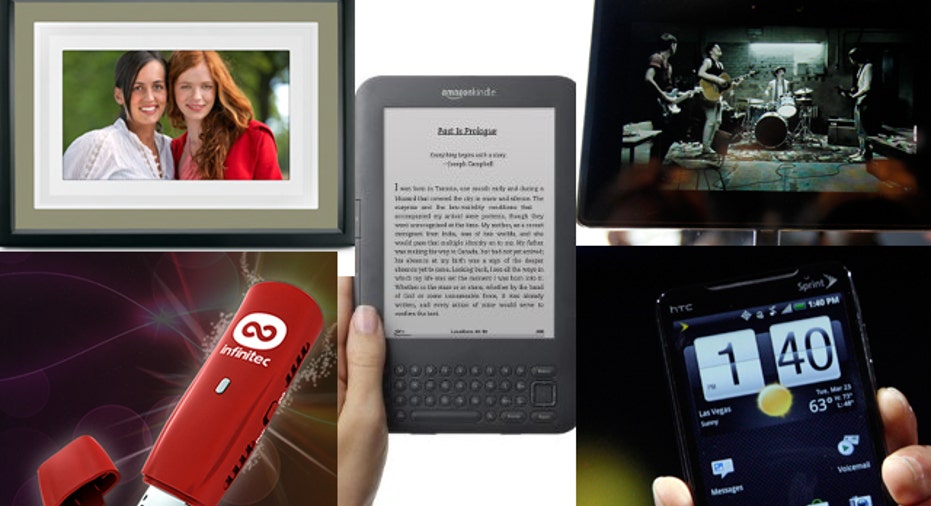 Consumer gadgets are expected to be one of the most gifted categories this holiday season. In fact, the Consumer Electronics Association expects the average consumer to spend $232 on personal tech this year, up 5% from last year and the highest forecast figure in the history of the study.What are this year's hottest and most cutting-edge new electronic items and tech toys? FOX Business will be spotlighting them for you all week long. While there are thousands of gadgets on the market, we are going to give you a first-hand look at some of the year's best products made by the industry heavyweights.
We'll feature everything from e-book readers and Internet TV devices, to wild and wacky gifts like a mind-controlled iPod remote and a video camera you wear behind the ear. Check back every day this week for a look at the latest items from our 2010 Holiday Gadget Guide. (Check out FOXBusiness.com's full holiday-shopping guide coverage.)
2010 Holiday Gadget Guide: Monday's Featured Tech 
No. 1. Barnes and Noble Nook Color- $249
Available at http://www.barnesandnoble.com/nookcolor/index.asp
In a nutshell: ideal for someone looking for a jazzed up e-book reader without all the computing features of a tablet device. It is the first color, touch-screen e-reader on the market.
Big selling points:• 7" brilliant color display, showing off 16 million colors• Weighs about a pound• Great access to content – 2 million titles available through Barnes and Noble.com• Great app (called "LEND ME") to borrow and lend out titlesWhat's missing:• Battery life – only 8 hours of battery life, compared to the Kindle which runs for a week• Not 3G connected• Doesn't have all the computing power of a tablet
No. 2. Samsung Galaxy Tab - $599
Available at http://galaxytab.samsungmobile.com
In a nutshell: this is an Android OS lover's dream – the press has described as: "the first major viable Android tablet product out there"
Big selling points:• 7" color display• Weighs just under a pound (lighter and smaller than iPad)• Rear-facing and front-facing camera, a lot of options for expandable memory• Features to make iPad owners envious - Android 2.2 OS, multitasking, Flash content• Access to the Android marketplace and great access to content• What's missing:• Sizing – a little awkward, especially for men, a little too big to put in a pants pocket• Battery life – about 7 hours – which is longer than that of a smartphone and shorter than an iPad• Additional cost of a Verizon service plan
No. 3. Sony Dash Internet Viewer - $149
Available at: http://www.sonystyle.com/webapp/wcs/stores/servlet/CategoryDisplay?catalogId=10551&storeId=10151&langId=-1&categoryId=8198552921644695998
In a nutshell: Sony calls it the dashboard for your online life, offering real-time access to news, weather, social networking, video and more. I think of it as super amped alarm clock and digital-photo frame with Internet access.
Big selling points:• Good technical reviews across the board• Screen is the star – great touch-screen and user interface• Tons of content to interact with (more than 1000 apps)• Multitasking – you can listen to Internet radio and check Facebook at the same time• Built in alarm clock and USB port to upload your pictures and video
What's missing:• Audio quality is weak and has been described as "what you would expect out of an alarm clock"• Doesn't run on batteries• Because all of its features come from the Internet, without WiFi connection, it becomes an expensive paper weight
No. 4. Best Buy Insignia Infocast 8" Internet Media Display - $169.99
Available at http://www.insigniaproducts.com/connected/infocast.html
In a nutshell: A competitor to the Sony Dash products, and also part of a new breed of products that combine everyday gadgets we have in our home – like alarm clock radios -- with widgets and Internet access.
Big selling points:• 8" color, touch-screen display• 2 gigs of storage space• Clean, simple interface with content easily organized into folders including: Apps, Friends, Photos, Music and Videos• WiFi networking• Wide array of content like MP3, Internet radio, pictures with photobucket• Alarms easy to set
What's missing:• Audio quality is weak and has been described as "what you would expect out of an alarm clock"• Touch-screen sensitivity isn't strong, you often have to use your fingernail to get it to register• Like the Sony Dash, it doesn't run on batteries. Also, like the Sony Dash, you need WiFi
No. 5. Sony Bloggie Touch HD: - (4GB - $179.99; and 8 GB - $199.99)
Available at http://www.sonystyle.com/webapp/wcs/stores/servlet/StoreCatalogDisplay?langId=-1&storeId=10151&catalogId=10551
In a nutshell: A more sophisticated portable video screen with a touch-screen interface, and delivers higher quality video than the Flip Cam.
Big selling points:• Sleek, touch-screen device• Superior features and video -- 1080p video• Great zoom for such a small device; 5x optical zoom and 20x digital zoom• One touch upload to YouTube, MySpace and Facebook• Rechargeable lithium battery• 4 hours of HD record time with 8GB of built in memory
What's missing:• Bigger than competing models, weighing 6.9oz and 4 inches long
No. 6. Flip Ultra HD – $199
Available at major retailers and http://www.theflip.com/en-us/
In a nutshell: The Flip cam really put the portable video camera category on the map and continues to be a dominant seller in the category.
Big selling points:• Shoots great hi-res video 720p HD• New features include image stabilization – helps steady your video for shaky hands• Comes with software called FlipShare that helps you organize all your videos, post videos directly to Facebook, YouTube and Twitter• Compatible with Mac and PC• You can personalize the camera with designs from theflip.com, or put a personal photo on the camera
What's missing:• Less sleek looking than the competing Sony Bloggie• No touch-screen• Reviews indicate that image stabilization still needs improvement