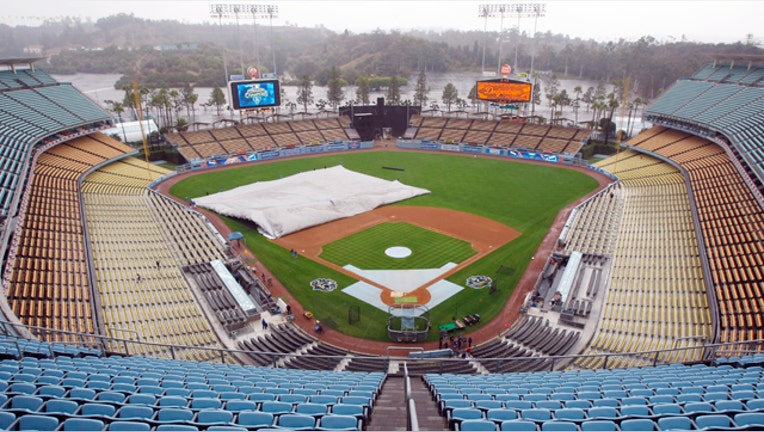 Mired in financial distress and a messy ownership divorce, the Los Angeles Dodgers and their aging stadium were estimated to be worth about $800 million a year ago. That valuation from Forbes surged to $1.4 billion this month as the club looked to clean up on a new TV deal.
But a group of investors led by L.A. icon Magic Johnson blew other bidders out of the water this week, agreeing to pay an eye-popping $2.15 billion in cash for the MLB franchise, 50-year-old Dodger Stadium and part of the surrounding real estate.
That enormous price tag, which is almost double the next previous U.S. sports team sale, has left more than a few in the sports business industry scratching their heads.
According to published reports, the other bids, which include one from a group led by hedge-fund titan Steven Cohen, were in the range of $1.5 billion -- a staggering 30% less than the winning offer.
"In any business, it's a good deal or a bad deal depending upon what you pay for it. How can you be $700 million wide of the next bid?" said a source familiar the bidding process.
More Than a Baseball Team
So, does the Magic-led group, which is called Guggenheim Baseball Management, know something everyone else doesn't? Or did they just overpay because they really, really wanted a baseball team?
"I think they might have overpaid for the Dodgers, but possibly not," said David Carter, executive director of the USC Sports Business Institute. "It's not simply purchasing a baseball team. It's purchasing a baseball team that is an anchor that allows you to make money off other revenue-rich opportunities."
While these revenue-generating opportunities won't be reflected in the team's balance sheet any time soon, very few of them were attainable at all under current owner Frank McCourt, who put the team in bankruptcy last summer.
McCourt had little financial flexibility as he was saddled with debt tied to his highly-leveraged $420 million acquisition of the Dodgers in 2004 from News Corp. (NASDAQ:NWSA), which is also the parent of FOX Business.
He also had little popularity among local officials who would need to sign off on major development moves in and around the stadium.
"I don't think if you were to value the team just based on what McCourt had at his disposal   you'd ever get to this [$2 billion] number. But with this new group and what they bring to the table I suppose you can get to that number," said Carter.
TV Dollars Eyed
Guggenheim, which is headlined by the charismatic Johnson and led by controlling partner Mark Walter, offers a fresh start with high potential.
Carter believes the group is aiming to generate its return on investment through lucrative TV rights, access to mixed-use real-estate development near the stadium and an understanding that the Dodgers can be an entertainment destination.
Much of the value in landing the Dodgers stems from the TV possibilities.
The new L.A. owners may decide to launch a regional sports network in the No. 2 U.S. media market, following the playbook of the New York Yankees, whose YES Network has turned into a serious cash cow. The sports network of the Yankees is worth $1.85 billion today, up from $730 million when it launched, Forbes estimates.
Or they Dodgers can ink a new long-term TV deal with a broadcaster. News Corp.'s FOX has already floated a $3 billion, 17-year extension to their current agreement, which is set to expire soon.
"They look at buying the Dodgers as acquiring the necessary hardware. They're going to make their money off the software," said Carter.
Sheldon Stone, a partner at boutique investment bank Amherst Partners who has worked on MLB financing in the past, said he believes Guggenheim bid $2 billion because it wanted to ensure they wouldn't be outbid in the auction, which was run by Blackstone (NYSE:BX).
"They rolled the dice, more than a little," said Stone.
However, Stone said that while $2 billion looks like an "astronomical" figure, Guggenheim can make it work by capitalizing on Johnson's "magnetic" personality and turning the Dodgers into a national brand.
Ripple Effect
Still, the Dodgers deal raises questions about the future value of sports franchises in North America. After all, if the Dodgers are worth $2 billion, what are the Yankees and Dallas Cowboys worth in today's market?
Every sports-team owner "thinks his team is worth twice as much as it was yesterday. But it's not. This is a classic bubble," said the source familiar with the Dodgers auction.
By comparison with the Dodgers deal, the $1.3 billion valuation placed last year on Toronto Maple Leafs parent Maple Leaf Sports and Entertainment, the looks awfully low. In addition to the popular and profitable hockey club, the company also owns the NBA's Toronto Raptors, downtown Toronto real estate, a sports TV network and the relatively new Air Canada Centre.
The previous record for a U.S. sports franchise sale was held by real-estate developer Steven Ross, who snatched the Miami Dolphins for $1.1 billion in 2009. Also in 2009, the Chicago Cubs were acquired by the Ricketts family for $845 million.
The Dodgers deal could "change the whole landscape," said Stone.
But before sports owners start extrapolating out the Dodgers price tag with their own franchise values, Stone notes there is a "difference between having a franchise in L.A. and having a franchise in Kansas City or Pittsburgh."
After all, the Pittsburgh Pirates seem unlikely to land a $3 billion TV deal any time soon.