Kleenex forced to rebrand 'Mansize' tissues after sexist complaints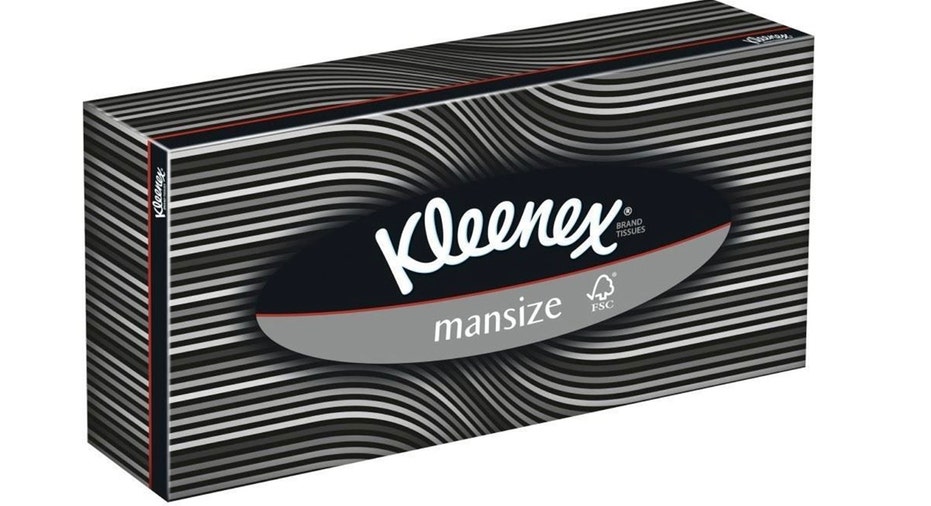 After being on shelves for more than 60 years, Kleenex maker Kimberly Clark said it will re-brand its "Mansize" tissues after a rise in consumer complaints cried the product was sexist.
The consumer products company, which sells its "Mansize" tissues in the UK, said due a "consistent increase of complaints on gender concern" the product will now be called "Kleenex Extra Large." Adding that consumers may even see the new name change in stores already.
"We are always grateful to customers who take time to tell us how our products can be improved, and we carefully consider all suggestions," a Kimberly-Clark spokesperson said in a statement to FOX Business.
Many consumers used Twitter over the last few weeks to complain.
One user tweeted that her four year old son was confused by the 'Mansize' name and asked if he was allowed to use them.
"So @Kleenex_UK could you help me tell my son why they're still called Mansize? And will you consider renaming them to Extra Large tissues? Or do women and children not need bigger tissues," Lisa Hancox tweeted.
While others fired back that the criticism surrounding the extra larger issues is outlandish.
"The average male is bigger than the average female. So how can the notion of "mansize" be sexist? It may be a generalization but it is based on observable scientific fact. So-called political correctness has morphed into idiocy and is totally out of control."
Kimberly-Clark told the Britain's Daily Telegraph that it in "no way suggests" that its product which is marketed as being both soft and strong was "an exclusively masculine trait, nor do we believe that the Mansize branding suggests or endorses gender inequality."
But rather, it said it was launched at a time when large cotton handkerchiefs were still very popular and Kleenex offered a unique disposable alternative.
Kimberly-Clark shares have lost nearly 10 percent this year.
The Associated Press contributed to this report.