Hyundai Revs Up Sports Marketing to Boost Brand, Sales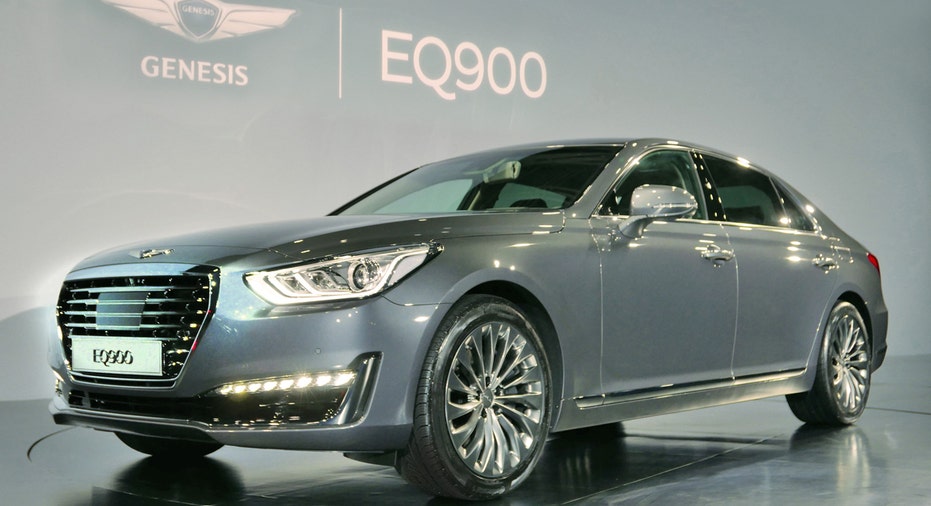 Hyundai has executed a winning game plan to score mind- and market share in America by utilizing its sports marketing campaigns.
Hyundai Motor America, the U.S. subsidiary of the South Korean automaker, has aggressively moved in to sponsor and associate itself (in order of spend) with some of the most mainstream American brands: the National Football League, the PGA TOUR, and NCAA College Football.
"Sports marketing is one of the reasons [Hyundai's] sales grew during the recession, that's one of the reasons why we invested in the NFL. Sometimes with sports marketing there's a branding play, and if you do it enough you don't just build a better brand but you sell more vehicles," asserts Dean Evans, chief marketing officer of the automaker's U.S. unit.
Hyundai literally went from zero to 60 pretty quickly in terms of sponsoring sports. Evans, who only joined Hyundai in September, notes the automaker did virtually no sports marketing in the U.S. a decade or so ago. For instance, its 2008 Super Bowl spot was its first for the NFL Championship Game since 1989.
Evans says Hyundai, like other big, international brands, spends somewhere near a quarter of its marketing budget on sports. He wouldn't elaborate, except to tell FOXBusiness.com it's "maybe a little richer than that with the NFL deal."
Last season kicked off a four-year deal for Hyundai as the NFL's official automotive sponsor. Since the NFL has tentpole events year-round, the brand was highly visible at the recent NFL Combine and will also have a presence at the upcoming NFL Draft next month.
Sports Strategy Scoring Sales
So far the carmaker's sports strategy appears to have hit paydirt. Hyundai just posted its sixth straight year of record stateside sales and reports 2015 was the best total sales year yet in the U.S.
While those sales figures can't directly be correlated with bigger spending in sports, both the company and experts agree the strategy has given the brand a big boost.
"Our international data show that sports marketing platforms have helped make our brand more aware and have been seen in a more positive light than if we wouldn't have done them," Evans asserts.
Whitney Wagoner, director of the Warsaw Sports Marketing Center at the University of Oregon, says Hyundai's approach is "right on," adding "The NFL is the dominant space for American sports on all metrics, potentially we'll look back at this partnership as a paradigm shifter for Hyundai."
Wagoner spent seven years in the NFL's corporate sponsorship department, but she had departed before the Hyundai deal was brokered. "Hyundai wants to connect with American auto buyers at their point of passion," she adds, "It's Americana and more than that, it's getting to where consumers hearts and passions are, and nothing is a greater tool in this country than sports to do that.
She says Hyundai is following Toyota's (NYSE:TM) lead: "Toyota used NASCAR as a platform to create an emotional connection with U.S. auto buyers. They've had success getting over that cultural hump and NASCAR has embraced Toyota as a partner."
Not for nothing, a Toyota last month won for the first time at the Daytona 500. Three of the next four drivers behind Denny Hamlin's winning Camry also drove Toyotas.
The parallel extends to manufacturing as both Asian companies produce many of their vehicles domestically. Hyundai reports nearly 60% of the cars it sold in 2015 were built at its Montgomery, Alabama factory.
Golf Comes to the Fore
Hyundai is teeing up its next big marketing drive, taking over as title sponsor in 2017 for the PGA TOUR's Los Angeles tournament at the revered Riviera Country Club.
A senior sports marketing executive familiar with the golf entitlement business notes Riviera is consistently one of the best known courses on the TOUR and the iconic layout is one of the favorite stops among top players.
"If you want to be a premium brand, you have to associate with a premium brand," notes the executive, who did not want to be named. "I think Hyundai is getting the tournament on the upswing and at its peak."
Since Hyundai would not comment on the terms of the deal, there is always the danger they are overpaying for that association, and Wagoner notes a single TOUR event doesn't pay the year-round dividends the NFL does.
But the automaker's Evans says the PGA tournament may play a role in Hyundai's plans to spin off its well-received Genesis luxury brand. "We don't have anything definite, but we're definitely looking at calling it the Genesis LA Open."
Golf business insiders say the LA event is an upgrade from Hyundai's previous title sponsorship at the Tournament of Champions in Hawaii in terms of major market setting, prestige and attendance by the pros. Plus it's just 45 miles from Hyundai's U.S. headquarters in Fountain Valley, California.
Observers say in the long run sports sponsorships can change public opinion for future tastemakers, even though it may not alter ingrained impressions for Gen X heads of households or aging Baby Boomers.
Wagoner says it could create more favorability for high school and college kids who haven't bought their own first cars yet. "They won't remember the time when Hyundai wasn't a mainstream brand in the U.S.," she says, adding, "That's powerful as you look out over the next 20 to 30 years of future car buyers."