How Much it Costs to Attend Super Bowl XLV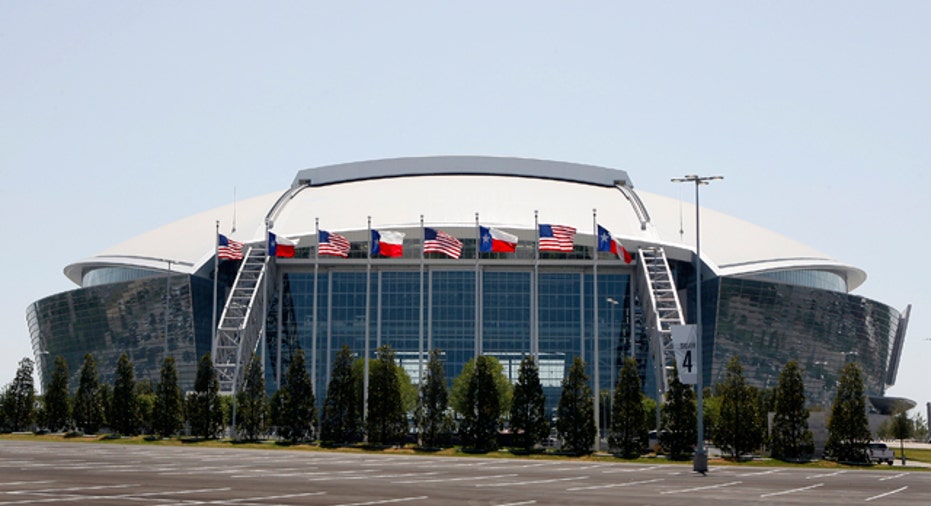 Headed to Dallas for Super Bowl XLV?
Bring a credit card -- heck, bring a deck of them -- because everything in Texas is supersized this weekend, including the prices.
First and foremost, you're going to need a ticket. Good news: the NFL Ticket Exchange lists 21,032 seats still available as of Tuesday afternoon in the new $1.2 billion, 105,000-capacity Cowboys Stadium.
The bad news? They run between $2,400 and $23,730. Yes, apiece. Which might at least push your card's credit limit.
On the other hand, if you recently sold the ranch, you might want to consider an XLV offer on eBay for a private, 25-person luxury suite on the 40-yard line just two doors down from Cowboys owner Jerry Jones, complete with catering, attendant and private loo, for just $599,000.
For the ultimate in NFL street cred, Barclay's new official NFL Extra Points rewards card enables diehard fans to flash their team's colors and logo with every purchase. NFL Extra Points cardholders enjoy a 20 percent discount at NFLShop.com and earn loyalty points toward game day tickets, memorabilia and fan experiences with every purchase.
You can even cash in your rewards points for a seat at next year's Super Bowl, but you'd better get busy -- it will cost you 200,000 points at $1 per point.
Let's talk parking. According to ParkWhiz.com, you'll spend between $550 and $990 for a parking space one-tenth of a mile from Cowboys Stadium, no discount for steer horns on the grill. Ouch, right? If you don't mind riding a free shuttle, you can park one mile away for a mere $55.
As for accommodations, this might be the year to reconnect and crash with that geeky guy from high school who wound up in Big D. CBS MoneyWatch reports that the cost of a queen room at the Arlington Super 8 Motel goes for $1,198 plus tax for Friday and Saturday night. 'Nuff said.
If you plan to pull plastic to partake of the more exclusive Super Bowl parties, you may want to brace your card company first. A single ticket to the marquee Sports Illustrated soiree featuring the Black Eyed Peas -- the halftime performers for the big game -- runs $1,500. Hey, that's cheap; a stage-side cabana for 12 goes for $80,000. Admission to a private party with Prince will set you back $1,500 per as well, which makes the $750 cover charge to rapper Diddy's "Fantasy" blast seem like a steal.
Game: 60 Minutes; Commercials, 46
The SB wouldn't be the SB without those 46 wacky minutes of TV commercials that have garnered a following all their own over the years. The big game has become the big reveal for ad spots that feature celebrity send-ups, anthropomorphic animals and zany sports spoofs from major brands and bet-it-all upstarts alike.
The cost to join the XLV commercial lineup? A record $3 million for a 30-second spot. The reason? Last year's viewership topped 106 million, roughly one-third of the U.S. population. This year's viewership is predicted to exceed 110 million.
Among this year's most anticipated time-outs, Ozzy Osbourne and Justin Bieber take a "Star Trek" turn for Best Buy, reality star Kim Kardashian attempts to make Sketcher's Shape-Up shoe look sexy, comedians Richard Lewis and Roseanne Barr follow last year's Betty White mudfest in Snickers' clever "You're not yourself when you're hungry" shtick, NASCAR driver Danica Patrick and fitness gurl Jillian Michaels push the envelope for GoDaddy.com and rapper Eminem follows Ozzy into Claymation for Lipton Brisk iced tea.
E*Trade, which has featured its talking baby day traders for the past three years, will unleash the diapered dealers again this year, including a pregame "talk" with Fox Sports.
"It's the only event where advertising is not the uninvited guest," E*Trade chief marketing officer Nick Utton told the New York Times. "Commercials come on, people stop talking."
Of course, the bigs will be back in force. Anheuser-Busch, which has unveiled everything from talking frogs, lizards and gorillas to a lamb streaker in 23 consecutive Super Bowls, has five spots this year -- its first as exclusive Super Bowl beer advertiser through 2014. Pepsi will air six spots for Pepsi MAX and Doritos, General Motors will roll out five and Hyundai three. If you can't wait for the show, the Web site SuperBowl-ads has posted 2011 Super Bowl ad previews.
Conspicuously absent from the XLV lineup are credit card commercials. Past Super Bowls teemed with credit card ads. This year, all we have is the pregame campaign from Visa, whose "Never Miss a Super Bowl Club" spots feature four weathered gents who have missed family births and weddings for 44 years in order to attend the big game.
Betting on the National Anthem
There's little doubt that XLV will redline more than a few credit cards before the winning QB plants a wet one on the Lombardi Trophy this year. It is equally predicable that a fair number of cardholders will try to hedge their spending spree with a wager or two on the big game -- placed on their card, of course.
SBNation.com reports that MGM has already accepted a $1 million bet on the Packers. Win or lose, that's one cheesehead that's likely to stand alone!
With this gridiron classic too close to call -- Las Vegas odds makers favor Green Bay by 3 -- many soon-to-be super-debtors are hoping to hit on "prop bets" to prop up their finances. A "prop bet," or proposition bet, is a bet made on a proposition or outcome.
XLV's most intriguing prop bets?
Coin toss: heads or tails?
Which team will win the toss? Unexplainably, the NFC has won 12 straight Super Bowl coin flips. Will the Packers extend the streak?
How long will it take Christina Aguilera to sing the national anthem? Over/under 1:50 minutes.
How long will she hold the word "brave?" Over/under 6 seconds.
Will her hair be any color other than blond?
Will she wear a cowboy hat?
How many times will controversial former Packers quarterback Brett Favre be mentioned? Over/under 2.5
How many times will the word "lockout" be mentioned? (Why "lockout"? Owners have mentioned that they will likely lock players out in the offseason as the two sides continue contentious labor negotiations. Some believe that the lockout could continue for months, even putting next season in peril.) Over/under 1.5
What color Gatorade will be dumped on the winning head coach? According to Pregame.com, a $100 bet returns $150 for yellow, $300 for clear or orange, $400 for red, $500 for lime green and $1,500 for blue.
Whoever emerges victorious, whether on the field, the advertising response or the tote boards, the only guaranteed winner of Super Bowl XLV will be the Dallas metroplex, which stands to rake in a record $202 million, according to a PricewaterhouseCoopers estimate.
Not bad for a week's work.
More from CreditCards.com: