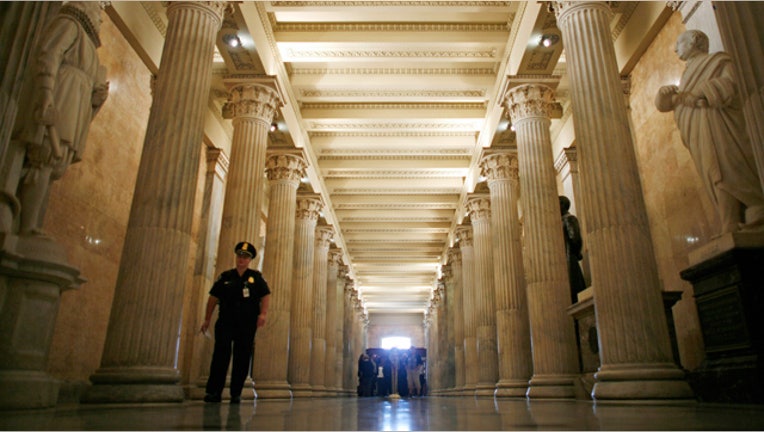 A U.S. House of Representatives subcommittee wants two former executives of MF Global to publicly explain a series of money transfers in hopes of determining who is responsible for as much as $1.6 billion missing from customer accounts after the firm's demise last year, the FOX Business Network has learned.
Attorneys for the former executives, Edith O'Brien, who was the firm's treasurer, and Christine Serwinski, who was the brokerage's North American chief financial officer, have been in contact with officials from the House Financial Services Committee's subcommittee on oversight and investigations, according to people with knowledge of the matter.
"The hearing will focus on the final days before the collapse of MF Global," which filed for bankruptcy on Nov. 1, according to a person with knowledge of the matter.
It's unclear if either O'Brien or Serwinski have agreed to testify, though people with knowledge of the matter say O'Brien's attorney is asking for immunity before agreeing to appear as a witness at the subcommittee's next hearing, which could occur later in the month.
According to white-collar criminal defense attorneys, O'Brien is concerned about ongoing civil and criminal cases. However, Congress rarely grants immunity to potential witnesses as experts say this can muddle subsequent criminal cases.
The committee could compel their testimony through a subpoena, as it did to the firm's former chief executive officer, Jon Corzine, who testified at a hearing in December.
Attorneys for O'Brien didn't return calls for comment; Serwinski's attorney declined to comment.
People inside the committee believe both O'Brien and Serwinski can provide detailed insight into the firm's chaotic final days amid new evidence that shows company officials transferring money in and out of customer accounts to those held by other parties, including JPMorgan Chase (NYSE:JPM).
The transfers came as clients of the brokerage firm began to demand collateral and cut off lines of credit after the firm's disclosure that it had bet heavily on sovereign debt issued by Italy and Spain, two of Europe's most troubled economies. The bet was directed by Corzine, a long-time Wall Street bond trader, who believed both economies would benefit from a broader bailout of Europe as officials dealt with the continent's debt crisis.
Corzine, the former governor of New Jersey and CEO of Goldman Sachs (NYSE:GS), has testified before the committee, stating that he was advised by MF Global's back office that any transfers made from customer accounts were completely legal.
During the hearing, Corzine said Serwinski was one of the executives in charge of the back office, which processes trades for brokerage firms. He also said that Serwinski was on vacation during at least part of the firm's final week in business in late October and early November 2011. The implosion of the firm and the missing customer money is the focus of numerous civil and criminal probes in addition to the House probe.
So far, only one of these agencies, the CME Group, the exchange where MF Global was a member firm, has said that the money transfers out of customer accounts were illegal, though it has yet to file formal charges.
As first reported by FOX Business, federal prosecutors are finding it difficult to pursue criminal charges against individuals because much of the evidence uncovered so far shows that confusion, rather than out-right intent to commit fraud, was responsible for the missing customer funds.
That said, civil charges against firm executives responsible for safeguarding customer accounts could still be filed.