Five Cars to Fulfill Your New Year's Resolution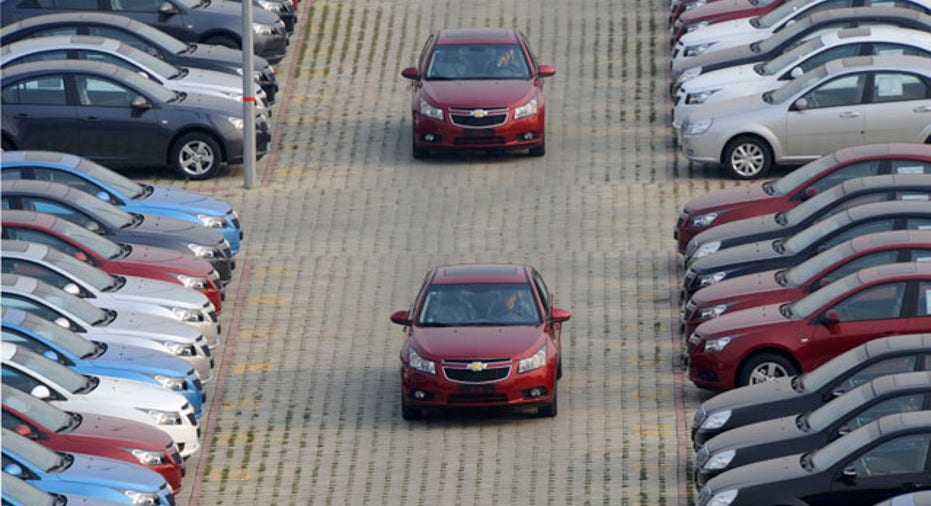 A New Year's resolution is never easy to keep. But at least one of these is likely to be on someone's list -- and all but forgotten in short order within days or weeks of making it. Perhaps a new car can help you fulfill yours.
Bankrate has carefully chosen five cars that will get you on the road to keeping the top New Year's resolutions, selected by Time magazine. They include losing weight, saving money, spending more time with family, volunteering to help in the community and traveling to new places.
The year 2012 may be the year you turn the corner in a new car as well as fulfill a New Year's resolution that has eluded you for years.
Resolution: Lose Weight and Get Fit
Model: 2012 Jeep Wrangler Unlimited Sahara
Type: Four-wheel drive, four-passenger SUV
Gas mileage: 16 mpg city/20 mpg highway
Starting price: $30,745
How it fulfills our resolution: No vehicle is a better partner to get you off the couch and out into nature.
Arguably one of the best ways to get you outdoors is a vehicle that has been around since it entered the military market in 1941 -- the Jeep.
The Wrangler is the closest in appearance and purpose to that original model. The best overall version is the Unlimited, which is built on a stretched platform that allows for four doors. While Jeep purists may be displeased, even they have to admit the Unlimited retains the off-road prowess of the smaller two-door Wrangler but is more comfortable on the highway.
A six-speed manual transmission is standard, but the optional five-speed automatic is a better choice on the road and off. Adding to the appeal for 2012 is the new 3.6-liter, 285-horsepower V-6, which has more horsepower than 2011 but a 10% increase in fuel efficiency. In any form, the Wrangler remains a mountain goat, and that's a compliment.
Resolution: Travel to New Places
Model: 2012 Volkswagen Passat TDI SE
Type: Midsize sedan
Mileage: 31 mpg/city and 43 mpg/highway
Starting price: $25,995
How it fulfills our resolution: With comfort, room and a thrifty clean diesel engine, it's an ideal long-distance companion.
The proper cross-country car has to be roomy and comfortable, offer a smooth ride and crisp handling, and powerful enough to allow you to merge onto freeways safely. And, of course, it should get good fuel mileage. One model that fits all those requirements: The 2012 Volkswagen Passat TDI diesel. TDI stands for turbo-direct injection, meaning the engine is turbocharged and sprays fuel directly into the combustion chamber at very high pressures.
The Passat TDI SE is a handsome car with European-style handling, meaning the ride is firm but never punishing, with just the right amount of road feel. Even the rear seats are roomy, and there's 15.9 cubic feet of trunk space. The 2-liter, 140-horsepower diesel means you can take long trips to new places with fewer fuel stops. VW says the TDI diesel has a range of 795 miles. That's almost the distance from New York to Milwaukee.
Resolution: Get Out of Debt and Save Money
Model: 2012 Hyundai Accent SE
Type: Subcompact four-door hatchback
Starting price: $15,795
Gas Mileage: 30 mpg/city and 40 mpg/highway
How it fulfills our resolution: Cheap doesn't have to mean unsatisfactory as daily transportation.
Not that long ago, subcompact cars were, for the most part, penalty boxes that people drove until they could afford something nicer. That's no longer true, and the new-for-2012 Hyundai Accent may be the best example.
The Hyundai Accent SE comes well-equipped with electronic stability control, antilock brakes, power windows and mirrors, air conditioning, cruise control, a leather-wrapped steering wheel, a six-speaker sound system with satellite radio, fog lights, Bluetooth, a rear spoiler and six air bags.
The 1.6-liter engine has a spunky 138 horsepower, and a standard, six-speed manual transmission shifts smoothly and surely, adding to the sporty feel of the Accent. Interior room of the Accent SE hatchback is better than you'd think, with plenty of space up front and a surprising amount of room in the rear seat. The ride is good for a car this size, and it handles well enough to make winding back roads a pleasure.
Resolution: Spend More Time With Family
Model: 2012 Nissan Quest SL
Type: Minivan
Starting price: $34,500
Gas mileage: 19 mpg/city and 24 mpg/highway
How it fulfills our resolution: Plenty of room and comfort for your entire posse.
It's difficult to spend time with family and friends unless you have room for them, and that will require a vehicle with plenty of seats. The 2012 Nissan Quest has seven seats, and while there are vehicles that can seat more, the Quest places an emphasis on individual comfort, making room inside for adults who won't be counting down the miles to your destination.
The Quest SL has one-touch, power sliding doors, a power rear hatch, a rearview monitor and leather-trimmed seats. Satellite radio is standard. The Quest has plenty of power from a 3.5-liter, 260-horsepower V-6 engine with a smooth continuously variable transmission. The optional Bose stereo, 13-speaker entertainment system and available rear DVD player with wireless headsets may have family and friends wishing for the trip to last a little longer.
Resolution: Volunteer
Model: 2012 Ford F-150 XLT SuperCab
Type: Full-size pickup
Starting price: $30,280
Gas mileage: 16 mpg/city and 22 mpg/highway
How it fulfills our resolution: Tough, durable and comfortable, and just the thing to help friends move.
Those among us who own pickup trucks often find we are suddenly friends with people we barely know, especially when they need help picking up a new sofa or bed.
The most popular vehicle in 2011 was the Ford F-150, outselling every other make and model. The F-150 XLT SuperCab, which has two full-size front doors and two smaller rear doors leading to a reasonably comfortable rear seat, is offered with the optional Ecoboost 3.5-liter V-6, which uses a turbocharger to provide power comparable to a V-8 but with the fuel economy of a V-6. The EPA rates the Ecoboost engine at 16 mpg city, 22 mpg highway, compared to 13 and 18 mpg for the same vehicle with a 6.2-liter V-8.
With the 365-horsepower Ecoboost engine and a 6-foot-6-inch bed, the F-150 XLT SuperCab has a payload of 2,070 pounds and towing capacity of 8,600 pounds.