Don't Get Zinged by Zynga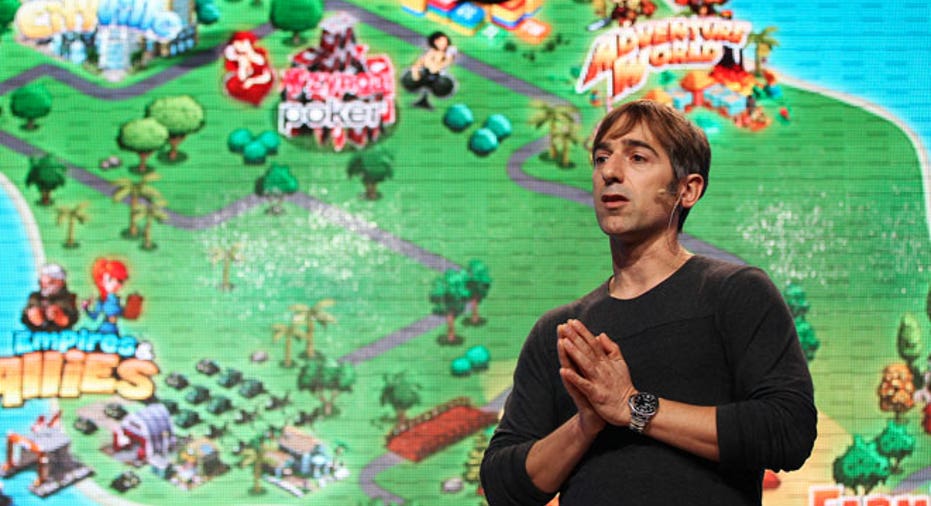 There are a number of reasons why investors ought to be wary of the coming initial public offering of Zynga, the popular Internet game company.
And all of those warnings come from what Zynga itself says in its government filings about how risky its operations are.
Drill into Zynga's own disclosures in its filings with the Securities and Exchange Commission, and you'll see Zynga's scary warnings.
The gamemaker made popular by Facebook is expected to price its shares Wednesday night for its much-anticipated IPO. Zynga initially was expected to price at $20 a share versus the $8.50-to-$10 now expected. Investors may have dialed back on tech IPOs given the lofty valuations for recent IPOs such as Groupon, Linked-In and Pandora which haven't fared so well.
But the question for investors is, can Zynga sustain its growth to support even an $8.50 offering? More to the point, would you invest in a stock whose business model of offering free games apes the business model of Skype, a unit of Microsoft (NASDAQ:MSFT), which offers free software service to talk online and has barely earned any money to date?
Moreover, would you invest in a company that relies mostly on one other company to survive, Facebook, a company even Zynga says in its SEC disclosures could cut its profit lifeline any time it wishes?
Yes, Zynga's numbers seem to be improving. It is the big gorilla of game users online, with an estimated 60 million players using its free games worldwide. Zynga earned $12.5 million in its third quarter this year, down 54% from its $27 million profit it posted the third quarter last year. But it booked an 80% increase in sales, to $307 million in revenue, according to an updated S-1 filing with the SEC.
That was better than its second quarter filing, where Zynga's profit fell to $1.4 million in the quarter ended June 30, down from $14 million a year earlier. The company's revenue grew 115% in the same period to $279.1 million, up from $130.1 million last year.
However, Zynga discloses in its SEC filings that Facebook matters greatly; in fact, Facebook accounted for anywhere from 70% to more than 90% of its quarterly sales in 2011.
Zynga's business model is based on offering games that are free to play. Zynga's apps are free to use on Facebook, a model that is similar to Skype, which is struggling even with Microsoft in its corner.
While Zynga does sell applications on different platforms like Apple's (NASDAQ:AAPL) iOS and Google's (NASDAQ:GOOG) Android, Facebook is where it earns its profits.
And Zynga warns that Facebook could ditch Zynga for someone else. Zynga notes in its SEC filings that it faces this risk that Facebook could "establish more favorable relationships with one or more of our competitors."
Moreover, Zynga says a big risk is that "Facebook could develop its own competitive offerings" in online games.
Zynga also says Facebook could put stiff limits on its operations.
For example, Zynga notes that "in 2010 Facebook adopted a policy requiring applications on Facebook accept only its virtual currency, Facebook Credits, as payment from users."
That cut into Zynga's profits, it says. "As a result of this change, which we completed in April 2011, Facebook receives a greater share of payments made by our players than it did when other payment options were allowed," Zynga says in its SEC filings.
Zynga also warns that "Facebook may also change its fee structure, (and) add fees associated with access to and use of the Facebook platform."
Moreover, the privacy fights Facebook has gotten into with the U.S. government could hurt Zynga, too. Facebook shared info about users' preferences with the apps companies on its site, including Zynga. That helps companies like Zynga build the popular games that users want. That is its lifeblood.
But now Facebook is pulling back on that info-sharing due to the privacy controversy.
Zynga says Facebook could "change how the personal information of its users is made available to application developers on the Facebook platform or restrict how Facebook users can share information with friends on their platform."
That's already happening, Zynga says. "Beginning in early 2010, Facebook changed its policies for application developers regarding use of its communication channels," Zynga says in its SEC filings, adding, "these changes limited the level of communication among users about applications on the Facebook platform. As a result, the number of our players on Facebook declined."
Uh oh.
Zynga adds: "Any such changes in the future could significantly alter how players experience our games or interact within our games, which may harm our business."
Zynga says it also sells "virtual goods," too, a market expected to more than double to $20.3 billion worldwide by 2014. But Zynga adds in its SEC filings: "To date, only a small percentage of our players pay for virtual goods. Historically, less than 5% of our players have been paying players."
Overall, Zynga adds that it expects its "dependence on third parties to continue. In particular, a significant majority of our game traffic is hosted by Amazon Web Services, or AWS. In August 2011, AWS hosted approximately two-thirds of our game traffic."
Another thing to watch is a small float of shares, a move that LinkedIn and Pandora used in their IPOs.
Wall Street backers notably touted the LinkedIn IPO, arguing it's not another 1999 sock-puppet crash. But how LinkedIn got a $9 billion valuation on just $15 million in profits was likely due to its low float offering.  Pandora Media also had its own "low-float" offering, and Zynga was planning a similar strategy with its share sale.
Meanwhile, Facebook shares are not yet listed; their IPO is forthcoming, but secondary market trades for Facebook valued it at initially at a frothy $76 billion, more than Boeing (NYSE:BA) or Ford (NYSE:F). The valuation now may be as high as $100 billion for Facebook.