Deal to Sell Mets Stake to Einhorn Crumbles After Months of Delay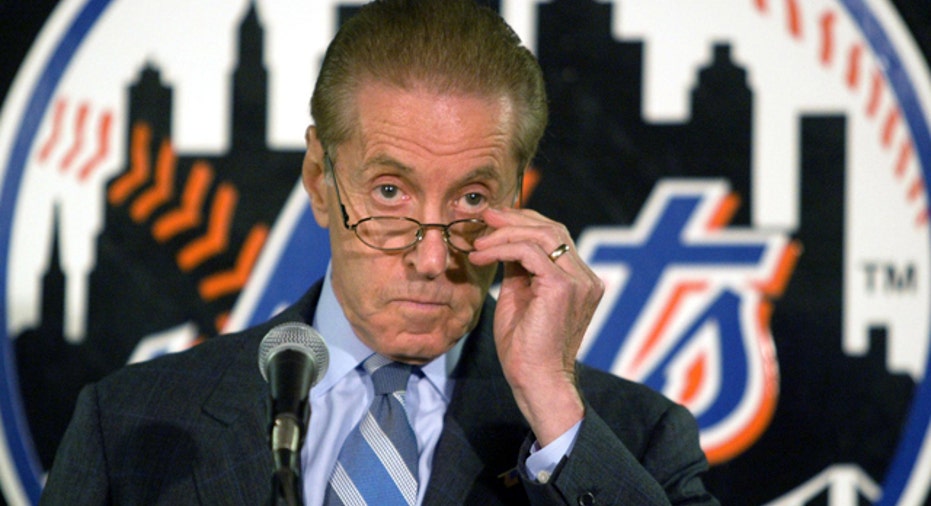 Talks to sell a minority stake in the debt-ridden New York Mets to billionaire hedge fund manager David Einhorn collapsed on Thursday, adding new financial questions to the struggling baseball franchise.
The surprise announcement is a setback for Mets owners Fred Wilpon and Saul Katz, who had been hoping to use Einhorns $200 million cash injection to right the ship. For now, the team said ownership has provided additional capital to cover all 2011 losses and is moving forward with the necessary resources to continue to operate the franchise.
A source close to the Mets told FOX Business the team still plans to sell a stake, but in smaller chunks to individual investors. That new plan may enable the owners to hold onto control of the team, a point of contention in the Einhorn deal.
The Mets have been thrown into financial disarray by heavy debt, slumping ticket sales and a $1 billion lawsuit filed by the Madoff trustee against Wilpon and Katz.
While the preliminary deal between Einhorn, president and co-founder of Greenlight Capital, was unveiled to much fanfare in May, months went on without a concrete deal being hammered out.
Its not clear precisely why Einhorn is abandoning his quest to become a Mets owner, but he blamed it on last-minute changes in their agreement.
One issue was whether the deal would give Einhorn an avenue to take full control of the franchise. While the original deal contained such a path, the Mets backed away from it over time, leading to a disagreement, The Wall Street Journal reported.
It is clear that it will not be possible for me to consummate the transaction on the terms that the Sterling-Mets organization and I originally agreed to several months ago, Einhorn said in a statement. The extensive nature of changes that were proposed to me at the last minute has made a successful transaction impossible.
The departure of Einhorn opens the door to other investors interested in investing in the team, which was valued at $747 million by Forbes earlier this year.
We will engage with other individuals, some who have been previously vetted by Major League Baseball, along with other interested parties, regarding a potential minority investment into the franchise, Wilpon said in a separate statement.
Wilpon said the team is under no financial pressure to do a deal on any particular schedule.