Apple Sues Samsung, Says Stop Copying Us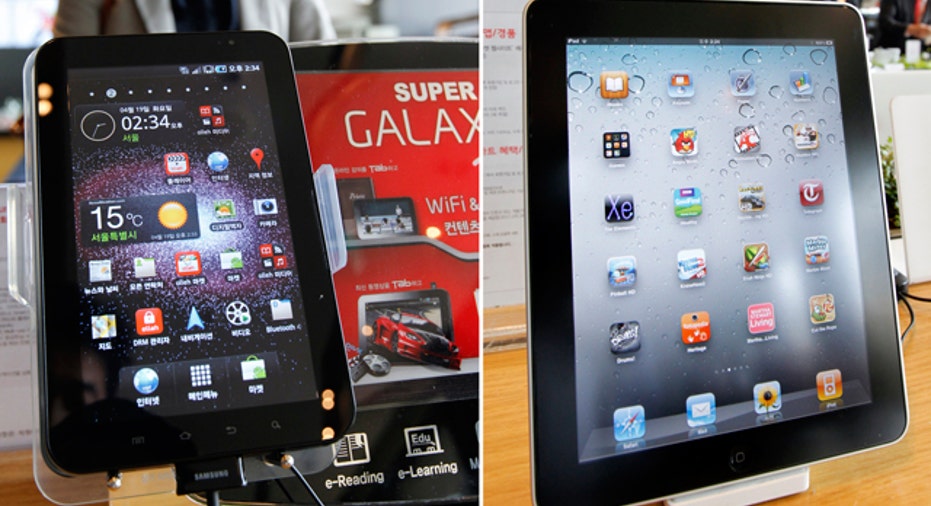 Apple Inc (NASDAQ:AAPL) sued Samsung Electronics claiming the South Korean firm's Galaxy line of mobile phones and tablets "slavishly" copies the iPhone and iPad, according to court papers, a move analysts say is aimed at keeping its close rivals at bay.
Apple is one participant in a web of litigation among phone makers and software firms over who owns the patents used in smartphones, as rivals aggressively rush into the smartphone and tablet market which the U.S. firm jumpstarted with iPhone and iPad.
Nokia and Apple have sued each other in numerous courts and as recently as last month Nokia filed a complaint with the U.S. trade panel alleging that Apple infringes its patents in iPhones, iPads and other products.
Samsung is one of the fastest growing smartphone makers and has emerged as Apple's strongest competitor in the booming tablet market with models in three sizes but it remains a distant second in the space.
"If Apple fails to fend off Android, it will within a year or two find itself in a situation like Research in Motion, even if at a higher level (initially)," said Florian Mueller, a technology specialist and blogger on patent battles.
"Apple has realised this already as its new lawsuit against Samsung shows, but given what's at stake, I think Apple would have to do much more than this. It would have to sue more Android device makers and over more patents."
Samsung's Galaxy products use Google's Android operating system (NASDAQ:GOOG), which directly competes with Apple's mobile software. However, Apple's claims against Samsung focus on Galaxy's design features, such as the look of its screen icons, the lawsuit said.
The lawsuit, filed on Friday, alleges Samsung violated Apple's patents and trademarks."This kind of blatant copying is wrong," Apple spokeswoman Kristin Huguet said in a statement.Apple is bringing 16 claims against Samsung, including unjust enrichment, trademark infringement and 10 patent claims.
"...Samsung has made its Galaxy phones and computer tablet work and look like Apple's products through widespread patent and trade dress infringement... By this action, Apple seeks to put a stop to Samsung's illegal conduct and obtain compensation for the violations that have occurred thus far," Apple said in the court document.
Samsung's shares closed up 0.9 percent after slipping to their lowest level in one month in a broader market down 0.7 percent.
Samsung said it would respond to the legal action "through appropriate legal measures to protect our intellectual property."
"Samsung's development of core technologies and strengthening our intellectual property portfolio are keys to our continued success," it said in a statement.
Samsung faces the challenge of moving beyond being a hardware company, clever at copying ideas, to becoming more creative, better adept at software, at a time when consumer gadgets are getting smarter all the time.
It has yet to come up with the kind of original, iconic, market-leading products that powered brands such as Apple's i-series or Sony Corp's Walkman (NYSE:SNE). Nor has it taken the kind of initiatives in software that Google and Apple did to thwart Microsoft (NASDAQ:MSFT).
FORMIDABLE RIVAL
Apple CEO Steve Jobs has criticised Samsung and other rivals in presentations of new products or technology debates. Analysts say Samsung's response to this has been muted, partly because Apple was Samsung's second-biggest customer last year after Sony.
Apple brought in around 6.2 trillion won ($5.7 billion) of sales to Samsung in 2010 mainly by purchasing semiconductors, according to Samsung's annual report.
John Jackson, an analyst with CCS Insight, said Samsung is essentially Apple's only real tablet competitor at this stage. "It's clear that they do not intend to let Apple run away with the category," Jackson said.
"This is more like a symbolic move by Apple that it is quite serious about rivals advancing and it is trying to hold back its close competitors," said John Park, an analyst at Daishin Securities in Seoul.
"Samsung is unlikely to respond aggressively given that Apple is its core client in the component business," Park said.
To better compete with Apple, Samsung redesigned within weeks its new 10.1-inch tablet, first introduced in February, to make it the thinnest in the category after Apple set the trend with its iPad 2.
The global smartphone market is expected to grow 58 percent this year and Android is set account for 39 percent of the market, while the tablet market is likely to quadruple to 70 million units, according to research firm Gartner.
Apple's iPad will still dominate, controlling more than half of the tablet market for the next three years, but its share is seen gradually declining to 47 percent in 2015 from 69 percent this year, giving way to Android devices.