Apple Shares Soar to New All-Time High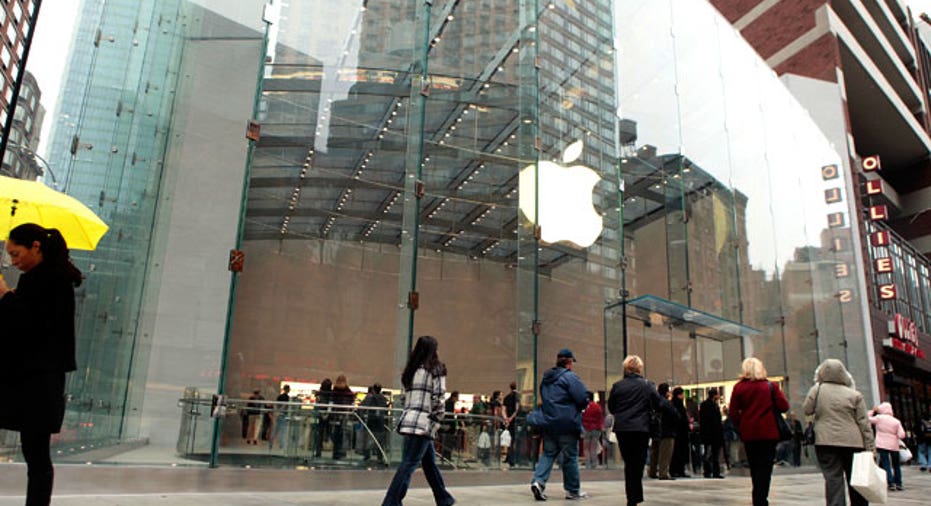 Apple (NASDAQ:AAPL) has gained a well-earned reputation in recent years as a company that essentially operates in its own universe.
Take today, for example. European and U.S. debt woes are dragging down stocks around the world.
But not Apple.
After closing at an all-time high on Friday, the tech giants shares were up more than $6, or 1.7%, at $371.06 in midday trading Monday. Meanwhile, the Dow Jones Industrial Average was down more than 130 points, or 1.1%.
The company is scheduled to report its second-quarter earnings Tuesday and everyone expects it to blow away expectations. It got some good news on Monday when a court ruled that Taiwanese smartphone maker HTC Corp. had violated a couple of Apple patents. And JPMorgan raised its target price for Apples shares to $450.
So, theres all that going on.
But Rob Enderle, principal analyst at the Enderle Group, said the Apple story is bigger than todays headlines.
People are coming around to the fact that Apple should be valued differently, said Enderle. Apples been undervalued because its been valued as a hardware company. Its really something different. Its a different kind of beast.
In addition to selling handsome, amusing and enormously popular gadgets such as iPods, iPads and iPhones, Apple sells what Enderle described as annuities in the form of licenses and contracts that generate long-term revenue streams.
In other words, the iPods, iPads and iPhones are great, but theyre a one-time purchase. Or once every few years, in any case. Its the services, the so-called peripherals the software, the music, the apps that consumers utilize via those gadgets that generates continual streams of revenue for the company.
Enderle noted that Apple customers are notoriously loyal to the companys products. And all of their various Apple gadgets are tied together via the peripherals provided by Apple. So, in effect, one doesnt work without the other. For example, whats the point of having an iPod if youre not hooked up to Apples iTunes.
The buyers are wedded to the product and the services and they cant and dont want to move, said Enderle. (Apple) could almost give the hardware away and still make money off the services and the royalties off the peripherals like apps.
Its made for a rather profitable business model for Steve Jobs company.
The U.S. is struggling to emerge from the worst financial crisis since the Great Depression. Yet Apple not only survived the downturn, it has thrived in a fashion perhaps unrivaled by its tech competitors.
The staggering success of the recent rollouts of its iPhones and iPads has allowed the company to move in an entirely new direction from its origins as a PC and software maker.
And Jobs has been wizard-like in correctly predicting what consumers want. (The wealthy, tech savvy ones, at least.)
None of that is lost on the JPMorgan analyst Mark Moskowitz, who put the $450 price target on Apples shares in a report published last week.
Our call is that the wow factor, i.e., extraordinary upside to consensus estimates, is about to return to the model, the analyst wrote. We think this dynamic should lift the stock higher in coming days.
The wow factor. That about sums up Apples business model for the past decade.