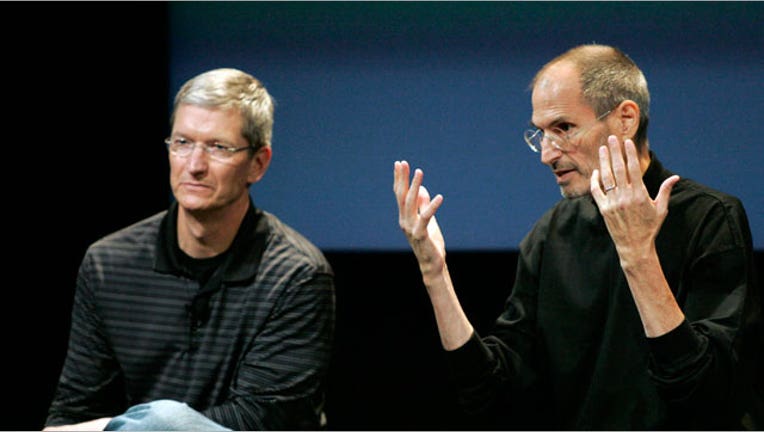 The news that Apple CEO Tim Cook received a nearly $380 million pay package last year certainly generated a lot of buzz.
But is the headline number accurate? The answer is ... kind of. Saying that Cook made $380 million is like saying former CEO Steve Jobs made $1 annually-it's true but misleading. Jobs was paid an annual salary of $1. But at the end of 2011, he owned 5.5 million shares of Apple stock, worth over $2 billion due to large share growth over time, according to filings by Apple.
Cook's compensation last year included a base salary of $900,000 and an incentive bonus of $900,000. But the main reason for the sticker shock comes from the one million shares of Apple awarded to Cook as a "promotion and retention award."
Since Apple's share price was $376.18 last August when Cook was appointed CEO, the total stock grant equated to $376,180,000.
However, the award was in the form of a restricted stock unit, which means Cook can't immediately enjoy those riches. Fifty percent of Cook's stock award is scheduled to vest in 2016, while the other 50 percent is scheduled to vest in 2021. So if Cook isn't around that long, he won't receive that money, unless provisions are made in a severance agreement.
If the stock price goes up, Cook would receive more than what the stock award was initially worth. Since Apple shares closed Monday at $421.73, Cook is already up about $45 million on the initial investment.
There are other benefits for Cook in his 2011 compensation package. That is because following a stock grant, there's a 30-day window for a person to accept the award and pay taxes on the grant's initial value, according to Paul Dorf, managing director of Compensation Resources. If the recipient takes advantage of the 30-day window and the stock rises, the recipient doesn't have to pay taxes on capital gains until the stock award vests. But if the stock price falls, taxes on the grant's initial value must still be paid.
Guessing what direction the stock will move can be like a high-stakes roll of the dice.
"It is the closest thing to legalized gambling you can get," Dorf said.
Most CEOs of major corporations receive the majority of their pay in the form of equities, he said. But unlike Cook's pay, those equity payouts are usually based on performance. Since the company has been successful in recent years by generating excitement for its brand, Dorf believes shareholders will give the company "a free pass" for not tying Cook's 2011 compensation to performance.