Airlines Step Up Efforts to Aid Japan Exodus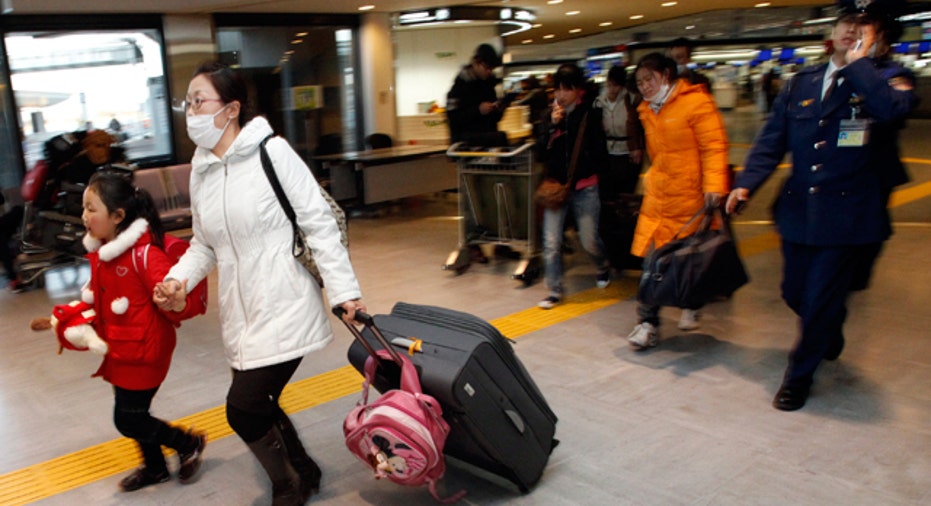 Airlines pulled in extra, larger aircraft on Thursday to help thousands of people leave Tokyo and some began screening planes, passengers and crew for radiation as Japan raced against nuclear disaster.
As an increasing number of governments from Britain to New Zealand to South Korea advised citizens to leave quake-affected northern Japan, airlines mobilised for a stream of mainly outbound traffic from one of the world's biggest cities.
Japan has been taking desperate measures to contain a crisis at the Fukushima nuclear power plant crippled by the earthquake and tsunami that devastated the northeast on Friday.
"We can keep flying even if the situation deteriorates further. But never say never; we don't know what will happen there over the coming days and weeks," Christoph Franz, chief executive of Germany's Lufthansa, said in Frankfurt.
The U.S. State Department said the government had chartered aircraft to help Americans leave Japan and had authorised the voluntary departure of family members of diplomatic staff in Tokyo, Nagoya and Yokohama -- about 600 people.
"The situation has deteriorated in the days since the tsunami and ... the situation has grown at times worse with potential greater damage and fallout from the reactor," White House spokesman Jay Carney told reporters.
The U.S. travel advisory came after Australia urged citizens with non-essential roles in Japan to consider leaving Tokyo and the eight prefectures most damaged by the earthquake due to infrastructure problems rather than nuclear concerns.
"We have a real problem in terms of the infrastructure in Japan. We have uncertainty of power supply, we have problems with train services, we have problems with public transport services, many schools have closed and there is this repeated series of aftershocks," Foreign Minister Kevin Rudd said.
RADIATION CHECKS
Britain said it was chartering flights from Tokyo to Hong Kong, which would cost 600 pounds ($967) per person. Britons directly affected by the tsunami would not be charged.
France and Germany have also advised citizens in Tokyo to get out or head to southern Japan.France's ambassador to Tokyo, Philippe Faure, said he expected about 500 nationals to be flown out on two special Air France planes on Thursday and 700-800 the following day.
Air India increased flights and used bigger planes to help bring back Indians from Japan. It has been using a Boeing 747-400 jumbo jet with a capacity of 423 passengers, instead of a smaller Boeing 777-300ER, a spokesman said.
Health authorities in several countries responded to concerns about the possible health impact from radiation by starting checks on people, planes and boats.
About 25 passengers arriving in Taiwan from Japan were observed with levels of slightly higher exposure to radiation, a government official said on Thursday.
Authorities in South Korea reported unusually high radiation levels on three passengers arriving from Japan.
Malaysia, which has been screening air passengers, bags and aircraft since Monday, said it would scan ports.
Lufthansa extended plans to divert flights away from Tokyo to Osaka and Nagoya until March 27 and said it was scanning aircraft arriving from Japan but all results had so far come back negative.
Air France said it was checking planes and offering medical advice to crew, 10 of whom agreed to be scanned for radiation by France's nuclear safety agency. The results of all the tests were negative, a spokeswoman said.
Vietnam's prime minister, Nguyen Tan Dung, called for plans to check for radiation on citizens coming back from Japan.
Airlines did not provide much information on passenger loads in and out of Japan, but travellers reported nearly one-way traffic by passengers eager to leave the country.Japan-bound passengers said flights were nearly empty.
Scandinavian airline SAS, however, said planes out of Copenhagen to Tokyo via Beijing had not been leaving empty.
"Some have been half full. We ... are seeing a demand from Japanese citizens to go back to Japan," a spokeswoman said.
Airport staff at London Heathrow and Amsterdam's Schipol said fewer people were buying tickets and not that many people were travelling to Japan. For Japanese citizens, concerns for families and businesses far outweighed those of radiation.
Delta Air Lines, which runs more flights to Japan than any foreign carrier, said that next week it would suspend its daily flight from Tokyo Haneda to Los Angeles and Detroit.