US economy sees solid job growth in March as payrolls jump by 431,000
Biggest increases were in leisure and hospitality, professional and business services, and retail
U.S. job growth continued at a brisk clip in March, suggesting the labor market is still strong as it confronts the highest inflation in four decades, global supply chain constraints and new headwinds from the Russian war in Ukraine. 
The Labor Department said in its monthly payroll report released Friday that payrolls in March rose by 431,000, slightly missing the 480,000 jobs forecast by Refinitiv economists. The unemployment rate, which is calculated based on a separate survey, fell to 3.6%, the lowest level since February 2020. 
THESE STATES ROLLED BACK THEIR GASOLINE TAXES. OTHERS COULD FOLLOW
Job gains were broad-based, with the biggest increases in leisure and hospitality (112,000), professional and business services (102,000) and retail (49,000).
Businesses are eager to onboard new employees and are raising wages in order to attract workers as they confront a labor shortage. There are roughly 11.3 million open jobs – the third-highest on record – while the pace of layoffs has moderated in recent months. 
"Although today's job report was a little softer than expected, it still paints a picture of a steaming labor market," said Seema Shah, chief strategist at Principal Global Investors. "In fact, the final vestiges of COVID-19 are close to being fully eradicated from the economic data."
Friday's payroll report also painted a brighter employment picture in the first two months of the year, with upward revisions to the jobs figure in January (504,000, up from the initially reported 481,000) and February (750,000, up from the initially reported 678,000). There are still about 1.6 million more out-of-work Americans than there were in February 2020, before the pandemic shut down broad swaths of the economy. 
RECESSION INDICATOR FLASHES RED AS PARTS OF YIELD CURVE INVERT FOR FIRST TIME SINCE 2006
Millions of workers are seeing the largest pay gains in years, as companies compete with one another for a limited number of employees: Wages climbed 5.6% in March from the previous year, nearly double the pre-pandemic average of 3%.  
Many of those gains have been eroded, however, by the hottest inflation in nearly four decades that has pushed the price of everyday necessities like gasoline, clothing and food significantly higher. 
The rising prices have been bad news for President Biden, who has seen his approval rating plunge as inflation climbs higher.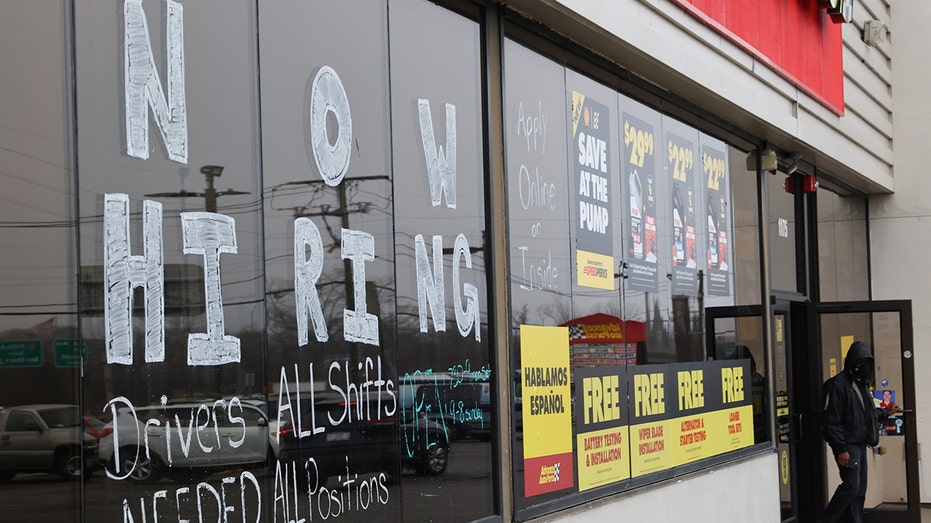 It has also forced the Federal Reserve to move more aggressively to combat the raging inflation: Central bank policymakers raised interest rates by 25 basis points in March and penciled in six, similarly sized increases for the remainder of the year.
But economists said that Friday's strong report, fast wage growth and the resilience of the U.S. economy in the face of potential threats could force the Fed to tighten policy even faster – setting the table for at least one 50-basis point hike next month. 
GET FOX BUSINESS ON THE GO BY CLICKING HERE
"For the Fed, today's report gives them little consolation," Shah said. "With wage growth running so high, inflation fears are only heating up. A 50-basis point hike at the next meeting is surely secured. The only question that really remains is how many more half-point moves there will be this year."