Weekly jobless claims totaled 1M last week, in-line with expectations
Economists surveyed by Refinitiv expected 1M new claims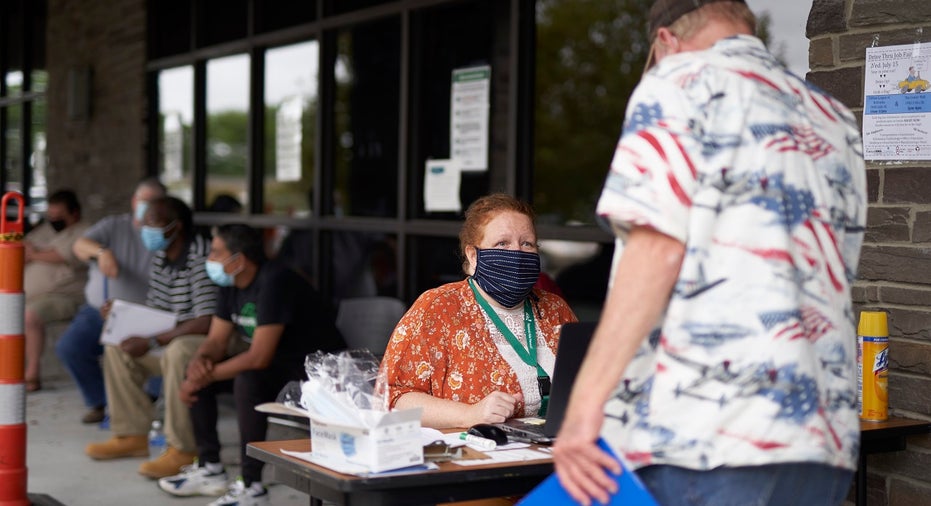 The number of Americans filing for unemployment benefits dropped last week, in line with estimates, the Labor Department said Thursday.
Initial weekly jobless claims totaled 1.006 million for the period ending Aug. 22, bringing the total number of claims to 58.4 million -- 36.5%, or more than one-third of the U.S. labor force -- since coronavirus-related lockdowns began in March.
Economists surveyed by Refinitiv expected 1 million new claims. Last week, the number of Americans filing for unemployment aid unexpectedly rose to 1.1 million.
US ECONOMY IN RECESSION BUT SEEING 'SIGNS OF LIFE': FED'S ESTHER GEORGE
"The recent turbulence in claims reminds us that there's no guarantee that the recovery will progress uninterrupted," Glassdoor senior economist Daniel Zhao said.  "The report does show claims remain near intra-crisis lows. The brief detour seen in recent weeks is not enough to push the economy off its overall path to recovery."
More than 14.5 million are collecting traditional jobless benefits -- up from 1.7 million a year ago -- a sign that many American families are depending on unemployment checks to keep them afloat.
Until July 31, the unemployed were receiving an extra $600 a week in federal money on top of regular state unemployment benefits, part of an extraordinary lifeline extended to help them through the crisis. The loss of that money is putting the squeeze on many families.
"My income is basically cut in half,'' said Taylor Love, 34, an unemployed massage therapist in Austin, Texas. "Paying our mortgage is going to be a struggle. We're going to have to dip into what little savings we have.''
IRS TAKES STEPS TO SOLVE STIMULUS CHECK TROUBLES
After passing a massive financial rescue package in March, congressional Republicans and Democrats have been unable to agree on more aid. President Donald Trump signed an executive order Aug. 8 offering a stripped-down version of the expanded unemployment benefits. At least 39 states have accepted or said that they would apply for federal grants that let them increase weekly benefits by $300 or $400.
Last week, nearly 608,000 people applied for jobless aid under a new program that extends eligibility for the first time to self-employed and gig workers, up from 525,000 the previous week. That figure isn't adjusted for seasonal trends, so it's reported separately.
Altogether, the Labor Department said that 27 million people are receiving some form of unemployment benefits, though the figure may be inflated by double-counting by states.
GET FOX BUSINESS ON THE GO BY CLICKING HERE
The pandemic has had a devastating impact on the American economy. Businesses closed and Americans stayed home to avoid infection. Economic activity plummeted. From April through June, gross domestic product -- the broadest measure of economic output -- shrank at an annual rate of 31.7%, by far the worst quarter on record. Employers slashed more than 22 million jobs in March and April.
Since then, the job market and the economy have been rebounding as businesses slowly reopened. Home sales and prices have been strong. Employers added nearly 9.3 million jobs in May, June and July -- but that hiring surge replaced just 42% of the jobs lost in March and April.
READ MORE ON FOX BUSINESS BY CLICKING HERE  
A summertime resurgence of cases in the South and West forced many businesses to close again in July. The data firm Womply reports that business closures have mostly stabilized in the past four weeks. Still, 70% of Texas bars and 71% of California health and beauty shops were closed as of mid-August, Womply found.
The Associated Press contributed to this report