$31.4T government debt limit close to maxing out
Congress will likely have to address the debt limit this summer to avoid default
The federal government is hurtling toward its $31.4 trillion debt limit which will likely be reached within weeks, setting the stage for a summer showdown in Congress over the debt and spending. 
The national debt has ballooned in recent years as federal spending reached all-time highs. More than $6 trillion in pandemic relief was tacked on to the government's typical annual spending – which is presently about $1.7 trillion on discretionary programs, and roughly $4.2 trillion in mandatory spending on Medicare, Social Security, and servicing the national debt. 
There have been bipartisan contributions to the national debt over the last two decades that have led to its rise from about $10 trillion when President George W. Bush took office, to roughly $14 trillion when President Barack Obama followed suit, to $24 trillion when President Donald Trump began his term and more than $30 trillion at the start of President Joe Biden's administration.
JAMIE DIMON SOUNDS ALARM ON RISING DEBT HAVING 'POTENTIALLY DISASTROUS OUTCOMES'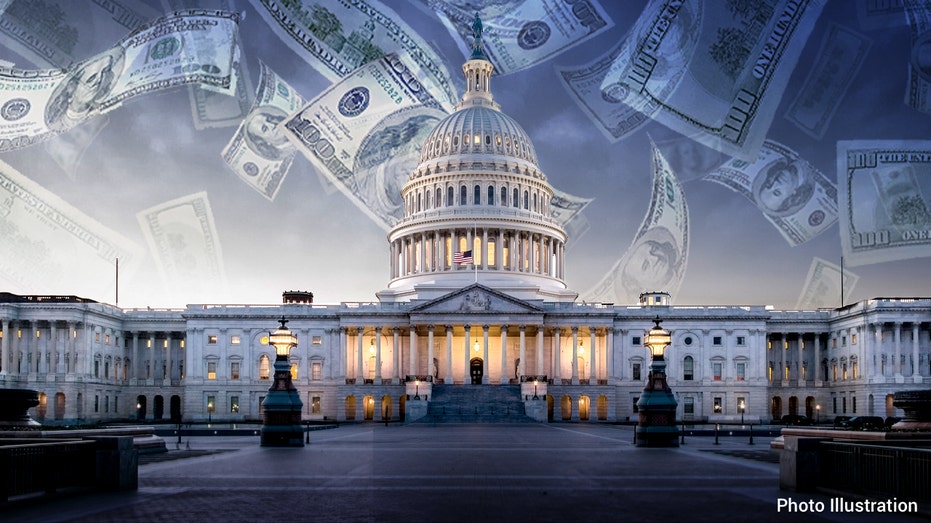 Debt Limit to Prompt Extraordinary Measures
Based on current spending and tax revenue collection levels, the government is expected to reach the debt limit of $31.385 trillion in a month or less. 
That will force the Treasury Dept. to use its "extraordinary measures" to keep paying the U.S. government's obligations and avoid default until Congress acts. Those tools essentially consist of the Treasury using cash balances it would otherwise invest in one-day securities and foreign currencies, while also suspending sales of debt by states and localities, and civil service and postal service pensions.
The Bipartisan Policy Center (BPC) tracks what it calls the "X Date" which estimates the date when the federal government will exhaust its extraordinary measures. In recent years, these measures have typically given lawmakers an extra three to five months to address the debt limit, but the duration varies based on spending levels and tax receipts. 
US NATIONAL DEBT ON PACE TO BE 225% OF GDP BY 2050, PENN WHARTON SAYS
The most recent estimate for the X Date was performed last June when it was forecasted to arrive in the third quarter of 2023.
BPC's Director of Economic Policy Shai Akabas told FOX Business that uncertainty about spending levels and economic conditions may mean the X Date arrives sooner than the last forecast: "The recurring extensions of the ongoing student loan pause, faster-than-expected interest rate increases, and persistent inflation have all impacted the debt limit timing for this year — on net, we expect them to accelerate the X Date's arrival."
Akabas noted that some of the uncertainty is due to a Congressional Budget Office report updating budget baselines that's due to be released in the next month and added: "The debt limit X Date will likely arrive sometime around the middle of this year, though we will have a better sense in a few weeks from now when we have new economic projections to work with."
Summer Showdown to Avert Default
With the Treasury Dept. likely to exhaust its extraordinary measures this summer, Congress is expected to have to act on raising the debt limit before lawmakers depart for their annual August recess. The changing political dynamics on Capitol Hill may complicate that process.
The new Republican majority in the House includes many conservatives who oppose raising the debt limit without spending cuts. 
"This is our moment to change the behavior," House Speaker Kevin McCarthy (R-Calif.) told Fox's Sean Hannity on Tuesday. "We're going to look at every single dollar spent."
On the other side of the aisle, the Democratic Senate majority and President Biden are unlikely to accept substantial cuts. 
"Congress is going to need to raise the debt limit without — without — conditions, and it's just that simple," White House Press Secretary Karine Jean-Pierre said recently. "Attempts to exploit the debt ceiling as leverage will not work. There will be no hostage-taking."
DEBT CEILING BOMB NEARS AS GOVERNMENT SPENDING BALLOONS
The consequences of failing to raise the debt limit are potentially calamitous, which is why it has at times been used as political leverage for policy changes. A recent report by the nonpartisan Congressional Research Service notes the potential fallout could consist of:
Reduced ability of the Treasury Dept. to borrow funds on advantageous terms, particularly through higher interest rates, thereby further increasing federal debt;
Substantial negative outcomes in global economies and financial markets caused by an anticipated default;
Interest penalties from delay on federal payments or transfers that increase spending; and
Downgrades of U.S. credit ratings that would negatively impact capital markets.
GET FOX BUSINESS ON THE GO BY CLICKING HERE
That sets the stage for what may be a high-stakes showdown over the debt limit that could be the most acrimonious since the standoff of 2011, when GOP holdouts delayed debt limit hikes in exchange for the enactment of budget caps known as "sequestration." 
Those budget caps remained in effect until a bipartisan budget deal reached in 2019 lifted the caps for the last two years of the 10-year budget cycle sequestration applied to. The budget caps ultimately expired when lawmakers declined to extend or reform them amid the COVID-19 pandemic.
The Associated Press contributed to this report.