Super Bowl attendees brace for hacks after ESPN, NFL attacks
Hacker group OurMine said to have Saudi ties makes a return after three years of dormancy
The biggest week in American sports is quickly becoming known for the biggest computer hack in sports.
Global sports media kingpin, ESPN, was attacked by hackers hours after nearly all of the social media accounts for the NFL and half of its teams, including the two Super Bowl squads the San Francisco 49ers and Kansas City Chiefs, were hacked. All the cyberattacks came from the organization known as OurMine, which some reports claim have ties to Saudi Arabia.   
MEET THE YORK FAMILY, THE SAN FRANCISCO 49ERS OWNERS
OurMine has made a name for itself by hacking the social media accounts of boldface names and companies. The hackers have taken credit for gaining access to actor Channing Tatum's Twitter account, Google CEO's Sundar Pichai Quora account and Twitter founder Jack Dorsey's Vine account. The group in the past usually uses hacks as an opportunity to advertise its so-called "security services."
The league issued a statement on the attack acknowledging their occurrence and steps to move forward.
"On Monday, the NFL Cybersecurity department became aware of a breach of a league-related social media account," the NFL said in a statement. "Targeted breaches and additional failed attempts were discovered across the league and team accounts."
League officials took directed the teams to secure social media accounts and prevent further unauthorized access.  Meanwhile, the league alerted the social media platform providers, and secured all-league and club accounts.
"We continue to work diligently with the teams, which have resumed normal operations," the NFL said. "The NFL and teams are cooperating with its social media platform providers and law enforcement."
HIGHEST-PAID PLAYERS ON CHIEFS, 49ERS
The first hack on the NFL was Sunday morning against the Chicago Bears, which featured the message: "Welcome to our new owner @Turki_alalshikh #ProBowl #Bears100 #ChicagoBears." The pictured and named person in the tweet is described as a Saudi Royal Court advisor on his Twitter account.
GET FOX BUSINESS ON THE GO BY CLICKING HERE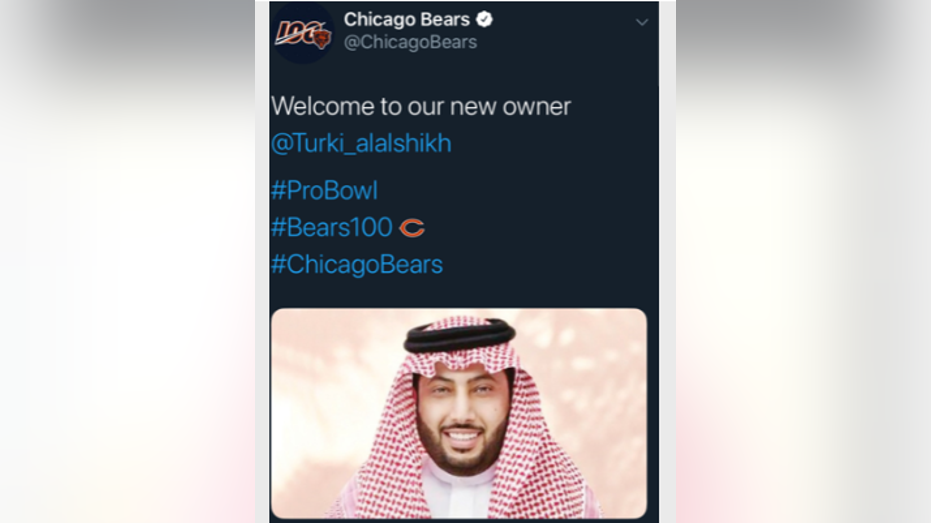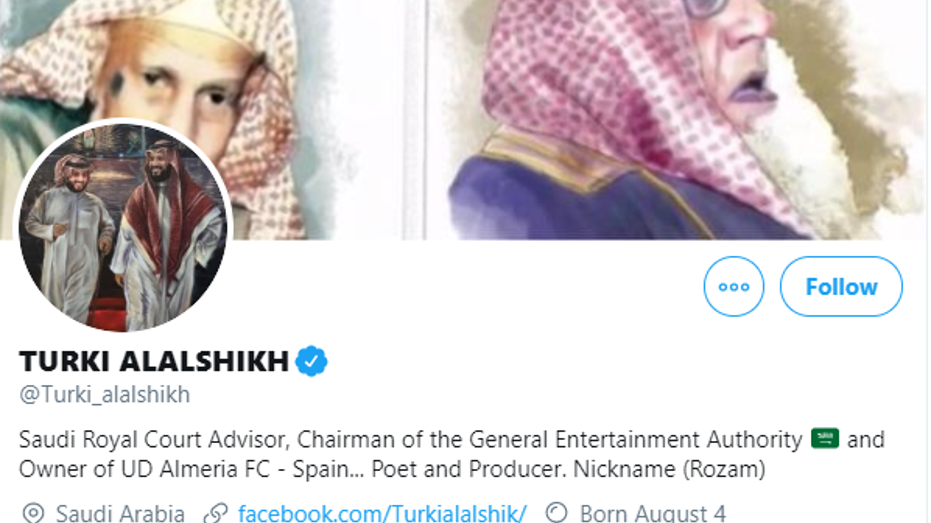 NBC News, in a report on the story, claimed the OurMine is "a Saudi hacking account that promotes its own cybersecurity services." In an email exchange, an alleged member of the hacking group said of the attacks: "We pick our targets randomly, and we already tried to contact them before the tweets but we didn't receive any response yet."