Vince McMahon's XFL reboot has key financial advantage over past football startups
McMahon has pledged $500M from his personal fortune to fund the XFL
The rebooted XFL will enter its inaugural season Saturday with a key financial advantage over the many past upstart leagues that failed to survive – including the original version of WWE CEO Vince McMahon's pro football experiment.
The creation of a new professional football league requires a massive upfront investment to cover the costs of player salaries, injury insurance, operational costs and various other expenses. Past football startups, such as the doomed Alliance of American Football, were unable to raise the cash they needed to get past their initial growing pains.
Unlike the AAF, the XFL won't have to rely on outside investors. McMahon has pledged $500 million from his personal fortune to fund the XFL. With initial funding established, the league has a chance to last long enough to land the lucrative media rights and corporate sponsorship deals required for lasting success.
XFL BROADCAST DEALS, FAST-PACED PLAY WILL BUILD STRONG BUSINESS
"Self-financing not only brings with it a strong sense of financial autonomy, especially when the access to cash is fairly seamless but when this is combined with institutional knowledge, the result is frequently 'smart money' being brought to bear," said David Carter, an executive at The Sports Business Group. "Although the combination of these elements may not ensure success, lacking them certainly hinders it."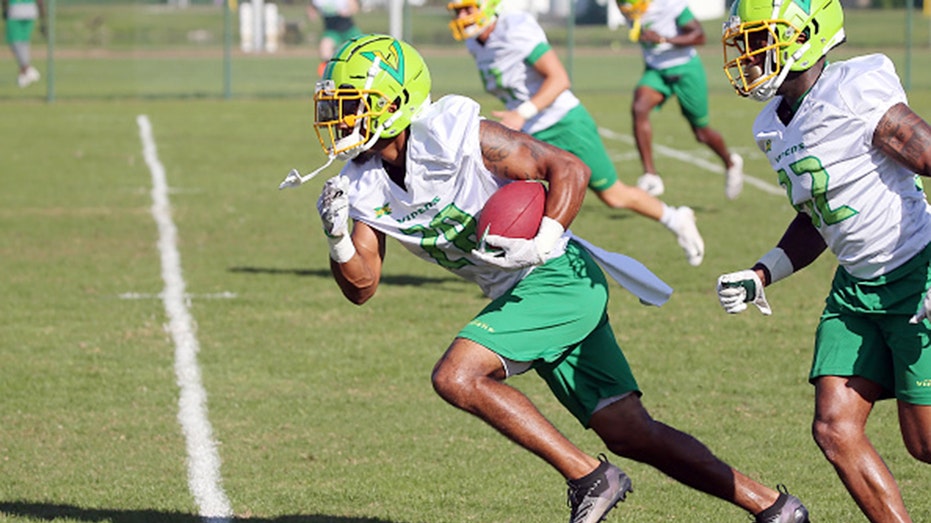 Founded in 1999, the original XFL compiled a $70 million deficit during its one year in operation, marking just one of several failed bids to access the U.S. public's massive appetite for pro football. The AAF provided the most recent example of the financial pitfalls of starting a new pro sports league.
Despite luring early investments from Peter Thiel's Founders Fund, The Chernin Group and MGM Resorts, the AAF encountered immediate financial problems during its inaugural season. In danger of missing payroll, AAF sold majority control to Carolina Hurricanes owner Tom Dundon, who pledged $250 million in funds. However, Dundon pulled funding after AAF failed to reach terms on a strategic partnership with the NFL, forcing Charlie Ebersol's league to file for bankruptcy.
XFL, USFL, OTHER PRO FOOTBALL LEAGUES THAT TOOK ON THE NFL
Prior to the AAF's launch, Ebersol told FOX Business that the league would require $750 million "at minimum" over its first five years to survive.
The rebooted XFL boasts some advantages over its predecessors. The league has national broadcast partnerships with Disney-owned ABC and ESPN, Fox and Fox Sports One, ensuring that every game of its 10-week regular-season airs live to a broad audience. While none of the broadcast partners are paying XFL the rights fees, the deals provide the league with a chance to build a national fan base.
"We're focused on building something for the long term," XFL President Jeffrey Pollack said during an appearance on "Cavuto: Coast to Coast." "No league has launched with the broadcast partnerships that we have."
XFL DRAFTEE COREY VEREEN REJECTS CONTRACT OVER LOW PAY
The XFL is paying its players an average salary of $55,000 for its inaugural season, with some players, such as quarterbacks, capable of earning substantially more money. While the structure led to consternation among players, at least one of whom opted to keep his day job rather than play in the XFL, it should keep the league's expenses relatively manageable.
By comparison, the AAF gave all of its players three-year contracts worth $250,000 but struggled to make payroll on a week-to-week basis.
McMahon has already sold WWE shares worth more than $300 million since the XFL reboot was first announced in 2018. The XFL's parent company is Alpha Entertainment, McMahon's personal sports and entertainment venture fund.
GET FOX BUSINESS ON THE GO BY CLICKING HERE
Troubles in the WWE, McMahon's main business, could complicate matters for the XFL. While McMahon reiterated during an earnings call on Thursday that WWE has no investment in the XFL, the sports entertainment company still accounts for the majority of McMahon's on-paper wealth.
McMahon's stake in WWE has declined in market value by more than $500 million since the company announced the abrupt departures of longtime co-presidents George Barrios and Michelle Wilson. At present, it's unclear how any prolonged downturn in the WWE's business would impact McMahon's plans to invest in the XFL.
CLICK HERE FOR MORE SPORTS COVERAGE ON FOXBUSINESS.COM
The XFL kicks off its inaugural season on Saturday afternoon.
Fox Corp. is the parent company of Fox Sports and FOX Business.