Yellen Senate Confirmation Hearings Begin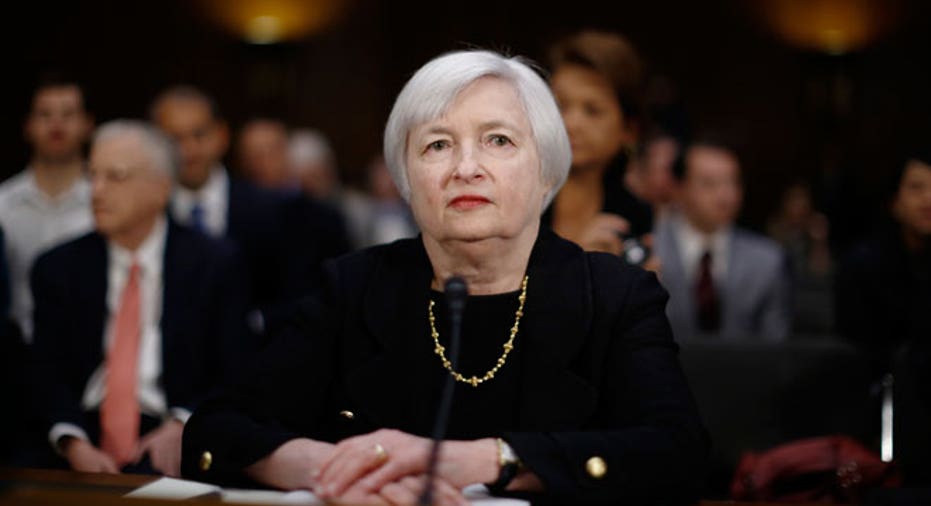 Federal Reserve Vice Chair Janet Yellen defended the Fed's easy-money stimulus policies Thursday in her first day of hearings before a Senate committee as she seeks to replace Ben Bernanke at the helm of the U.S. central bank.
Yellen in her opening statement credited the Fed's interventionist policies with supporting the ongoing recovery and described the economy as "significantly stronger."
"We have made good progress but there's further to go," Yellen said.
As expected, Yellen signaled her intentions to maintain the Fed's unprecedented stimulus measures if the economy needs them. "I consider it imperative that we do what we can to promote a very strong recovery," she said.
Yellen is widely expected to be approved later this year by the full Senate – there are easily enough Democratic votes to push her nomination through – but it won't be a cake walk.
During questioning Thursday, Yellen was called upon to justify the Fed's years of easy-money policies, the trillions of dollars in bond purchases known as quantitative easing and near-zero interest rates in place since December 2008.
Critics of these policies, mostly Republicans, want to know whether Yellen thinks the programs have worked and when and how the Fed plans to unwind them.
Senator Mike Crapo (R-Idaho) gave voice to these concerns early in Thursday's hearing.
"Do you agree that at some point we have to return to normal monetary policy?" Crapo asked Yellen.
Yellen acknowledged that the policies can't be extended indefinitely, but she gave no clues as to when the programs might start to be scaled back.
Markets have twisted and turned for months on every perceived hint that the Fed may or may not announce a tapering of its $85 billion a month bond purchase program.
The latest round of bond purchases, initiated over a year ago, was specifically designed to provide a lift to U.S. labor markets. The results are inconclusive.
Unemployment, a key economic measure for gauging the success of the Fed's strategies, has fallen to 7.3% from a high of 10% during the height of the recent financial crisis and ensuing recession, but economic growth overall has been spotty. And, to a large degree, the drop-off in the unemployment rate has been caused by people leaving the workforce out of frustration that they can't find stable, full-time work.
Yellen specifically cited the housing market as a sign of economic recovery. "Home values are moving up and that's helping a substantial number of households," she said.
Quantitative easing is intended to keep longer-term interest rates on loans such as mortgages low "to spur demand in the economy," Yellen explained.
Beyond the concern that the dramatic policies haven't worked as well as hoped is a fear that if left in place too long the bond purchases and historically low interest rates will lead to asset bubbles and runaway inflation.
Already there is talk that the stock market run up, which has the major indexes breaking new highs almost daily, is a bubble caused by investors gorging on the free-flowing cash created by the Fed's printing presses.
Yellen, addressing questions related to potential asset bubbles, said Thursday she doesn't currently see any "price misalignments" that "would threaten financial stability."
Yellen was one of the few Fed policy makers to warn of a housing bubble ahead of the 2008 financial crisis.
She conceded however on Thursday that "an environment of low interest rates can induce risky behavior."
At one point, Yellen indirectly chided Congress for its dysfunctional approach to fiscal policy, dysfunction that has led to across-the-board spending cuts and a partial government shutdown last month. Both the cuts and shutdown have been cited as drags on economic growth.
"We are worried about fragile recovery. More support from fiscal policy, or less drag, one that did no harm, would make life easier," Yellen said.
Yellen has the support of a majority of Democratic senators, many of whom signed a letter in support of her nomination this summer when Yellen seemed to be in a head-to-head competition for the appointment with long-time Washington, D.C., economics guru Lawrence Summers.
Summers dropped out of the race in September after it became clear he couldn't be approved, paving the way for President Obama to nominate the more popular Yellen in October.
Yellen has been one of Bernanke's strongest supporters as the current Fed chair has quarterbacked the recovery effort using a string of unprecedented measures. She is widely regarded as an inflation dove and can be expected to maintain Bernanke's policies, even broaden them, if she is approved and she believes economic conditions warrant an expansion of stimulus.
Bernanke will step down on Jan. 31.