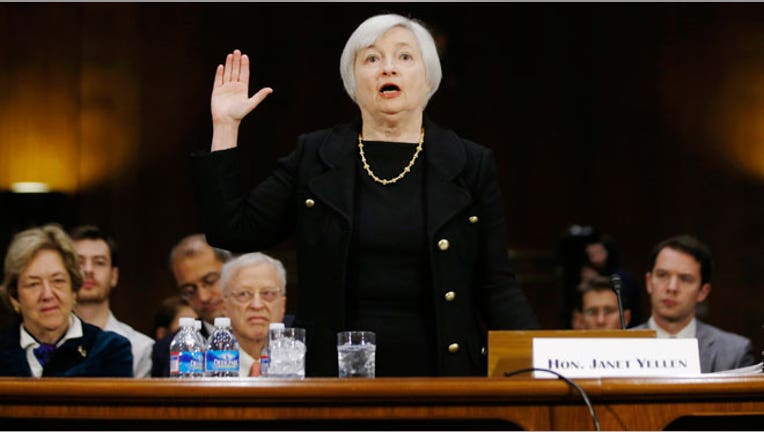 Investors will have their hands full next week digesting, among other items, news out of Greece as it attempts to negotiate a new bailout, testimony from Federal Reserve Chair Janet Yellen before two Congressional hearings, and earnings reports from several top U.S. banks.
Eurozone fiscal leaders are set to meet Saturday and Sunday to review a proposal by Greece for reforming its broken financial system as part of a deal to obtain more loans to pay down its massive debt load.
The stakes are high as a breakdown on either side could lead to Greece's exit from the 15-year-old Eurozone, an unprecedented occurrence for the 19-member, single-currency union.
Yellen will speak Wednesday and Thursday presenting her semi-annual monetary report to House and Senate Committees. Congressmen and senators will undoubtedly grill Yellen on the timing of the first interest rate hike in nearly a decade.
For her part, Yellen will undoubtedly hold to the same script she's been reading from for months: to wit, the timing of the rate hike will depend on incoming data, and if the data continues to show strengthening labor markets and the likelihood of rising inflation, the first hike can be expected before the end of the year.
Second quarter earnings season kicks into high gear with a slew of reports from the biggest U.S. banks, including J.P. Morgan Chase (NYSE:JPM) and Wells Fargo (NYSE:WFC) on Tuesday, Bank of America on Wednesday (NYSE:BAC) and Citigroup (NYSE:C) and Goldman Sachs (NYSE:GS) on Thursday.
Other bellwether companies reporting next week include tech and Internet giants Intel (NASDAQ:INTC) and Netflix (NASDAQ:NFLX) on Wednesday and eBay (NASDAQ:EBAY) and Google (NASDAQ:GOOGL) on Thursday.
Other economic reports due next week include June retail sales on Tuesday; the Producer Price Index, a key inflationary gauge, on Wednesday; the Consumer Price Index, also a look at inflation, on Friday; and June housing starts also on Friday.