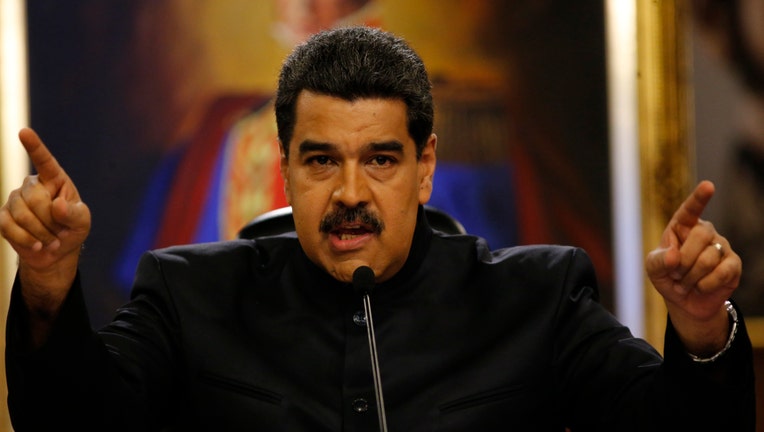 President Nicolas Maduro's adversaries staged a two-day national strike on Wednesday in a final push to pressure him into abandoning a weekend election for a super-congress they say will institutionalize autocracy in Venezuela.
Neighbors gathered from dawn in cities around Venezuela to block roads with rubbish, stones and tape, while many cafes and businesses remained closed in protest against the ruling Socialist Party's planned Constituent Assembly vote.
"It's the only way to show we are not with Maduro. They are few, but they have the weapons and the money," said decorator Cletsi Xavier, 45, standing with women blocking the entrance to a freeway in upscale east Caracas with rope and iron sheets.
There was less enthusiasm, however, for the strike in working-class neighborhoods and rural zones where the government has traditionally drawn more support. Overall, fewer people were heeding the shutdown than the millions who participated in a 24-hour strike last week.
Many Venezuelans, regardless of their political views, were fretting about the impact of disruptions on their wallets - and stomachs. The OPEC nation is immersed in a brutal economic crisis, with shortages of basic foods and medicines.
"I closed last week, but now I need to open in order to eat," said mother-of-two Isabel Fernandez, 36, who sells vegetables at a market in the Catia neighborhood of the capital where the stalls were open albeit with fewer customers.
The opposition, which has majority support after years in the shadow of Maduro's popular predecessor Hugo Chavez, says Sunday's election is a farce designed purely to keep the Socialist Party in power.
"Don't vote. SOS Venezuela!" read large white letters placed on a hilltop in the western state of Tachira, a hotbed of anti-Maduro sentiment.
Members of a self-styled "Resistance" movement, which accuses the opposition of largely being too soft on Maduro, warned on social media that they had strewn spikes to stop traffic in Tachira, which borders Colombia.
The opposition's No. 1 demand is conventional elections, including for the presidency, to remove Maduro.
The government is deploying 232,000 soldiers to protect Sunday's vote, and National Guard troops were out on Wednesday pulling down barriers. A dozen protesters blocking a street in the Paraguana peninsula were arrested, security sources told Reuters.
MADURO DEFIANT
The 54-year-old president, who calls himself "the son of Chavez" and flag bearer of his "21st century socialism" project, insists Sunday's vote will go ahead despite intense pressure at home and abroad including a threat of U.S. economic sanctions.
The Trump administration was on Wednesday imposing sanctions on 13 senior Venezuelan officials.
Maduro says the election for the 545-seat assembly, which will have power to rewrite the national constitution and override the current opposition-led legislature, is designed to put power in the hands or ordinary people.
State TV showed gatherings of red-shirted workers pumping fists and vowing to support the Constituent Assembly.
"The people can resolve this crisis," said government supporter and hospital worker Carmen Hernandez, 59, as she crossed a busy plaza in central Caracas.
"I don't agree with the opposition, they're violent people. This is not how you build a country!"
Despite the no-compromise rhetoric on both sides, mediator and former Spanish prime minister Jose Luis Rodriguez Zapatero was shuttling between the opposition and government. He discussed a proposal to postpone the vote, opposition sources said, but there was no evidence it was getting traction.
State enterprises, including oil company PDVSA that accounts for 95 percent of Venezuela's export income, were staying open on Wednesday. Public employees - who number 2.8 million in total - had strict orders not to skip work and to vote on Sunday.
"Who can risk their work in moments like this?" said Elio Jimenez, 40, who works at an oil refinery in the Paraguana peninsula.
Five people died during last week's strike as National Guard troops seeking to dismantle blockades fired tear gas and rubber bullets at masked youths hurling stones and Molotov cocktails.
That took to over 100 the number killed since protests against Maduro began in early April.
(Additional reporting by Diego Ore, Andrew Cawthorne, Andreina Aponte, Anggy Polanco, and Fabian Cambero in Caracas, Francisco Aguilar in Barinas, Maria Ramirez in Puerto Ordaz, and Isaac Urrutia in Maracaibo; Writing by Andrew Cawthorne; Editing by Phil Berlowitz and W Simon)