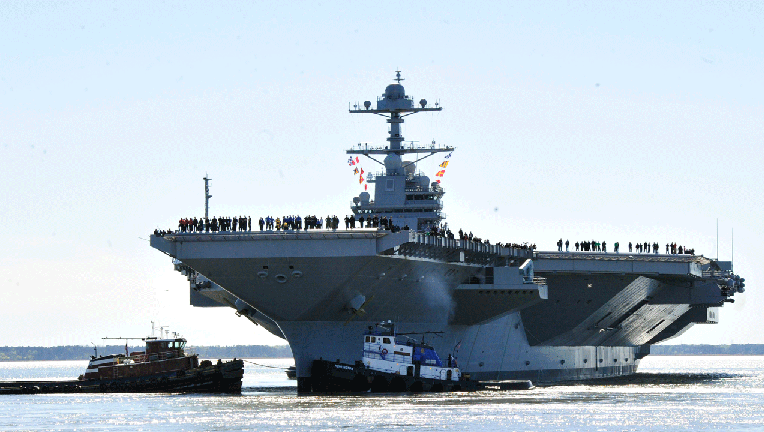 The United States Navy's most powerful addition yet to its supercarrier arsenal — the USS Gerald R. Ford — will officially join the rest of the fleet this Saturday.
President Donald Trump will oversee the commissioning ceremony for the carrier at Naval Station Norfolk this weekend. Although the ship will be active as of Saturday, it will likely take another four years before the carrier is deployed — though it is expected to be in service for 50 years.
The USS Gerald R. Ford took 12 years to build and cost $12.9 billion—an expense that has been the source of criticism among some lawmakers on Capitol Hill. A new Government Accountability Office report indicated the Navy could still spend another $780 million on outstanding tests and trials.
The ship is nearly 1,100 feet long with an expanded flight deck width of 256 feet, allowing it to hold more than 75 aircraft at a time. This is the first ship of the new Ford class, which is expected to be a premier asset for the Navy's crisis response, deterrence, power projection and striking capabilities.
According to the Navy, the newest supercarrier, which went $2 billion over budget and was delivered behind schedule, will be able to increase sortie rates by more than 30 percent when compared to its predecessors. The Ford also has new launch and recovery technologies. It will be the Navy's first carrier to have all electric utilities, compared with previous models that contained some steam services.
The last carrier added to the fleet was the USS George H. W. Bush, which was delivered to the Navy in 2009. The Navy refers to its aircraft carriers as the "centerpiece of the forces necessary for operating forward."