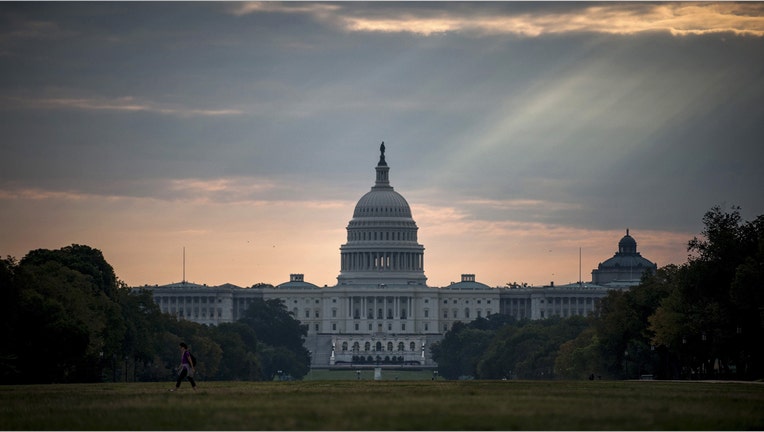 The House on Wednesday passed a two-year budget deal that would extend the government's borrowing limit less than a week before the Treasury risks being unable to pay its bills.
The legislation passed the House by a vote of 266-167 and now heads to the Senate, which is expected to pass it later this week or weekend, depending on whether its opponents try to delay the process. GOP presidential hopeful Sen. Rand Paul of Kentucky has indicated he will block efforts to speed up the deal's Senate passage.
The bill would implement a rare, multiyear fiscal deal struck late Monday night between congressional leaders and the White House after weeks of negotiations that faltered at times.
The agreement has drawn GOP opposition in both chambers and on the presidential campaign trail from conservatives upset that it raises spending by $80 billion through September 2017 and extends the government's borrowing authority through mid-March 2017. The Treasury Department has said an increase or an extension of the debt ceiling needed to be passed by next Tuesday in order for the country to avoid any risk of defaulting on its obligations.
On Wednesday, the House Freedom Caucus, a group of conservatives, said it would oppose the bill, calling it a "fiscal monstrosity" and objecting to the secret negotiations between top lawmakers and President Barack Obama that produced it.
But senior Republicans said the agreement was preferable to the alternative: raising the debt ceiling with no policy strings attached, known as a "clean" increase. Rep. Paul Ryan (R., Wis.), expected to be elected the next House speaker on Thursday, said Wednesday morning he would support it despite his objections over the last-minute deal making with the administration.
"It's not perfect--far from it," Senate Majority Leader Mitch McConnell (R., Ky.) said of the deal on the Senate floor Wednesday. But he praised its changes to safety-net programs and boost to military spending. "It would provide greater certainty to our military planners to help ensure readiness and preparedness for our troops."
The agreement lifts federal spending above limits established in a 2011 law that have been in effect since 2013, known as the sequester. It would increase spending by $50 billion in fiscal-year 2016 and $30 billion in fiscal 2017, evenly split between military and domestic spending.
The legislation also incorporates fixes to two federal safety-net programs lawmakers wanted to address well before next year's elections. The agreement would extend the solvency of the Social Security program used to help support disabled people. The deal also would prevent an expected 52% increase in premiums for roughly 30% of the people enrolled in Medicare Part B, which covers outpatient care such as doctor visits.
The Senate was expected to take its first procedural steps later Wednesday to bring the bill to the floor. Mr. Paul has said he plans to block the consent needed to speed up its consideration in the Senate.
"I will fight this deal at every step and filibuster so the American people have a chance to say enough is enough," Mr. Paul said on Twitter.
However, Mr. Paul would likely not be able to delay its passage beyond Monday at the latest because the agreement is expected to secure the support of at least 60 senators, who can vote to cut off debate on the bill. If senators don't agree to speed up proceedings, a final vote would fall on Saturday, which could get bumped to Monday.
Senate Minority Leader Harry Reid (D., Nev.) said Tuesday he hoped all Senate Democrats would back the agreement.
"This agreement is not perfect and we all know that, but it does address both investment in domestic priorities that benefit the middle class, and also takes care of defense spending," Mr. Reid said.
Some of the measures aimed at offsetting the bill's cost had threatened to siphon off support for it. In particular a provision reducing the rate of return for private companies that sell federal crop insurance drew outrage from top agriculture committee Democrats and Republicans in both chambers.
Farmers buy federally subsidized crop insurance from companies whose losses and expenses are partially covered by the government. As part of last year's farm bill, lawmakers beefed up the federal crop-insurance program when they ended an unpopular system of direct payments to farmers.
Shortly before the Wednesday vote, House Agriculture Committee Chairman Michael Conaway (R., Texas) announced an agreement with congressional leaders that he said would "completely reverse this disastrous provision" in a December spending bill.
By Kristina Peterson