Trump's Health Care Melee a Major Problem for Speaker Paul Ryan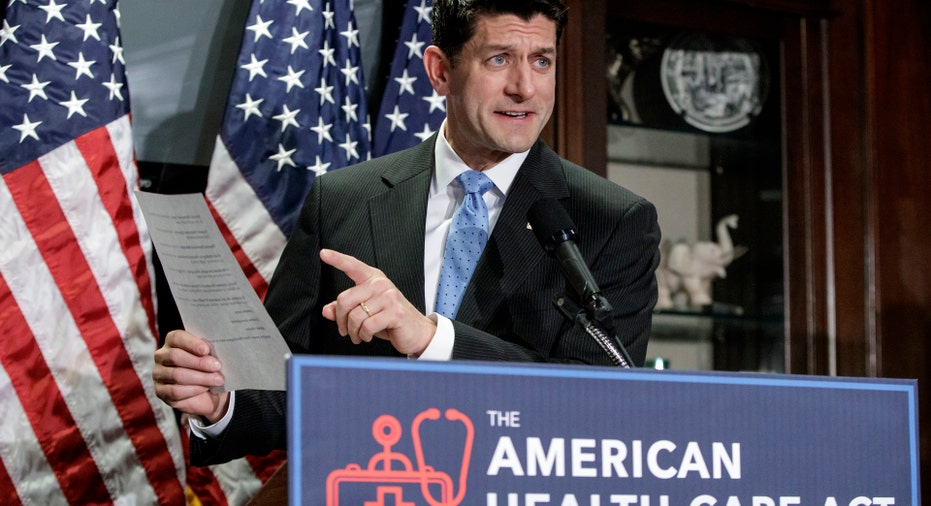 The conservative revolt inside the House of Representatives is steamrolling President Trump's revamp of ObamaCare, known as the American Health Care Act, and possibly along with it the man in charge getting the bill through Congress: House Speaker Paul Ryan.
The Republican House Speaker, who reluctantly took the post following the resignation of Ohio Republican John Boehner in 2015, faces mounting questions about his leadership abilities amid the heath care debacle, especially after the bill was pulled from the House floor Friday since the GOP failed to procure enough votes. On Friday President Trump gave what appeared to be a vote of confidence in Ryan's leadership, saying he should remain as Speaker even if the Republican health care bill failed, due in large part, to dissenting votes from the Conservative Freedom Caucus.
However, FOX Business has learned Trump's senior adviser, Steve Bannon, has been telling people that if the bill fails, Ryan should be replaced as Speaker of the House. One name Bannon has allegedly floated as a potential replacement is Freedom Caucus chief Mark Meadows (R-NC).
"Steve is telling people if this thing fails Ryan should go," said one GOP insider. "And he has said Meadows could be the guy."
It's unclear whether Meadows, leader of the conservative faction of the GOP's House contingent, could muster enough votes to successfully challenge Ryan. A spokesman for Meadows didn't return repeated telephone calls for comment. A Trump spokeswoman had no comment on Bannon's involvement. A spokesman for Ryan had no immediate comment.
One thing is clear: Ryan, who was once the darling of the national conservative movement due to his support for tax cuts and budget restraint, has had his conservative bonafides questioned in recent years. Like Boehner, Ryan is now perceived as weak-willed when it comes to key issues near and dear to the Republican Right, such as voting for Wall Street bailouts and immigration reform.
"The conservatives didn't want another Boehner," Democratic political strategist Hank Sheinkopf said. "They want Gingrich from 1990" Sheinkopf added, referring to the former House Speaker Newt Ginrich who led a conservative takeover within the chamber during the early 1990s. "Instead they have a Ryan, who's similar to Boehner."
Ryan's management of the American Health Care Act has made the former "Young Gun" of the conservative movement appear even more establishment to the right wing's most faithful. Some conservative House member say he tried to get their approval on a bill that left standing key elements of ObamaCare, a patchwork of regulations and government edicts designed by the former president and Democrats in Congress to provide health insurance for every American.
While there is vast agreement among Republicans that ObamaCare needs to be altered dramatically as premiums increase and costs begin to explode, how this should be achieved has caused a civil war inside the party. Ryan, with the help of President Trump and the support of the moderate members of the House, offered an approach that gradually reduced ObamaCare mandates and left some key aspects of the law in place so Americans wouldn't be left without coverage.
More conservative lawmakers, including those from the House Freedom Caucus, are arguing that a dramatic overhaul is needed to prevent costs and premiums from skyrocketing. They also believe that Ryan misled them on a Congressional parliamentary procedure known as reconciliation, when Ryan argued that certain aspects of ObamaCare couldn't be removed immediately, and would have to remain until later in the process.
They found his reasoning unsupported, particularly after Ryan on Thursday, attempted a last-minute effort to gain their votes, proposing the elimination of the elements of ObamaCare that he said initially couldn't be included in the bill.
"A notable moment in the meeting (Thursday) night is when Paul Ryan spent five tortured minutes [saying] that they can now magically remove the essential health benefit mandates form ObamaCare when before they said it wasn't possible due to Senate rules," Kentucky Republican Congressman Thomas Massie, who said he would vote against the bill, told Fox Business. "So what happened there? Did the Senate rules change overnight or did they concede something? That's always possible."
Choosing Meadows as a replacement Speaker may seem odd, because at least publically, Trump and some of his senior staff have blamed the Freedom Caucus for the enormous headwinds in getting the ObamaCare revamp through the House. But Bannon has told people he favors Meadows if it means being able to nix Ryan as speaker.
Before joining the Trump team, Bannon ran the conservative website Breitbart News, a frequent critic of Ryan's more moderate brand of conservatism, and he would like a more staunchly conservative voice leading the House.