Trump: The Unconventional Candidate Looks to Conventional Economic Team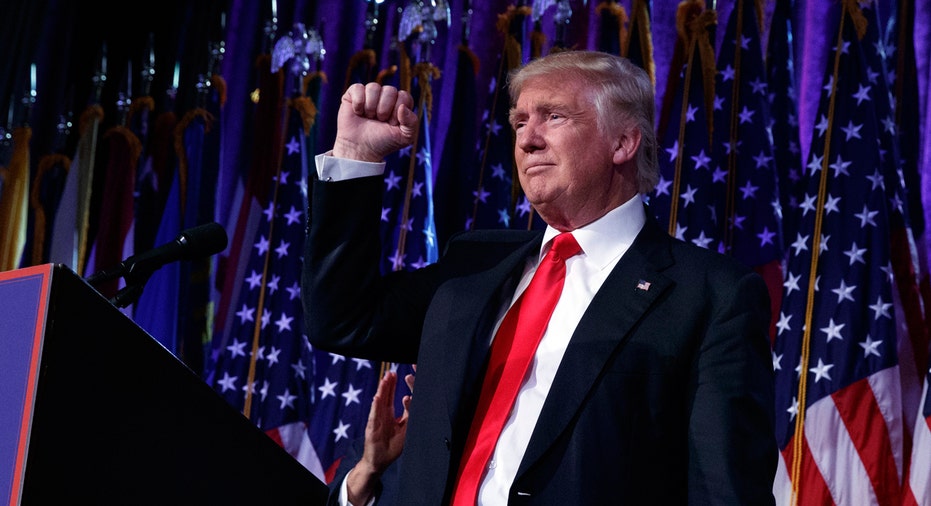 Donald Trump was an unconventional candidate, but now that he's been elected president he's assembling a fairly conventional Cabinet of key economic advisers plucked right from the Republican mainstream, the Fox Business Network has learned.
People inside the Trump camp say the President-elect has signaled he wants to select billionaire financier Wilbur Ross as his Commerce Secretary, and continues to favor, as first reported by Fox Business, his campaign finance chief Steve Mnuchin as Treasury Secretary.
Mnuchin, a former Goldman Sachs partner and hedge fund executive, remains the odds-on favorite to be Treasury, these people say. They denied a report from the business network CNBC that the campaign is actively considering JP Morgan chief Jamie Dimon for the post.
A source close to Dimon inside JP Morgan also said Dimon, a long-time Democrat, has indicated that he isn't interested in a government position in either party and has no plans to leave the big bank. A spokesman for JP Morgan had no comment.
Ross, who made his fortune, estimated at $3 billion, specializing in distressed investments, was a senior adviser to Trump during his campaign. He is considered a top choice as a Commerce Secretary because of his close ties to the business community, which is essential for the job.
Even though Trump has waged war against Wall Street and the establishment donor base on the campaign trail, he has privately grown close to Mnuchin who used his contacts in the financial community to raise money against difficult odds.
Though heavily outspent by Clinton, Trump managed to wage an effective campaign thanks in part to Mnuchin's ability to raise enough money to keep Trump competitive, albeit with a bare-bone ground game and far fewer attack ads than his ultimately vanquished Democratic rival, Hillary Clinton.
Another mainstream business name likely to find a place in the Trump administration is former Bear Stearns economist David Malpass, a Trump economic adviser throughout the campaign cycle. During his long career in business and government, Malpass served in economic policy related posts in both the administrations of presidents Ronald Reagan, and George H.W. Bush. He is currently running an economic forecasting firm, Encima Global.
A spokeswoman for Trump didn't return calls for comment. Ross, Mnuchin and Malpass also didn't return calls for comment.
People inside the Trump transition team say the list is fluid and Trump himself has been known to make last-minute decisions. Trump wavered on his selection of Governor Mike Pence (R-IN) for Vice President, and almost opted for New Jersey Governor Chris Christie.
Still, the Trump short list of possible Cabinet choices reflects a group of people who the President-elect feels comfortable with inside the White House when he takes over. Other possible Cabinet choices include former New York City Mayor Rudy Giuliani; Trump himself would like Giuliani to be his Attorney General or Homeland Security chief, while Giuliani has indicated he would also like to be considered for Secretary of State or Defense.
Giuliani didn't return a call for comment.
Sources lay low odds, at least for now, that Giuliani will get either post. The Defense post is likely to go to Senator Jeff Sessions (R-AL), and the top Secretary of State contenders are John Bolton, the former U.S. Ambassador to the United Nations, and Senator Robert Corker (R-TN), who is also chairman on the Senator Committee on Foreign Relations.
Sessions and Bolton couldn't be reached for comment.
The top choices for Trump's Chief of Staff include his campaign chief Steve Bannon, a media executive who left his leadership post at Breitbart.com to join the campaign, and Republican National Committee chairman Reince Priebus. Neither Bannon nor Priebus returned calls for comment.
Sarah Palin, the former Alaska Governor and running mate of Senator John McCain (R-AZ) during his unsuccessful 2008 presidential campaign, is likely to receive some role in a Trump administration as an undersecretary, possibly in the Department of the Interior. Richard Grenell, a former adviser to Bolton, is now among the top choices to get his old boss's job as UN Ambassador.
Grenell had no comment and Palin couldn't be reached for comment.
One large unknown: Whether Christie will have any Cabinet position that needs a Senate confirmation following the conviction of two of his top aides on federal fraud charges in the so-called BridgeGate scandal. Christie wasn't charged in the matter, but several witnesses during the trial said Christie had some knowledge of the closing of lanes on the George Washington Bridge that was allegedly designed to cause the traffic jam in the town of Fort Lee, where the mayor refused to endorse the governor for re-election.
Christie had no comment.