Trump Team Reconsiders Scaramucci's White House Role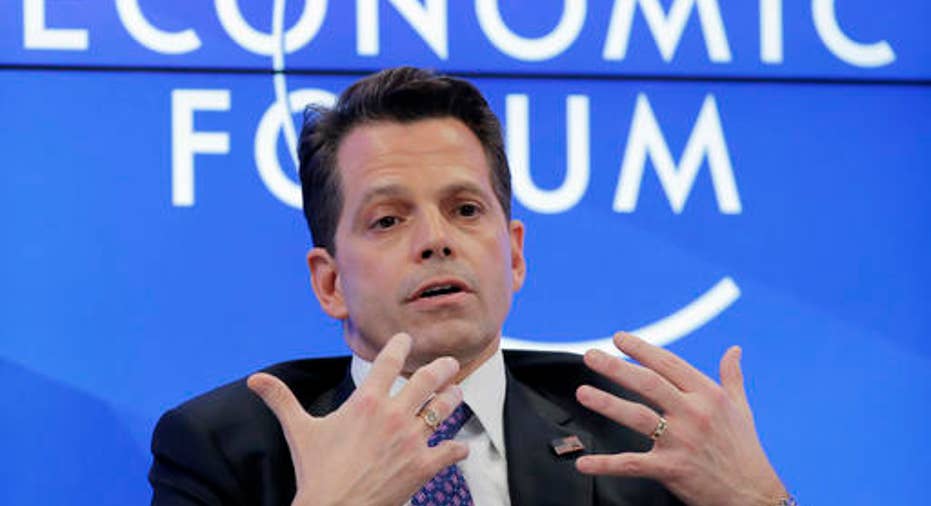 Senior White House officials are moving to deny Wall Street hedge fund impresario Anthony Scaramucci a much coveted advisory post to President Donald Trump amid a continued lengthy review of his business dealings, the FOX Business Network has learned.
Officials with direct knowledge of the matter, who could only speak on the condition of anonymity, say the likely denial is not the result of finding improprieties related to Scaramucci's past life as a hedge fund executive and the recent sale of his firm, SkyBridge Capital, to a privately held Chinese conglomerate.
Rather, they say, it's a matter of timing: The sale of SkyBridge to the HNA Group, a holding company controlled by Chinese billionaire Chen Feng, has yet to officially close. The deal also needs to pass government ethics muster, and the entire process may take as long as three months.
Senior White House officials say White House Chief of Staff Reince Priebus and senior adviser Steve Bannon have recently concluded that they need to fill the job Scarammuci was slated to take—an important liaison between the administration and the business community—immediately rather than waiting for such an extended period of time.
Hicks, the White House spokeswoman, had no comment. Scaramucci didn't return FOX Business' calls or emails for comment.
FOX Business was first to report the unusual delay in Scaramucci's appointment as the director of the White House Office of Public Liaison and Intergovernmental Affairs. White House spokeswoman Hope Hicks citied  possible "business conflicts" but declined to elaborate.
Even as late as Tuesday, senior White House officials said Scaramucci was on track to receive the appointment and was slated to be officially sworn in as early as this week. Scaramucci was at the White House on Tuesday, a sign to some people inside the administration that his swearing in was imminent. As of the time of publication of this report, Scaramucci continues to refer to himself as the director of the White House Office of Public Liaison.
Indeed, the likely decision to deny Scaramucci the job has not been made official and senior people inside the White House say it may ultimately be reversed by the President himself, who remains fond of Scaramucci.
But both Priebus and Bannon—two of President Trump's most powerful aides-- are said to be in agreement that the liaison job should be filled immediately and that Scaramucci should get another possible White House post, or an ambassadorship.
Washington insiders have speculated that the delay in Scaramucci's appointment was the result of an internal feud between Priebus and Bannon with Priebus looking to deny the post to Scaramucci – who is seen as a Bannon ally. However, several senior White House officials call such speculation overwrought; Priebus and Bannon are said to meet daily on various matters and have been focusing on getting major players in the Trump administration confirmed by the Senate, including Trump's nominee for Treasury Secretary, Steve Mnuchin.
Scaramucci is a long-time fixture on Wall Street and a prolific fundraiser mainly for GOP candidates, including Trump. He may be best known for his role as creator and moderator of the popular SALT Conference – a yearly confab that brings together leaders of business and Wall Street with top politicians and celebrities.
During his 30-year career, he has worked at Goldman Sachs (GS), Lehman Brothers and more recently, he started his own hedge fund-related business SkyBridge Capital. In order to join the Trump White House and overcome conflict of interest regulations, Scaramucci needed to unload SkyBridge, which has $12 billion in assets and recently suffered from poor returns.
The hedge fund executive helped Trump raise millions of dollars from his contacts on Wall Street during the long campaign and has been a steadfast supporter on cable television shows. Until recently, he was a FOX contributor. He had also been a daily presence at Trump Tower in Manhattan during the transition, advising the then President-elect on various high-level appointments.
HNA controls HNA Capital, one of the two entities that will directly own SkyBridge along with the a separate private company, RON Transatlantic . Terms of the deal were not disclosed but people with direct knowledge of the sale say the price tag is nearly $200 million. The nature of the sale and the entity behind the sale has raised some eyebrows given President Trump's criticism of China as a currency manipulator and its alleged use of unfair trade practices.
Meanwhile, Senators Elizabeth Warren (D-Mass.) and Ben Cardin (D-MD) have called for an investigation into Scaramucci's meeting with the Russian businessman who appears on the Treasury Department's sanctions list.
That said, Trump is said to still be in favor of Scaramucci's appointment to another role in the White House. "He will be given other options…(Scaramucci) will likely be part of the administration," this official said.