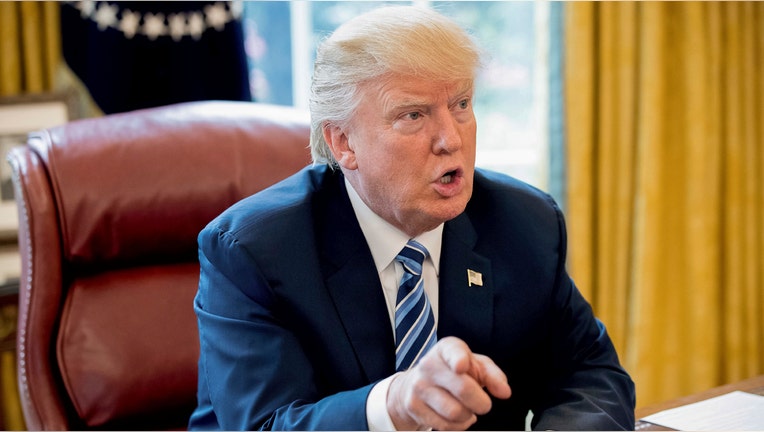 Senate Republicans are expected to vote on health care this week – either an ObamaCare repeal and replace plan or a repeal-only measure – and in a tweet Monday morning, President Donald Trump indicated he is still pushing for a full replacement strategy.
Republicans have a last chance to do the right thing on Repeal & Replace after years of talking & campaigning on it.

— Donald J. Trump (@realDonaldTrump) July 24, 2017
After about 7 years of railing against President Obama's health care law, Republicans will have another chance this week to use their political majorities to revise the system. The Senate will decide early in the week whether to advance a health care vote to the floor – though which version of the bill lawmakers will vote on has yet to be determined.
The repeal first, replace later option resurfaced last week after Senate Majority Leader Mitch McConnell's (R-Ky.) revised bill to repeal and replace ObamaCare failed to garner enough support within the party. Intraparty divisions have been hard for members of the leadership to satisfy as conservatives want as much of the Affordable Care Act erased as possible, while the more moderate members of the party are concerned about slowing the expansion of Medicaid and how Americans' coverage will be affected.
According to the Congressional Budget Office, the Senate's most recent bill would cause an additional 22 million individuals to lose coverage over the next decade when compared with a continuation of the current law.
The GOP can only afford to lose the support of 2 of its 52 senators in order for a measure to pass.
More from FOXBusiness.com...
In May, after a failed attempt, the House of Representatives passed a version of a bill to repeal and replace the Affordable Care Act. That bill has not been considered by the Senate.
The president will address health care in a speech Monday afternoon at the White House. He is expected to be joined by a group of people whose coverage has allegedly suffered under President Obama's health care law.