Trump Official May Join Obama at Cantor Conference Amid $400,000 Paid Speech Flap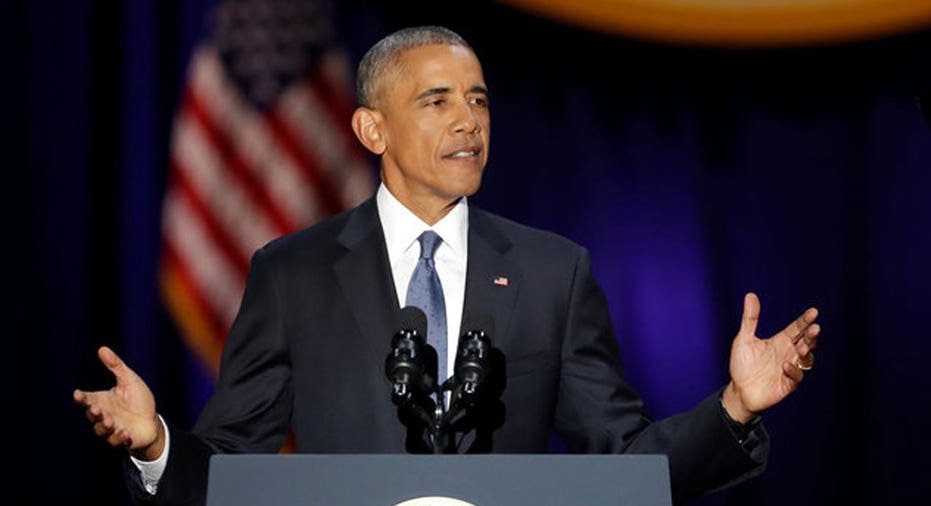 The Wall Street firm Cantor Fitzgerald is looking to restore some political balance to its upcoming health care conference and is eying a Trump administration official to join former President Barack Obama as headline performers for the event, FOX Business has learned.
As first reported by FOX Business, Cantor Fitzgerald has signed the former president and author of the eponymous health care law to make a luncheon speech during its September health care conference and has agreed to pay a $400,000 speaking fee. Obama's acceptance of the large sum, nearly twice as much as Hillary Clinton's average fee, created a public firestorm since the former Liberal Democratic president was a harsh critic of Wall Street during his time in office.
Even though Cantor Fitzgerald's snaring of Obama as a headline speaker was considered a coup, highly-regulated Wall Street firms are extremely cognizant of the political implications of any such a move, particularly since President Trump has made a repeal of ObamaCare a primary legislative goal for his nascent administration, and former President Obama is likely to defend the law at the event.
As a result, senior executives inside Cantor Fitzgerald led by chief executive Howard Lutnick, are now eying the possibility of adding someone from the White House to give an alternative perspective, according to two people with direct knowledge of the matter.
"Cantor Fitzgerald needs to be careful and they need to look like they're being respectful to the current administration," said Matt Schlapp, chairman of the American Conservative Union, a political organization that advocates for right-wing policies. "(Cantor) has business before the administration, before Congress, before the agencies and regulators, and they would be smart to have good relations with the party that's in charge in Washington," he added.
It's unclear who the firm might request to speak at the conference, which is likely to garner significant media attention since it would be the first time Obama has addressed a Wall Street crowd after leaving office, and because of the controversial nature of the topic. A White House spokeswoman didn't comment to FOX Business on whether the firm plans to ask Trump's Health and Human Services Secretary Tom Price, who is leading the ObamaCare repeal effort for the White House, or some other official to speak at the conference.
A Cantor Fitzgerald spokeswoman would neither confirm nor deny that the firm was considering asking someone from the current administration to speak. It is unclear if the White House would produce a speaker, who under ethics and conflict of interest rules, would likely not be able to receive a speaking fee.
The conference will be held September 25 through 27 in New York City; a Cantor Fitzgerald spokeswoman has said the final speaker list for the event has not been set.
In the days following FOX Business's exclusive on Obama's speaking arrangement, the former president has come under intense criticism, much of it from progressive members of his own party, such as Sen. Bernie Sanders, D-Vt., and Sen. Elizabeth Warren, D-Mass., for accepting a fee from an industry that they believe was complicit in the creation of the 2008 financial crisis, and the Great Recession that followed.
Obama said as much during his presidency, when he railed against Wall Street bankers for making huge salaries while average Americans were suffering from the ravages of the banking collapse. He also signed the Dodd-Frank financial reform law that drastically cut Wall Street profits. The bill also curtailed practices, such as proprietary trading, and Wall Street's investments in hedge funds, that some analysts also say contributed to the excessive risk-taking that sparked the crash. His Justice Department, meanwhile, levied huge fines against some of the nation's biggest banks for financial-crisis related issues. Through the end of 2016, $321 billion has been paid, according to a report from the Boston Consulting Group.
A spokesman for the former president said in a statement to Fox News that Obama "recently accepted an invitation to speak at a health care conference in September, because, as a president who successfully passed health insurance reform, it's an issue of great importance to him. With regard to this or any speech involving Wall Street sponsors, I'd just point out that in 2008, Barack Obama raised more money from Wall Street than any candidate in history – and still went on to successfully pass and implement the toughest reforms on Wall Street since FDR."
Cantor Fitzgerald has a different potential controversy on its hands: Looking as if it's supporting a former president, whose signature legislative achievement is under assault by the sitting president of the opposing party.
At the urging of president Trump, the House recently passed a bill revamping ObamaCare that now goes to the Senate. By time of the conference, the health care law will likely either be repealed by the Congress and the current administration or it will still be a work in progress. Obama will likely be forced to address other Trump initiatives, such as tax reform, and possibly his plans to build a wall along the southern border of Mexico.
Giving just Obama the opportunity to defend the law amid the continued debate over health care or taxes could be politically awkward for Cantor Fitzgerald, which like most financial firms, must deal with intense federal regulatory scrutiny of its business now led by Trump's appointees to the Securities and Exchange Commission and the Department of Justice.
"Most people in highly regulated businesses try to walk a fine line between party lines in order to show respect to both sides," Schlapp told FOX Business.