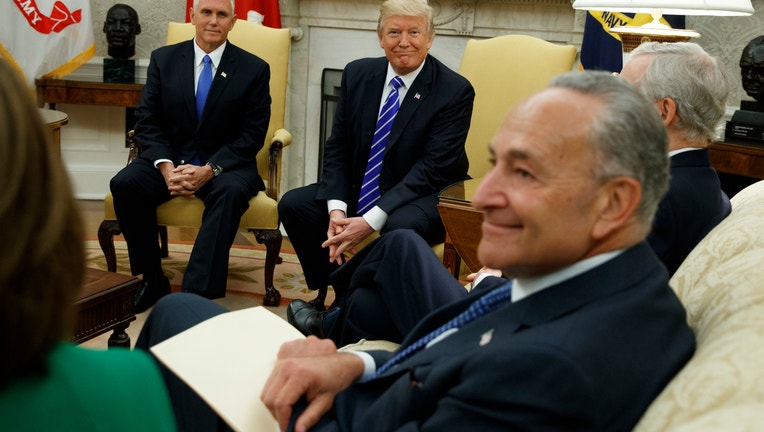 Senate Minority Leader Chuck Schumer (D-NY) and House Minority Nancy Pelosi (D-CA) are heading to the White House for the second time in two weeks as a follow up to a recent conversation they had with President Donald Trump about protecting immigrants who are part of the Deferred Action for Childhood Arrivals (DACA) program as well as approaching the president on changes that could be made to former President Obama's signature health care law, the Affordable Care Act, FOX Business has learned.
In an attempt to continue his outreach to lawmakers from across the aisle, President Trump is reaching out to the two Democratic congressional leaders and has invited them to the White House for dinner on Wednesday night, according to congressional and White House sources.  Schumer and Pelosi have accepted the invitation, congressional aides tell Fox Business.
Last Wednesday, Trump made what many on Capitol Hill thought was a stunning agreement with Pelosi and Schumer on raising the debt ceiling through December. During that same meeting with Republican leadership and senior White House officials, including Treasury Secretary Steven Mnuchin, Schumer approached the idea of eliminating the debt ceiling all together, according to sources familiar with the matter.
The president thought it was "a great idea and that they should do it," according to congressional sources.
The day after the meeting, Trump called Schumer and within that conversation, the Senate Minority Leader pressed the president on working with Democrats to protect those participating in the DACA program, also known as DREAMers. The president, according to Democratic aides, was "receptive" to the idea.
The administration announced in August they were ending the Obama-era DACA program, which protected young undocumented immigrants who were brought to the United States as children and gave them eligibility for a work permit. The announcement was made by Attorney General Jeff Sessions who also noted there will be a six month safety period to give Congress a chance to formulate a law that protects those who are part of the program.
Schumer and Pelosi are also going into the dinner with the intention of discussing "stabilizing the health care markets" and "discuss updates to improve the ACA," according to those familiar with the matter.
The administration and Congress have struggled to find a replacement for the ACA as the Senate failed to pass the House's American Health Care Act in July.
Senator John McCain (R-AZ) was the critical 'no' vote at the time.
Since then, Republican lawmakers have continued to look for ways to replace the controversial health care law but Pelosi and Schumer have been preaching that Congress should take a look at fixing it instead.
Schumer emphasized the need to fix Obamacare at his weekly press conference on Tuesday.
"A second thing he can do that can be very helpful and move things in our direction, is support an extension of the cost sharing (an Obamacare fix), because we know that that's coming out," Schumer said.