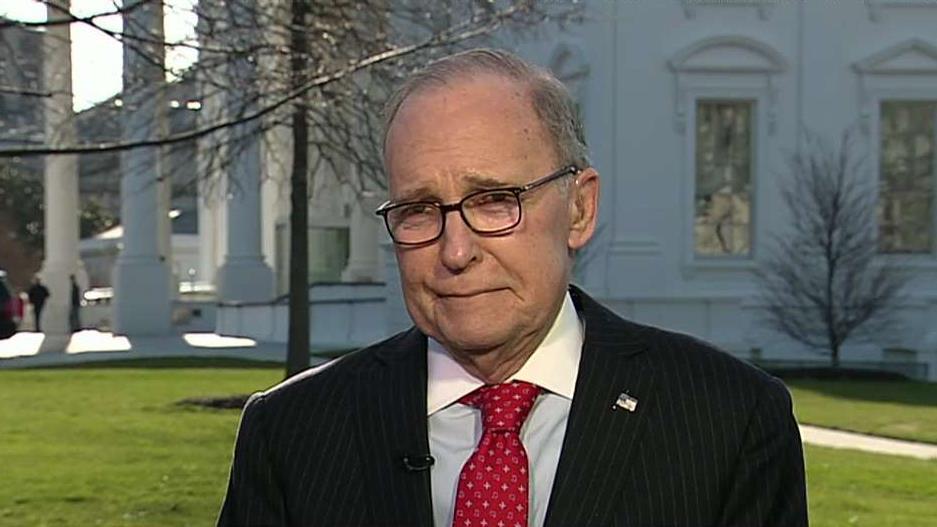 President Donald Trump and the Republican Party are seeking to implement a second phase of tax cuts after the successful passage of the Tax Cuts and Jobs Act in December, and discussions have already begun.
"We're now going for a phase two, we're actually going for a phase two, which will help, in addition to the middle class, will help companies, and it's going to be something, I think, very special," Trump said during a roundtable at a Boeing facility in St. Louis last month.
National Economic Council Director Larry Kudlow told FOX Business on Thursday that the president held discussions on the second tax cut package with House Ways and Means Committee Chair Kevin Brady this week.
In the wake of implementation of the tax overhaul, more than 430 companies have announced pay raises, bonuses or 401(k) hikes, benefiting more than 4 million Americans, according to the White House.
But the administration says it can do more. Kudlow is hopeful economic growth can reach into the 3% to 4% range within the coming two years.
Here's what we know so far about the second round of tax cuts.
Early stages
Talks regarding new tax cuts have just begun, according to House Ways and Means Committee Chair Kevin Brady.
"It's early in the process, we've had several discussions, and now the Ways and Means Committee members are starting to develop what could be in a phase two," Rep. Brady, R-Texas, told FOX Business' Dagen McDowell on "Mornings with Maria" on in March. "We want to have a thoughtful, deliberative approach, but here's my point: America's not going to settle until we have everyone back to work with rising paychecks and families keeping more of what they've worked so hard to earn."
Kudlow said the package was "not going to be immediate," but added that the GOP could release something "concrete later this year." While he didn't want to predict which elements would be included in the legislation, he noted there are a lot of good ideas floating around so far.
Permanent
Many of the provisions set forth under the Tax Cuts and Jobs Act are set to expire within the coming years, but the GOP and President Trump are hoping to make them permanent.
"It's fair to say that most people, in the GOP and President Trump, they do want the expensing to be permanent, they do want the personal income tax rate reductions to be permanent," Kudlow said. "That's very high on everybody's list and I think you'll get more bang for the buck on these tax cuts if you do make them permanent."
Brady also said that making the tax cuts for families and small businesses permanent is "important for growth and certainty."
Lower corporate tax rate?
While the GOP slashed the corporate tax rate by 14 percentage points, to 21% from 35%, under the Tax Cuts and Jobs Act, an even bigger reduction could be on the way.
Brady said if other countries keep lowering their tax rates, the U.S. will keep pace, adding that the Trump administration wants to make sure the country never again falls behind "like it did for the last 31 years."
Before the tax overhaul, the U.S. had one of the highest corporate tax rates among countries in the developed world.
Encourage savings
As many as 20% of Americans are saving little to none of their income, according to a recent survey from Bankrate.com. Another 21% of respondents were saving 5% or less.
The administration hopes it can help change that with its second round of tax legislation.
"We are looking at ways where it's easier for families to save earlier in life and more over time, whether it's for health care or for retirement," Brady said. "We think America is not a nation of savers; we want it to be."
Brady did not go into specific details as to what Republicans plan to do to help more Americans stash away a larger percentage of their income.
Larger paychecks
The GOP thinks it can help boost paychecks even further through new legislation, according to Brady.
Under the Tax Cuts and Jobs Act, the Council of Economic Advisers estimates that annual income for American households will increase in the long run by $4,000 on average. Workers began to see a bump in their paychecks last month.
Pensions
The next phase of tax cuts will also focus on pensions, Brady said.
"We want to make sure they're adequate and they're secure for the long term," he said during the interview on FOX Business. "Workers count on that. Businesses count on that to recruit good workers as well."
Some companies, including Pfizer, have increased contributions to pension plans since the Tax Cuts and Jobs Act was enacted.