Supreme Court Pick Gorsuch Defends Record on Business Rulings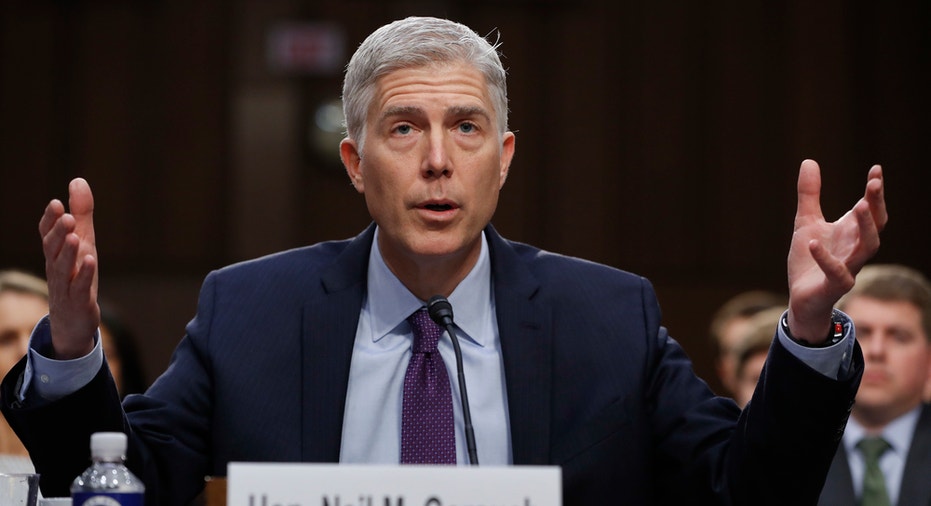 President Donald Trump's Supreme Court nominee Judge Neil Gorsuch pushed back on claims by Democrats suggesting he has ruled in favor of special interests and against "the little guy."
During Tuesday's Senate Judiciary Committee hearing, a bulk of the criticism came from Senator Dianne Feinstein (D-CA), who pressed Gorsuch to state his view on a slew of workers' rights cases where she believed Justice Antonin Scalia [with whom Gorsuch is often compared] voted in favor of corporate interests. Those cases included Ledbetter v. Goodyear Tire and Gross v. FBL Financial Services, among others.
Gorsuch refused to discuss whether he agreed with the rulings on each of the cases, saying it would impinge upon his ability to litigate future cases fairly.
"If I indicate my agreement or disagreement with a past precedent of the Supreme Court…I'm signaling to future litigants that I can't be a fair judge in their case because those issues keep coming up...all of these issues will continue to be litigated," Judge Gorsuch said.
The Supreme Court decided in Ledbetter v. Goodyear Tire that a female employee could not sue her employer over discriminatory pay practices because the alleged claims took place after she retired and outside the 180-day limitation period for filing.
In Gross v. FBL Financial Services, Jack Gross sued his company claiming he received a demotion based on his age. The initial decision—in Gross' favor—was appealed and reversed. The reversal was upheld by the Supreme Court which stated the plaintiff must have a preponderance of direct evidence of discrimination.
When it comes to Gorsuch's rulings, a case that continues to be mentioned is TransAm Trucking Inc. v. Administrative Review Board, where it was determined a trucker had been wrongfully fired after he unhitched his trailer and drove away when the truck's brakes froze. Gorsuch dissented, saying the company had given him the legal option to stay with his trailer and wait for help, which he declined, instead operating the truck in a way not permitted by the company.
"How do we have confidence in you that you won't just be for the big corporations? That you will be for the little men?" Feinstein asked.
Judge Gorsuch responded by listing off a multitude of cases where he ruled in favor of "the little guy."
In Fletcher v. United States, Gorsuch and the U.S. Court of Appeals for the Tenth Circuit ruled in favor of displaced settlers from the Osage Nation, a Midwestern Native American tribe, in a fiduciary dispute with the government over income from oil and gas found on the residents' native land.
In Williams v. W.D. Sports, Gorsuch and the Tenth Circuit decided in favor of a minor league female hockey team that filed a suit against its managers for sexual harassment.
In Simpson v. University of Colorado, Gorsuch ruled in favor of two CU students who alleged they were sexually assaulted by football players at the school, reversing a prior decision.
As FOX Business previously reported, Senator Chuck Schumer (D-NY) held a press conference last week with people whom he claimed were ruled against by Gorsuch in favor of "big, special corporate interests."
Gorsuch ended his exchange with Senator Feinstein by saying he can't issue assurances he will rule one way or another on workers' rights and discrimination cases.
"The bottom line I think is…from the bottom of my heart is that I'm a fair judge… I can't guarantee you more than that, but I can promise you absolutely nothing less," he said.