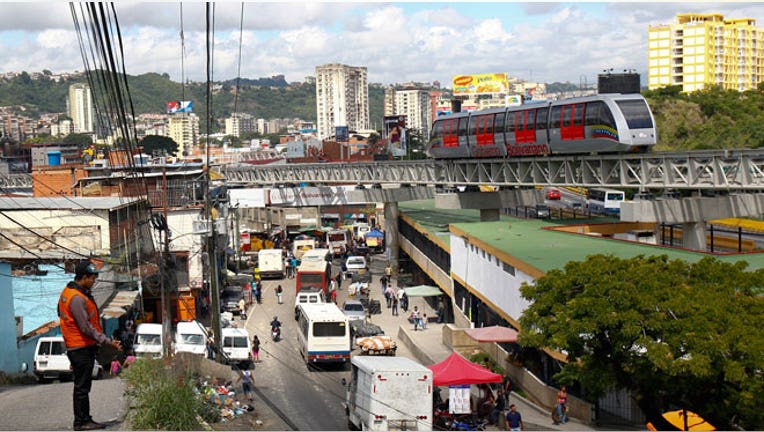 Venezuela's increasingly radicalized economic policies coupled with tame oil prices threaten to further erode the Latin American country's already-alarming financial condition.
In recent days, both Standard & Poor's and Moody's downgraded Venezuela's credit rating, with Moody's warning of a "materially higher risk of an economic and financial collapse" thanks to government policies that have "exacerbated" the situation.
The picture on the ground is already scary: inflation that has surged beyond 50%, economic growth that has plunged to just over 1%, soaring bond yields and the lowest levels of reserves in nearly a decade.
"You're starting to hear people talk about default. The more oil sinks, the higher the odds are," said Win Thin, global head of emerging market currency strategy at Brown Brothers Harriman.
The cost to insure Venezuela's debt for one year has surged 186% so far in 2013, according to FactSet.
'Growing Radicalization'
While tame oil prices have been a key contributor to Venezuela's precarious position, S&P pointed the finger squarely at Caracas.
"The downgrade is based on the growing radicalization of economic policy over the last two months in the context of a sustained decline in international reserves and the continued high levels of political polarization," S&P wrote in its report on Dec. 13.
On Nov. 19, Venezuelan President Nicolas Maduro signed a law that passed Congress and delegated special powers to the president, including the ability to govern by decree over a broad swath of the economy for one year.
"It's gotten to the point where it's oil and nothing else because the rest of the economy has just been beaten down."
S&P said Maduro will likely use the new powers to increase the public sector's participation in the economy even further. The latest legislation follows other moves in recent months to enhance the state's power over commercial activities ahead of key elections, which the governing power won by 6.5 percentage points.
Maduro also replaced the vice president of economic affairs with Oil Minister Rafael Ramirez.
"We believe that this change, along with other political developments, reduces the likelihood of a more pragmatic approach to economic policy based on wider consultation with the private sector," S&P said.
The electoral win will "reinforce the trend toward more government intervention in the private sector, extending macroeconomic dislocations and further increasing the risks to economic, fiscal and external sustainability," S&P said.
Inflation Spikes, Reserves Tumble
The economic picture is already bleak, with consumer prices surging 54.3% year-over-year in October.
Under former president Hugo Chavez, inflation typically rose about 20% to 25% year-over-year.
"When you get above 50%, that's just crazy," said Thin.
At the same time, Venezuela's reserves tumbled to $21.3 billion at the end of November, the lowest level since September 2004, according to Thin.
"Foreign exchange reserves have reached perilously low levels," Moody's said, though it noted Venezuela does still have ample gold reserves and other liquid assets.
One measure that institutions use to measure risk of a potential default is the short-term debt as a share of reserves. Venezuela, which has about $18 billion in short-term debt, stands at more than 85%.
"Right now they can cover it, but it's pretty dicey," said Thin, noting that anything above 50% or 60% is considered "danger territory."
Bond Market Access at Risk
Venezuela's currency has also seen its value tumble. According to Moody's, the parallel exchange rate has soared to 64 bolivares to the dollar, up from just 17.5 at the end of 2012.
The country's sovereign yields are on the rise, hitting 15% in early December from less than 10% in mid-May. The bond market activity "suggests the country's ability to access markets has been severely curtailed," Moody's said.
Economic growth has slowed drastically from 2004 when gross domestic product soared 20%. The country enjoyed near double-digit GDP growth through 2007, but the International Monetary Fund projects growth of just 1% in 2013 and 1.7% in 2014.
"It's gotten to the point where it's oil and nothing else because the rest of the economy has just been beaten down," said Thin.
Yet crude oil prices have been relatively tame in recent quarters. Crude fell as low as $86 a barrel in April and has retreated about 12% since its 52-week high of $110.53 in early September. It remains more than 30% away from all-time records north of $145 a barrel set in July 2008 before the global economic recession.
Both S&P and Moody's maintain a negative outlook on Venezuela and warned of further downgrades if the situation worsens.
S&P would consider revising its outlook to "stable" if Caracaus reverses course and acts to "defuse" political tensions and enact "pragmatic economic policies."