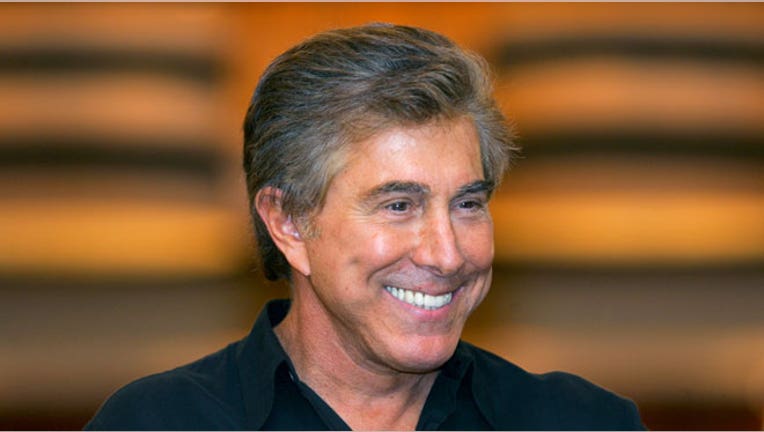 The long, sometimes contentious relationship between Donald Trump and Steve Wynn has taken another turn, with the Las Vegas casino magnate serving as an unofficial adviser to Trump's presidential campaign, the FOX Business Network has learned.
People close to both men say Trump has been in constant contact with Wynn in recent weeks as his insurgent campaign to win the Republican 2016 presidential nomination continues to pick up steam—something press officials representing Trump and Wynn would not deny. These people say Wynn has offered advice and counsel to Trump on various issues, including whether Trump would rule out a third-party run, as he is expected to do later this afternoon.
"They are talking regularly," said one GOP operative with first-hand knowledge of the conversations. "Trump calls and asks Steve 'how am I doing," and then Steve tells him."
Michael Weaver, a spokesman for Wynn, told FOX Business that Wynn "speaks regularly to many of the candidates and whenever possible gives his best thoughts and ideas to them.  He and Mr. Trump have known each other socially for many years.   His conversations with Mr. Trump have not been much different than his conversations with the other candidates."
Weaver added: "I'm aware that he suggested to Mr. Trump that a third-party run would be unwise."
Likewise, Trump spokeswoman Hope Hicks also would not deny the discussions. "They have been friends for 30 years and they have always had a great relationship," she told FOX Business.
Later this afternoon. Trump is expected to sign a GOP "loyalty pledge" and announce he will not seek a third-party bid, something he wouldn't rule out in the past. A possible Trump third-party bid has rankled GOP leaders because he would likely pull enough votes away from the Republican nominee to assure a Democratic win in the 2016 presidential election.
If Wynn is indeed to man behind Trump's loyalty pledge, it would add another twist to their relationship, which has been as long as it has been volatile.
They have clashed in the sharp-elbowed world of casino and real estate development, particularly in Atlantic City, and at times their battles have turned into public name-calling feuds. According to a 1998 New York magazine profile of the two men, http://nymag.com/nymetro/news/bizfinance/biz/features/2235/index4.html Wynn said, "No sane or rational guy would respond to Trump…His statements to people like you, whether they concern us and our projects or our motivations or his own reality or his own future or his own present, you have seen over the years have no relation to truth or fact. And if you need me to remind you of that, then we're both in trouble. He's a fool."
Trump has been equally dismissive of Wynn. In the same article, Trump referred to one of Wynn's Las Vegas casino's as "a very ugly new facility for $2 billion." In Trump's book "The Art of the Deal," he referred to Wynn as "very slick and smooth, but he's also a very strange guy."
But the two have more recently patched up their relationship. According to one published report http://www.rgj.com/story/news/politics/2015/07/24/ralston-wynn-obama-trump-gop-field/30645965/ Trump attended Wynn's wedding, and according to people who know both men, the relationship has flourished to the point that Trump is now in nearly constant contact with Wynn about his presidential campaign.
Trump's choice of Wynn, the head of Wynn Resorts, as an unofficial political adviser seems odd since the casino tycoon isn't known for his political acumen, but according to GOP operatives, it fits in with the temperament of Trump's campaign. At least so far, Trump has eschewed the normal trappings of a major presidential campaign. He hasn't hired top political advisers, and according to one GOP operative, he hasn't commissioned one private poll to weigh voter sentiment.
Trump himself has bragged on FOX Business that he has spent relatively little money though he has vowed to tap into his enormous wealth, valued in the billions of dollars, as the campaign progresses.
His seat of the pants approach has worked at least so far: polls show him leading the crowded Republican field,  though they also show him carrying huge negatives following public dustups with some of his opponents like former Florida governor Jeb Bush and South Carolina senator Lindsey Graham.
But Wynn and Trump share many things in common; both are consummate showmen and have made billions in real estate. They have also shown a penchant to support candidates on both sides of the political aisle, almost a prerequisite for success in the real estate business, which is heavily regulated by government.
And more recently, both have been critical of the leftward tilt of the Democratic Party and president Obama. Still, the two have disagreed on one of Trump's signature issues: His plans to build a wall on the US-Mexican border and deport millions of illegals out of the country.
"Mr. Wynn also suggested that deporting 13 million people would be an irrational undertaking," Weaver added.