Senate tries to strike deal on health care, skips weekly tax reform meeting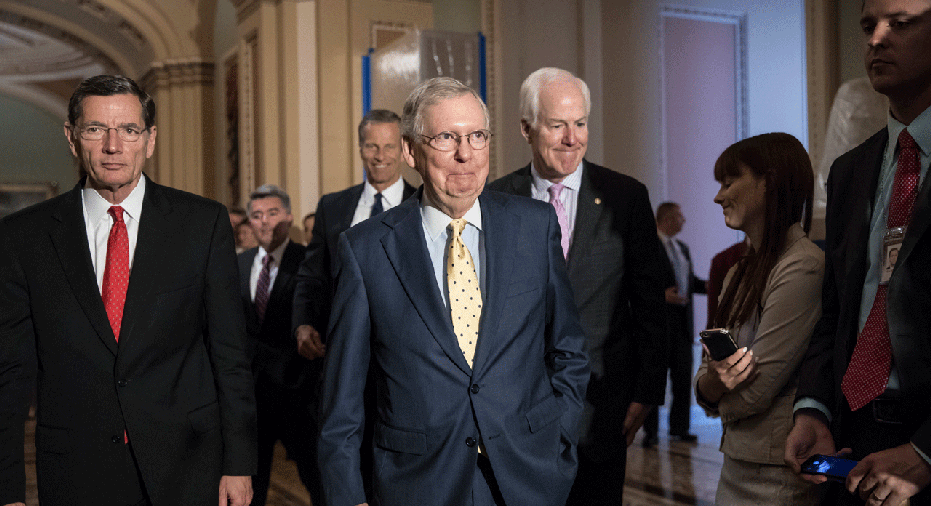 In a last ditch effort to find a compromise on the Senate's health care bill before the July 4 recess, White House and congressional officials are skipping their weekly meeting on tax reform and plan to regroup after the break, FOX Business has learned.
"There is no meeting this week because the Senate needed flexibility in their schedule," Natalie Strom, assistant press secretary, confirmed to FOX Business.
A spokeswoman for the House Ways and Means Committee also confirmed the weekly meeting will not happen this week.
Since the start of the new Congress, Treasury Secretary Steven Mnuchin, National Economic Council director Gary Cohn, House Speaker Paul Ryan, R-Wis., House Ways and Means Committee Chairman Kevin Brady, R-Texas, Senate Majority Leader Mitch McConnell, R-Ky., and Chairman of the Senate Finance Committee Orrin Hatch, R-Utah, have met weekly to put together a comprehensive tax reform plan.
This week, however, the meeting was cancelled as the Senate struggled to cobble together enough support for their new health care legislation, forcing McConnell and Hatch to go back to the negotiating table, leaving no time to meet with the other members of the group, according to people familiar with the matter.
After a week-long internal debate, McConnell announced Tuesday that they did not have enough support to go ahead with a vote before the July 4 recess.
Since then, moderate and conservative Republicans, the two factions who have struggled to come to a consensus, have been negotiating for a better bill in the hope they can make a deal before they leave for the Congressional holiday.
The White House also has taken a more active role in trying to strike a deal between both groups. President Donald Trump called a meeting with all Senate Republicans at the White House after McConnell conceded they did not have the votes.
At the meeting, Trump showed his support for the ongoing discussions about repealing and replacing President Obama's signature health care law, the Affordable Care Act.
"We have to have healthcare. And it can't be Obamacare, which is melting down," Trump told reporters at the time.
Vice President Mike Pence has also continued to be involved with the health care debate. On Thursday he met with Republican Senators McConnell, Susan Collins of Maine, Shelley Moore Capito from West Virginia, Ted Cruz of Texas, Dean Heller from Nevada and Kentucky's Rand Paul on Capitol Hill.
Collins, Cruz and Paul are three of the lawmakers who have publicly opposed the bill as it's currently written.
Pence also held a dinner with Republican Senators Mike Lee from Utah, James Lankford of Oklahoma, Tom Cotton of Arkansas and Nebraska's Ben Sasse to discuss, amongst other topics, the health care bill, at his residence in Washington D.C.
Lee has also been a vocal critic of the bill and has been negotiating with leadership in an effort to get him to vote "yes," though he is still not ready to make that commitment, according to Senate aides.
A spokesman for McConnell had no comment. Ryan's spokeswoman did not return emails for comment. A spokesman for Hatch and a Treasury spokeswoman did not return calls for comment.