Senate Leadership Fund sets its sights on Democrat incumbents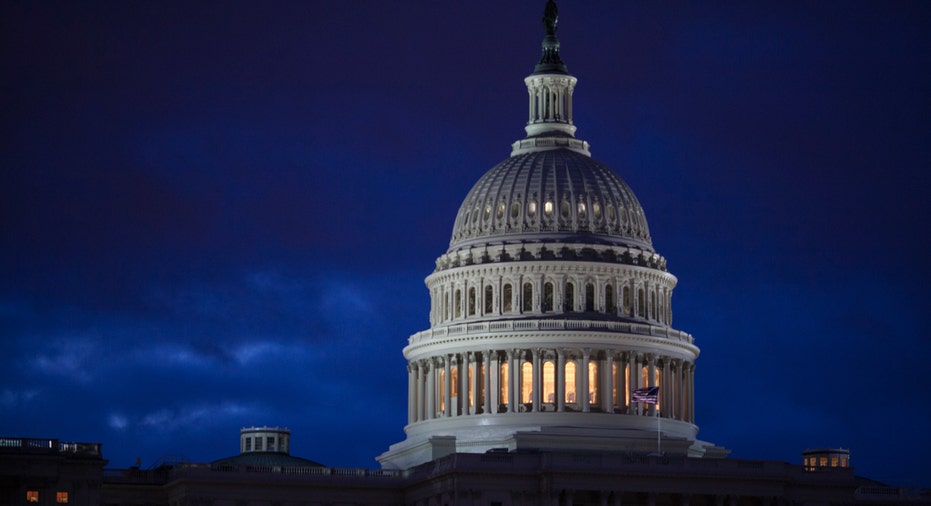 The 2018 congressional midterm elections are on the verge of turning into all-out war, and one of the most powerful Republican-led super PACs is preparing to take aim at 10 states as they try to maintain a majority in the United States Senate, FOX Business has learned.
The Senate Majority Leadership Fund, a PAC dedicated to keeping the Senate in the hands of Republicans, is planning to focus their efforts on removing Senate Democrat incumbents from many of the states that President Donald Trump won during the 2016 election, with their top targets being West Virginia, North Dakota, Montana, Indiana, Missouri, Minnesota, Ohio and Florida, according to sources close to the PAC. They also plan to protect Senate seats in Nevada and Arizona, which are already held by Sen. Dean Heller, R-Nev., and retiring Sen. Jeff Flake, R-Ariz., according to those same sources.
The PAC's blueprint includes unleashing a bevy of attack ads against the eight Democrat incumbents: Joe Manchin, D-W.Va., Heidi Heitkamp, D-N.D., Jon Tester, D-Mont., Joe Donnelly, D-Ind., Claire McCaskill, D-Mo., Amy Klobuchar, D-Minn., Sherrod Brown, D-Ohio, and Bill Nelson, D-Fla. The ads will focus on these Democrats voting against the tax reform bill and will attempt to label them as obstructionists, a title many in the GOP have come to give those who they claim turned against the Republican agenda, according to those familiar with the decision making.
For most of the states, the PAC is not backing a preferred candidate, as their main objective is to derail any chance the Democrats have of gaining control of the Senate. There are, however, exceptions to the fund's lack of support toward specific candidates.
Heller is currently seeking reelection and sources say his campaign has been reinforced by the PAC. Rep. Martha McSally, R-Ariz., is also receiving the backing of the fund as she tries to capture Flake's seat, as first reported by FOX Business. The swing state of Florida is also being watched by the fund's leadership, where the state's governor, Rick Scott, is expected to run, as his final term in office comes to an end this year. If he does, he will likely have the Senate Leadership Fund's blessing, sources close to the PAC tell FOX Business. Finally, Missouri Attorney General Josh Hawley, McCaskill's opponent in the state's Senate race, should expect the PAC's endorsement and, according to those familiar with the matter, will be publishing TV ads against the Democrat incumbent throughout the year.
Sen. Sherrod Brown's campaign spokesman responded to the news that the PAC was targeting their campaign, telling FOX Business in a statement: "Mitch McConnell and corporate lobbyists wrote a tax bill with huge giveaways to the same wealthy interests that fund this super PAC. We're not surprised they are coming after Sherrod for telling the truth about how McConnell and Washington Republicans cater to special-interest donors, while hardworking Ohioans are left behind."
A campaign spokesman for Rep. Jacky Rosen, D-Nev., the establishment candidate running for Heller's seat, reacted to their opponent being backed by the PAC, calling it desperate.
"Mitch McConnell's Super PAC is planning to reward Sen. Heller with millions of dollars' worth of ads after he caved and broke his promise to Nevada families by supporting the toxic Republican health care agenda. It's no surprise to us that McConnell's allies in Washington are now desperately gearing up to dump money into Nevada to help re-elect their spineless rubber stamp in the Republican Congress," Rosen's campaign spokesman Stewart Boss told FOX Business. "Jacky Rosen is a problem-solver who will stand her ground and always put Nevada first, and voters are ready to replace Dean Heller with a senator who fights for working families instead of billionaire donors and giant corporations," he added.
Tester's campaign manager Christie Roberts noted in her response the special interest and lobbying groups that they've had to combat throughout the early portions of their reelection campaign.
"Outside special interest groups are already flooding Montana trying to distort Jon's work to defend Montana, work that includes more laws signed by President Trump than Jon can count on his own fingers," Roberts said. "The truth is Jon has been rated one of the Senate's most effective senators, and he'll continue to fight for Montanans in Washington," she added.
A spokesman for the Senate Majority Leadership Fund declined to comment. The Republican lawmakers mentioned in this story did not return requests for comment in time for publication. The seven other Democratic lawmakers also declined to comment for this story. Spokespersons for Scott and Hawley did not return requests for comment.
The PAC is led by allies of Senate Majority Leader Mitch McConnell, R-Ky., including their CEO Steven Law, who previously served as the McConnell's chief of staff and later created the Leadership Fund in 2015. Since its debut, the fund has been supported by Republican mega-donors such as Blackstone (NYSE:BX) CEO Steve Schwarzman, Las Vegas Sands Corporation (NYSE:LVS) CEO Sheldon Adelson and Point72 Asset Management founder Steve Cohen, according to the Center for Responsive Politics, a nonpartisan research group that tracks the effects of money and lobbying on elections.
The additional campaign resources for those receiving the PAC's support could give a colossal advantage to Republican candidates and may be potential blow to Democrats that were hoping to ride the coattails of President Trump's recent blunders, which includes him calling countries in Africa and nations under Temporary Protective Status such as Haiti, "s---hole countries."
"What this does tactically is force Democrats to spend money in non- challenging states and defend incumbents," said Democrat political strategist Hank Sheinkopf. "The Democrats wanted to make this about attacking Trump and now it has to be about defending their incumbents," he added.
So far in the 2018 midterm election cycle, the PAC has spent more than $3 million in TV advertisements for its allies running for Republican Senate seats.
During the 2016 election cycle, the PAC spent $83 million on TV ads and $4 million on internet attack ads. Schwarzman and Adelson were some of the funds top donors that year, with the Blackstone executive contributing more than $3 million and Adelson handing out over $17 million. Cohen is one of the top donors this year, giving $2 million to the PAC so far.