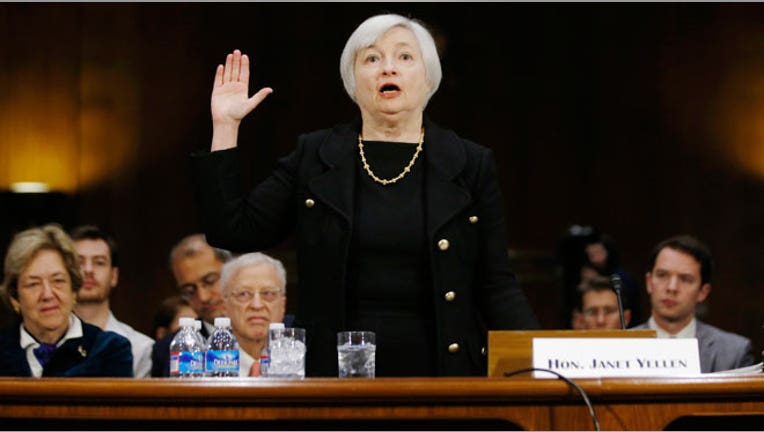 Janet Yellen is expected to take a step closer to becoming the first woman to chair the Federal Reserve when the Senate Banking Committee votes on her nomination on Thursday.
If, as expected, the banking committee approves her nomination and moves it to the full Senate, that vote will take place later this year. She reportedly has enough support from Democratic Senators for final approval to replace Fed Chairman Ben Bernanke when his term expires Jan. 31.
Yellen, 67 and currently the Fed's vice chair, appeared at a mostly congenial hearing last week before the banking committee.
Yellen's qualifications were never questioned.
The most contentious issues raised by Senators focused on the Fed's extraordinary measures for stimulating the economy since the financial crisis of 2008, namely the Fed's bond purchase program called quantitative easing and keeping interest rates at near zero.
Some Senators questioned whether the programs were helping average Americans or simply providing excess cash for Wall Street traders to pump into the stock market.
U.S. stock markets have been on a tear in recent years with the Dow Jones Industrial Average and the broader S&P 500 hitting new highs practically every day. The Dow broke the 16,000 level during intraday trading on Monday and was trading above it on Tuesday.
Yellen defended the measures, suggesting the programs have kept interest rates low on loans such as mortgages, which has helped push home prices higher and helped average Americans.
Yellen also said she doesn't view the rising stock markets as a bubble and indicated she would press forward with additional stimulus if the economy warranted such a move.
Democrats hold a two person majority on the Senate Banking Committee and Democrats have strongly supported Yellen since her name was floated earlier this year as a potential successor to Bernanke.
A group of influential Democratic senators signed a letter sent to President Obama in the summer endorsing a Yellen nomination when Obama appeared poised to nominate his long-time economic advisor Lawrence Summers.
Summers dropped out of the process in September when it became evident he didn't have enough support in the Senate to win confirmation.