Senate aims to amend health care bill by Friday, vote after July 4 recess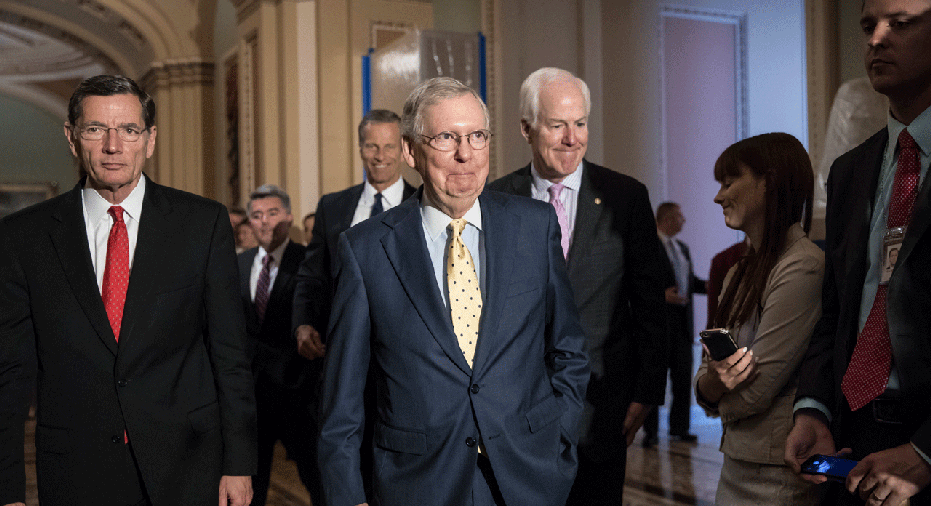 Republican lawmakers have been tasked with reaching a compromise on health care by Friday, Sen. John Thune (R-SD) and senior GOP officials told Fox News Wednesday.
This comes after Senate Majority Leader Mitch McConnell (R-Ky.) announced Tuesday that a vote on the Senate's draft bill to repeal and replace ObamaCare, which was expected this week, would be delayed until after Congress' July 4 recess.
An increasing number of lawmakers, including Sen. Rand Paul (R-Ky.), Sen. Ted Cruz (R-Texas) and Sen. Mike Lee (R-Utah), have come out in opposition to the health care bill introduced by the GOP last week.
"It's an ongoing discussion and members ... several of them want more time," McConnell said during a briefing on Capitol Hill Tuesday. "We have a number of different discussions going on … this is a big, complicated subject."
President Trump hosted a meeting with GOP senators at the White House Tuesday afternoon where they were expected to discuss advancing the health care effort—a pivotal part of the Trump administration's agenda. McConnell said the president has been "very involved" in trying to get the bill passed.
If Republicans can iron out their differences on a bill by Friday, it will be sent for another round of scoring by the Congressional Budget Office next week and likely put up for a vote when lawmakers return to Capitol Hill during the week of July 10.
Of the 52 GOP senators in the chamber, the Republican Party can only afford to lose the support of two for the bill to pass, assuming it receives no backing from Democrats.
"We're optimistic that we're going to get a result that's better than the status quo," McConnell said.