Romney Kicks Off Presidential Bid, Blasts Obama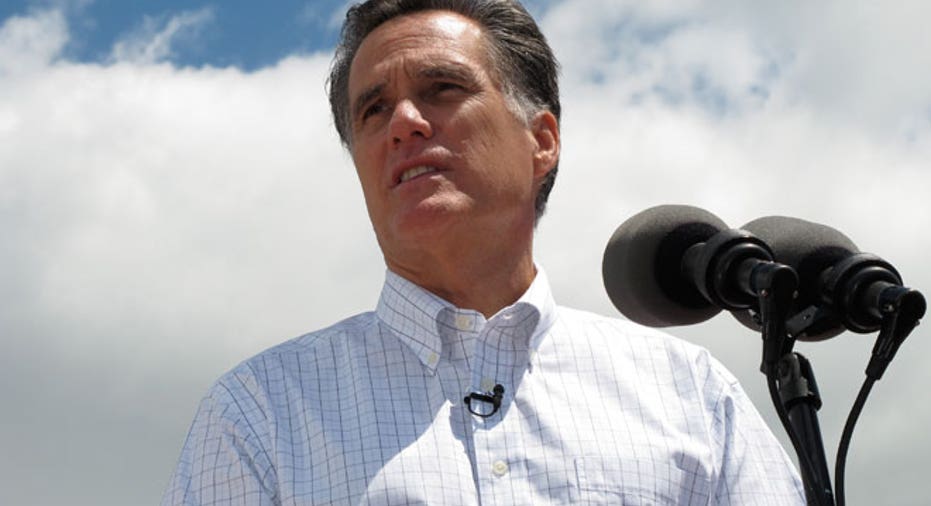 Mitt Romney, the multimillionaire former governor of Massachusetts, kicked off his second bid for the White House on Thursday with a hard-hitting economic message charging that "Barack Obama has failed America."
"I'm Mitt Romney. I believe in America. And I'm running for president," Romney said to cheers during an 18-minute speech in Stratham, New Hampshire.
The Republican front-runner so far, Romney started his campaign in this early-voting state where a win in February's primary election is crucial to his chance of winning the party nomination to face President Barack Obama in the November 2012 election.
Romney blamed Obama for the job losses and home foreclosures that have plagued Americans during the Democratic president's first term, saying that Obama inherited an economy in recession but made conditions worse with his policies.
With unemployment high and the housing market still soft, the economy is Obama's main weakness, although polls say the president is still favored over all potential Republican opponents.
Americans are also concerned about federal spending, the mounting national debt and a budget deficit projected to reach $1.4 trillion this year.
"Government under President Obama has grown to consume almost 40 percent of our economy. We are only inches away from ceasing to be a free-market economy," said Romney.
"Barack Obama has failed America," he said.
Romney, who lost the Republican nomination to John McCain in the 2008 race, has a slimmer campaign team this time around, but the former head of venture capital firm Bain Capital has a powerful campaign finance apparatus in place.
He raised an astounding $10.25 million in an eight-hour phone-a-thon in Las Vegas last month.
Romney's biggest stumbling block could be his support as governor for a Massachusetts healthcare program that became a model for Obama's national healthcare overhaul. Many Republicans detest what they derisively call "Obamacare."
On Thursday Romney repeated his pledge to repeal Obama's reforms, should he be elected president.
There are also doubts about whether Romney is conservative enough for the current Republican Party. With Tea Party movement activists on the rise, the party has shifted to the right since the 2008 campaign.
Jennifer Horn, 46, a former Republican congressional candidate who now works with the conservative citizens' group "We the People," said she was impressed by Romney but not yet ready to endorse him as a candidate.
"There are no freebies in the New Hampshire primary. There's no question that he is the best known in the field. And this is his day. But he has a lot of questions to answer in the next couple of months," Horn said.
The fight for the Republican nomination has been slow going and a number of party heavyweights have stayed out of the race, a potential advantage for Romney as he attempts to take on the mantle of "next in line" after falling short in 2008.
Other Republican hopefuls like Newt Gingrich and Tim Pawlenty trail Romney by a wide margin in most polls.
PALIN IN THE SHADOWS
But Republican media star Sarah Palin, the former Alaska governor and 2008 vice presidential nominee, is running close to Romney in some polls. She is expected in New Hampshire later on Thursday as part of a bus tour that has fanned speculation she could soon announce her own White House bid.
Romney's Mormon faith also might be a hindrance to winning the votes of evangelical Christians in the south.
On Thursday, Romney referred to the United States as a country where citizens are free to attend different churches, or not attend church much at all.
The tag of flip-flopper haunts Romney after he shifted positions on issues such as abortion, gay rights and gun control to position himself for the Republican nomination in 2008, having governed more from the center in Massachusetts.
By all reckoning, Romney should win the primary in New Hampshire, where he is ahead in the polls -- holding roughly the level of support that could win the state in February -- and has a natural advantage as former governor of a neighboring state who is well known to voters.
"He's going to be hard to beat but you can mortally wound him by beating him in New Hampshire. If you beat him in New Hampshire the narrative for his candidacy falls apart," said Republican strategist Matt Mackowiak.
Romney has been expected to struggle in more conservative states like Iowa and South Carolina but a new Public Policy Polling survey in Iowa shows him leading there too.
Romney's personal style has also been tweaked. After being criticized for his overly formal, CEO-type look in 2008, Romney has gone business-casual, often appearing tie-less in open-necked shirts. He sported that look on Thursday.
"A lot more people like this Romney more than the 2008 Romney," O'Connell said. "But he has to demonstrate himself to be a fiscal conservative."