Romney avoiding super PAC aid in Senate bid for now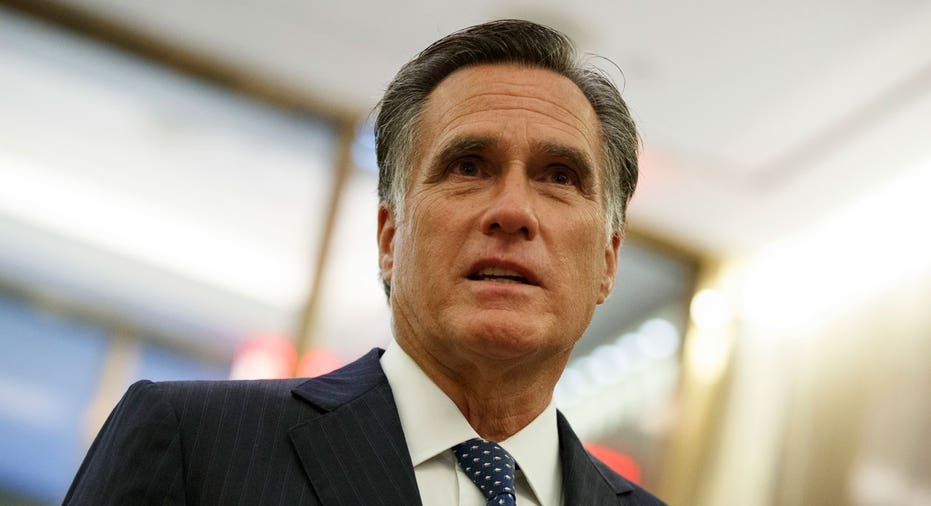 Former Gov. Mitt Romney pledged within his announcement to run for United States Senate "no donor, no corporation" will influence his campaign, and it seems he's keeping his word for now as at least one political action committee appears to have no immediate plans to jump into the Utah Senate race, FOX Business has learned.
Restore Our Future, an independent super PAC created to help Romney in the 2012 presidential election and backed by some of his former campaign aides from his 2008 presidential run, will not be supporting him in the early stages of his Senate bid, but the PAC's leadership are not closing the door on assisting him at a later date either.
"We're not talking about what may or may not happen down the line. That said, Mitt is running for Senate in Utah and doesn't need anyone's help," according to a source with direct knowledge of the matter, who agreed to speak on the condition of anonymity. "The last thing he needs is a national PAC coming in to help him as he's focused on how he can help Utah and doesn't need outsiders getting in the way," this person added.
Still, the PAC is "not dead," another source with knowledge of the matter said, as it has a modest $93,000 cash on hand, according to data from the Center for Responsive Politics, and Republican mega-donors are still deciding whether to back Romney and if they will contribute through Restore Our Future, a separate PAC, or give directly to the campaign.
The PAC was founded in 2010 by Carl Forti, Romney's political director during his 2008 presidential bid and the co-founder of Black Rock Group, a strategic communications firm. The PAC's treasurer is former chief financial officer for Romney's 2008 campaign and Republican super-lawyer Charlie Spies of Clark Hill PLC. The law firm is a popular choice for Republican campaigns and PACs, with total reported payments exceeding more than $1 million over the past four election cycles.
Forti declined to comment. Spies did not return requests for comment. Romney's campaign spokeswoman also declined to comment.
If Restore Our Future entered the 2018 midterms, their efforts could be a boost to Romney's already formidable campaign operation that's being led by allies from his hedge fund Solamere Capital—Matt Waldrip, the head of business development at the firm and his current campaign manager, and Spencer Zwick, co-founder of the company acting as a senior adviser to the former governor.
In 2012, the PAC raised and spent exuberant amounts of money in an effort to back Romney over former President Barack Obama. In one campaign cycle they raised more than $153 million through contributions by GOP mega-donors such as Las Vegas Sands Corporation (NYSE:LVS)CEO Sheldon Adelson, who gave $15 million that year, and real estate tycoon Bob Perry who added another $10 million. The PAC also invested $125 million into Mentzer Media Services, a media company specializes in creating political TV and web ads.
This time around though, turning to outside donors and getting assistance from independent PACs, may not be the way to win over Utah voters.
"Romney enters this race with deeper political ties than any other candidate this cycle. His name recognition in Utah is nearly universal and nobody expects this race to be remotely competitive," said one Republican strategist involved in the midterm Senate races. "He's smart to run a local-focused campaign that's heavily reliant on Utah relationships and personal interaction," the strategist added.
Romney began his foray into the national spotlight in 1999 as the president and CEO of the Salt Lake Organizing Committee for the 2002 Winter Olympics, successfully capturing for Utah the coveted games for the first time. Zwick was hired to assist Romney with running the committee and was instrumental in erasing the Olympic organizers' debt, which had added up to $379 million.
One year later, Romney became the governor of Massachusetts, following it five years later with his first unsuccessful presidential campaign. He lost the Republican nomination that year to Sen. John McCain of Arizona. He ran for a second time in 2012 against Obama and eventually lost in the general election.
The opportunity for Romney to get back into politics came when Sen. Orrin Hatch, R-Utah, announced his retirement in January, giving the former presidential candidate a chance to represent a state he's called home for over 20 years. In the buildup to his decision, Romney reached out to numerous lawmakers from the state for counsel on how to best connect with the state's electorate, including Republican Sen. Mike Lee, former Utah Republican Rep. Jason Chaffetz and even Hatch himself, who was one of the first to encourage Romney to run.
The former governor officially made his declaration to run for Senate last Friday.