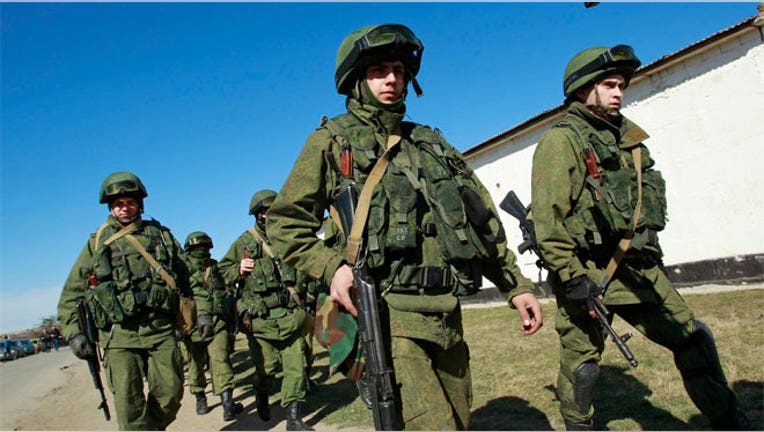 The Obama administration's newest sanctions against Russia for its continued aggression in the Ukraine could prompt retaliation against U.S. business interests around the world, analysts said Thursday.
If that happens, economic recoveries in Russia, the U.S. and Europe could suffer the consequences.
Nomura analyst Dmitri Petrov said in a note to clients that Russia could decide to "retaliate asymmetrically, creating a separate tit-for-tat spiral between the U.S. and Russia that could be damaging to the Russian but also European economies."
In other words, if Russia decides to retaliate by freezing out U.S. companies while also failing to tone down its entanglement in the Ukraine, the U.S. will be forced to fight back with more sanctions against additional Russian companies.
The fallout as Russian and U.S. companies reel from the impact of mutual sanctions will eventually spill into Europe's fragile economy, where European companies depend on exporting their goods to Russia and the U.S.
U.S. stocks came under selling pressure Thursday morning, a result of the renewed tensions between the U.S., Russia and Ukraine. The S&P 500 (SPX) opened 5.5 points, or 0.3%, lower at 1,976.11. The Dow Jones Industrial Average (DJI) lost 39 points, or 0.2%, to 17,099.36 at the open, retreating from Wednesday's record close.
After issuing sanctions in April against a group of Russian individuals with close political and business ties to President Vladimir Putin, the Obama administration enlarged its scope on Wednesday, targeting Russia's biggest oil producer Rosneft, its second-largest gas producer Novatek and its third largest bank Gazprombank.
Similar to the earlier sanctions, the companies are all run by close allies of Putin.
Essentially, the new sanctions prevent the firms from obtaining medium- and long-term funding in U.S. dollars. Other Russian companies snared in the sanctions include Vnesheconombank, VEB, a payment agent for Putin's government, and eight arms firms, including the manufacturer of the Kalashnikov assault rifle, many of which are exported to the U.S.
The sanctions were generally applauded in Washington, even by Obama's Republican opponents.
"I support President Obama's announcement of additional sanctions on Russian firms, but we still must do more to ensure Putin does not escalate the conflict in Ukraine," said Republican Indiana Senator Dan Coats in a statement. "Until now, the administration's response to Putin's aggression has given him little reason to change his behavior. Continuing to go after the Russian economy is the way to send the most effective message."
The Treasury Department said in a statement announcing the new sanctions that the measures "do more than build upon previous steps to impose costs on separatists and the Russian government."
Imposing sanctions on entities within the financial services and energy sectors will increase the cost of economic isolation for key Russian firms that value their access to medium- and long-term U.S. sources of financing, Treasury said. In addition, by targeting firms in the arms or related materiel sector, Treasury said it has cut these firms off from the U.S. financial system and the U.S. economy.
"Because Russia has failed to meet the basic standards of international conduct, we are acting today to open Russia's financial services and energy sectors to sanctions and limit the access of two key Russian banks and two key energy firms to U.S. sources of financing, and to impose blocking sanctions against eight arms firms and a set of senior Russian officials," David S. Cohen, Treasury under-secretary for terrorism and financial intelligence, said in the statement.
Research firm Sratfor noted that the new sanctions do not entirely prohibit U.S. firms from doing business with the largest four Russian firms, but it does "seriously restrict what can be done."
Retaliation could be the next step for the Russians in this diplomatic chess game, according to Stratfor.
"The United States has moved significantly closer to the red line set by Moscow, and it is possible that Russia will start responding with meaningful sanctions against the United States and its businesses operating in Russia. The Kremlin will likely avoid targeting any U.S. firm that is critical to Russia's energy sector, such as ExxonMobil (NYSE: XOM). However, there are many other financial and energy services firms that Russia could begin to target," the research firm said.