Reporter's Notebook: The Debate Hasn't Started but the Punches Have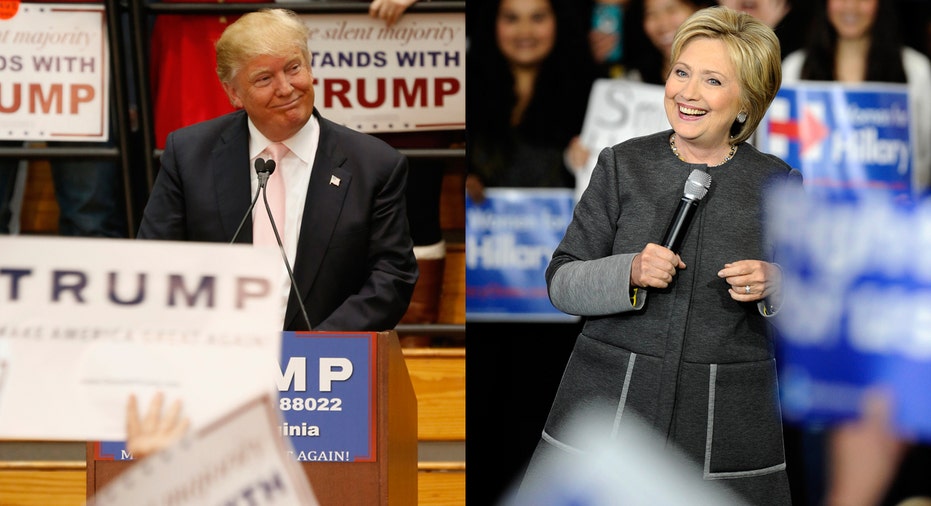 Did Donald Trump really want to bring former Bill Clinton paramour Gennifer Flowers to tonight's presidential debate to freak out his opponent Hillary Clinton? And how worried is the Clinton camp about facing a novice debate challenger, who despite his flaws as a candidate, is running neck-and-neck with one of the most qualified politicians to ever run for the office?
These are some of the questions political operatives are speculating about tonight on the eve of the first debate that will feature two of the best known people in the world – a volatile, real estate mogul turned reality TV star and a former First Lady, U.S. Senator and Secretary of State – who are vying to be President of the United States AKA "Leader of the Free World."
The debate itself is expected to draw a hundred million viewers — the most watched in history for lots of reasons including the celebrity nature of the combatants. It's the Super Bowl, World Series and Ali-Frazier of politics, so with that in mind, I'd like to provide a little pre-game color on what to expect and how the campaigns positioned themselves in the hours and days before the big event.
Gennifer Flowers
It seemed like a good idea to bring Bill Clinton's former "goomah" to tonight's festivities and seat her in the front row so Hillary Clinton can be reminded of the sordid affair that threatened to derail her husband's presidential ambitions in the early 1990s if and when Hillary attacks The Donald on any number of character issues, including his own string of messy divorces. So good, in fact, Trump tweeted out this weekend that he would invite Flowers after he learned that his reality show nemesis, Mark Cuban, was showing up for team Clinton to make him squirm.
Inside the Trump camp, cooler heads prevailed, I am told, and the idea of having Flowers as a guest was promptly nixed and replaced with a more sober group including Benghazi survivor Mark Geist, as first reported by FOX Business.
But Trump, I am told, isn't done with possibly using women associated with former president Bill Clinton as props. I am told there is speculation inside the Trump campaign of inviting Juanita Broaddrick, a former Arkansas state administrator who accused the former president and then-governor of the state of sexually assaulting her, to an upcoming debate.
Clinton through his attorney has denied the charge, while a spokeswoman for Trump denied that the candidate is thinking about extending an invite to Broaddrick.
Counter Puncher vs. The Policy Wonk
Clinton is well known as a policy wonk, who loves to clinically and unemotionally dissect her debate opponent with so many facts and figures it's almost sleep inducing. But people inside the Hillary camp tell me the popular narrative about her debate style isn't totally accurate; they point to the many times she has successfully side-stepped unruly reporters and various Congressional hearings (see Benghazi), not to mention how she has handled herself in past debates, as proof that she can go punch for punch with Trump — a self-described counterpuncher who lives for delivering the low-blow to opponents as he did to his GOP primary challengers "Lyin' Ted" Cruz "Little Marco" Rubio, "Low Energy" Jeb Bush, and now "Crooked Hillary" Clinton.
With that, one aide to Clinton says, she is prepared to "to methodically destroy Trump" if he gets nasty and personal with very pointed attacks on women, or a disabled reporter, not to mention his penchant for exaggerating (recall his claim to have seen "thousands and thousands" of Muslims celebrating the 9-11 terrorist attacks in New Jersey). We shall see.
Speaking About Benghazi
Trump's invitation of Geist, the former Marine and CIA contractor who survived the ordeal, was designed in part to address the possibility that Clinton may ask Trump to apologize for some of the more outrageous statements he has made in the campaign regarding immigrants, women and a disabled reporter.
If she goes that route, don't be surprised to hear Trump ask Clinton to apologize to Geist and the families of his fallen comrades. The Trump spokeswoman said this wasn't the reason for Geist's invitation.