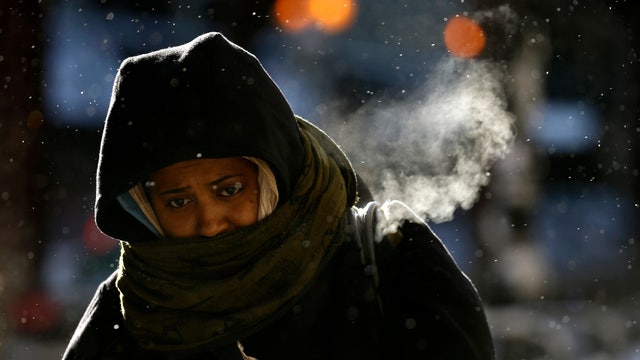 A second Polar Vortex threatens to erase the stimulus from plunging gas prices, putting a deep freeze on holiday spending. This time it's expected to hit an estimated 200 million people in the U.S., or about three-fourths of the country. Only Hawaii, Florida and the Southwest may be spared. Already Wall Street analysts are racing to ballpark the offset here.
Largely due to the wicked weather, the last three months of 2013 saw more than $100 billion wiped from economic activity, meaning holiday shopping. In turn, the polar vortex helped thrust first quarter GDP into an historic decline, into negative territory, with a 2.9% drop. And that came when the doves at the Federal Reserve were still buying tens of billions of dollars in debt securities. Without the Fed help this winter, and with the Eurozone on the brink of recession, China in a slowdown and Russia not far behind, what can we expect?     Already Deutsche Bank is estimating the 40 cent plunge in gas prices per gallon would add about $40 billion to consumer wallets, firepower for the holiday shopping season, with many stores ramping up hiring. Gas prices in the U.S. recently broke below the psychologically important $3 mark for the first time since 2010, hitting about $2.92 on average for regular unleaded, down from $3.70 last June. Falling gas prices helped lift consumer confidence to a seven-year high, and retailers are still expected to hire up to 800,000 seasonal workers this holiday season, reports the National Retail Federation, with Amazon (NASDAQ:AMZN), Wal-Mart (NYSE:WMT), Macy's and Kohl's among the national chains increasing their holiday jobs.
Joseph LaVorgna and Brett Ryan, economists at Deutsche Bank said: "According to our calculations, every one cent annual change in gasoline prices is worth approximately $1 billion in annual U.S. household energy consumption," adding, "the bottom line is that if the current 40 cent decline in energy costs is maintained, then consumer cash flow would improve by roughly $40 billion; this is equivalent to almost three-tenths on annualized GDP growth."
But with the second polar vortex bearing down, fourth and first quarter GDP may not come in as rosy as expected.
One note of comfort: Economic predictions are about as reliable as weather forecasts—a footnote that should be mandatory in all Wall Street reports.