Ohio resident rips Norfolk Southern for dodging East Palestine town hall: They're 'hiding'
Additionally, Ohio AG David Yost told FOX Business he is "concerned" about the "pattern of conduct" surrounding derailment relief efforts
One Ohio resident, Jenna Giannios, is sounding the alarm on Northfolk Southern's seemingly intentional lack of transparency following their tragic train derailment. 
East Palestine held a town hall, Wednesday, to provide clarity for residents; however, without the transport company responsible for the catastrophe in attendance, locals' questions largely remain unanswered. 
ERIN BROCKOVICH WARNS OHIO TRAIN DERAILMENT IS TRANSPIRING INTO A 'NIGHTMARE': NONE OF THIS MAKES SENSE
"[The town hall meeting] was really hard to hear. The audio wasn't set up for it, but, I don't think anybody got any answers because Norfolk Southern wasn't there. I know they were afraid because it was dangerous, but they could have provided a Zoom link for people to join and jump in and ask questions if they were that concerned for their safety. But it appears to residents that they're just hiding it," Giannios, who lives 12 miles from the derailment site, explained on "Varney & Co." Thursday.
Ohio Attorney General David Yost, who later joined FOX Business in an appearance, reinforced the local residents' grievance, saying that he is additionally distressed about the concerning "pattern of conduct" surrounding relief efforts.
OHIO RESIDENT SHARES TERRIFYING EXPERIENCE WITH TOXIC DERAILMENT: 'THROWN INTO TRAGEDY'
"I talked to the mayor this morning by telephone, and he told me that not only was [Pete Buttigieg] not there last night, there was nobody. There was no representative, however, far down the chain of command. And I'm kind of concerned at this point, as an Ohioan and as an American, about a pattern of conduct here," the attorney general said on "Cavuto: Coast to Coast," Thursday. 
Yost shifted his frustration to transportation secretary Pete Buttigieg, saying that he is "very concerned" about the lack of "visible" response nearly two weeks into the disaster.
GOP REP RIPS PETE BUTTIGIEG FOR IGNORING OHIO TRAIN DERAILMENT: 'TURNING HIS BACK' ON MIDDLE AMERICA
"If you can't step up, it's time to step down." - Ohio Attorney General David Yost on U.S. Transportation Secretary Pete Buttigieg
"When we had the supply chain snafu in 2021 and 2022, Buttigieg didn't step up. And when we had the meltdown in air travel over Christmas, he was nowhere to be found. Now he's – once again – not stepping up. He didn't issue even a tweet for the first ten days after this happened. Look, if you can't step up, it's time to step down," Yost said.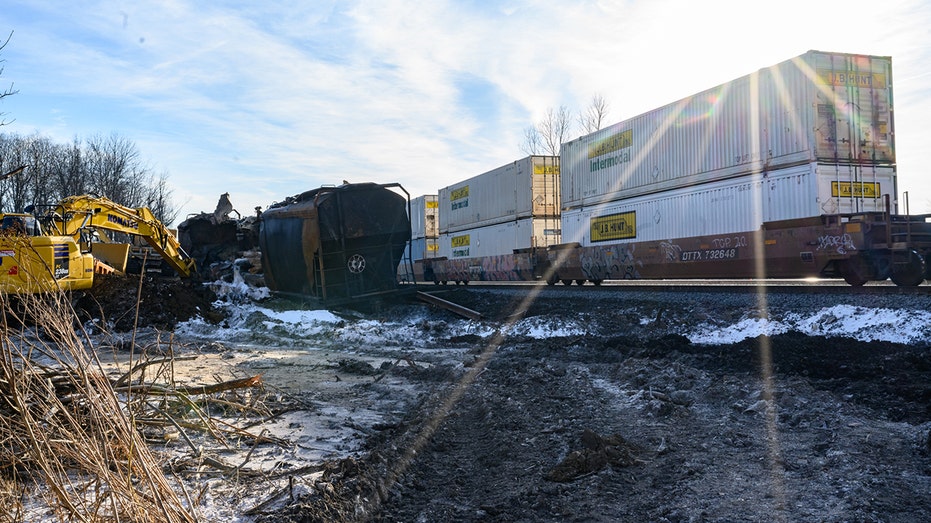 A pressing concern emerging is the derailment's impact on locals' drinking water. After testing results of the five wells that feed into East Palestine's municipal water system, Ohio Governor Mike DeWine announced Wednesday that they found no evidence of contamination associated with the derailment. However, residents remain both confused and concerned by his conclusion.
NORFOLK SOUTHERN TRAIN DERAILMENT LIKELY TO HAVE MINIMAL IMPACT ON SHAREHOLDERS
"Physically, I feel safe – yes. Is the tap water concerning? Absolutely. I'm not sure how quickly our tap water would be impacted. But it's all connected to where those chemicals were spilled. So there's definitely some concern and not a lot of transparency. We get a lot of different answers from different people; some say to drink bottled water. Some say the tap water is safe. So it's confusing," Giannios said Thursday.

According to Governor DeWine's office as of Wednesday, the only case in which the Governor is still recommending bottled water is for those who get their water from a private well that has not yet been tested.
In an effort to seek accountability, the state of Ohio has informed Northfolk Southern that they are considering taking legal action for their involvement in the derailment.