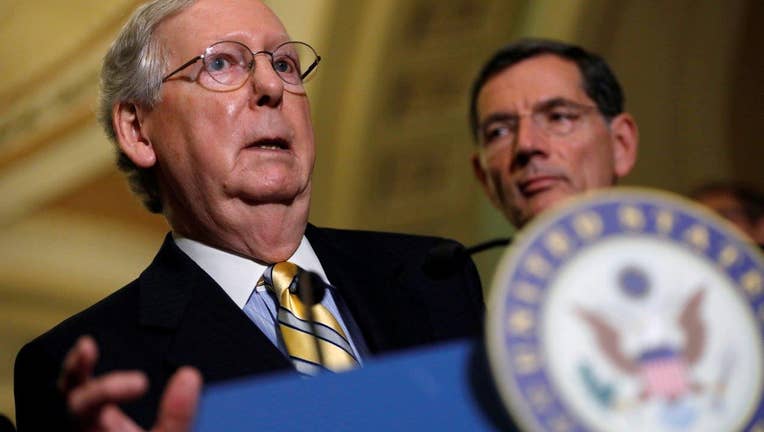 The Senate narrowly voted to begin a debate on overhauling the United States' health care system on Tuesday, with Vice President Mike Pence acting as the tie-breaking vote after two GOP senators refused to support the motion to proceed.
President Donald Trump congratulated Republican lawmakers during a joint press breifing with the Prime Minister of Lebanon Tuesday, for passing the health care measure without a single favorable vote from Democrats.
"Now we move forward towards truly great health care for the American people … this is a truly great step," Trump said.
Senators Lisa Murkowski (R-Alaska) and Susan Collins (R-Maine) voted against moving forward with a debate on health care Tuesday; Collins had previously said she would not support the measure. With 50 lawmakers in favor of the motion to proceed and 50 against, Pence acted as the 51st affirmative vote.
The vote was on a motion to proceed with the House-approved American Health Care Act, which passed the chamber in May, but will now be opened up to debate and amendments—which have already been introduced by lawmakers. It remains to be determined, however, whether the party will move forward with a repeal and replace plan—based on the Better Care Reconciliation Act—or a repeal-only measure. That will be determined during discussions in the coming days.
Tuesday's contentious vote was a strong reminder of intraparty divisions within the GOP. The priorities of the more conservative and moderate members of the party have been difficult for Senate Majority Leader Mitch McConnell (R-Ky.) to reconcile. While some members want to move forward with a repeal and replace plan, others —including Sen. Rand Paul (R-Ky.) — want to approve a clean repeal bill like the one advanced in 2015. Sen. John McCain (R-Ariz.), who returned to Capitol Hill Tuesday, said during a speech on the Senate floor he would not approve the health care bill in its current form.